NCC head takes his name off "Christian Declaration of Marriage," promotes gay unions
"It's time for the Christian community in America to kiss and make up," National Council of Churches (NCC) general secretary Bob Edgar said to evangelicals back in July. But one of the first efforts to combine the efforts of the NCC with the National Association of Evangelicals (NAE) since that statement has apparently ended in failure. Two days after backtracking on "A Christian Declaration of Marriage," a statement signed by leaders in the NAE, National Conference of Catholic Bishops, and the Southern Baptist Convention, Edgar retracted his endorsement entirely. "I did not adequately consult with the 36 member communions of the National Council of Churches prior to agreeing to sign the statement," he wrote in an open letter to the other three signatories. "A number of the NCC member communions interpret the document more as a condemnation of same-sex unions than as an affirmation of marriage. The fact that the declaration omits mention of same-sex unions is taken by some as proof that all of the signatories disapprove of such unions." He then went on to suggest that "misinterpretation" of the document may lead to attacks on gays. In an address to the NCC's General Assembly, Edgar went so far as to apologize for ever signing the document and reaffirmed his support of same-sex unions. NAE president Kevin Mannoia tells The Atlanta Journal-Constitution he's "very disappointed" by Edgar's change of heart. "Early on in our discussion as a group, we determined this was a statement about marriage, not about homosexual relationship," he said. Edgar's move doesn't bode well for kissing and making up. "If affirmation of same-sex unions is the price [for partnering with the NCC], then it's too high a price and one that won't be paid by the growing and healthy Christian communions in this millennium," the Southern Baptist Convention's Richard Land (who also signed the document) tells The Baltimore Sun. He says he's disappointed but not surprised by Edgar's action. The Presbyterian journal The Layman notes that Edgar sent an associate in his stead to the meetings that drafted the declaration. (See also the Associated Press's coverage.) In related news, the NAE's statement "On Homosexuality" has been removed from the organization's Web site. It had originally appeared with "A Christian Declaration on Marriage."
Christmas cancelled in Bethlehem
There's plenty of room in the inns at Bethlehem. But there's also plenty of warfare, too. The West Bank town where Jesus was born will likely see gunfire on Jesus' nominally 2,000th birthday instead of tourists. "The indications show the tourists are no more coming," says Bethlehem mayor Hanna Nasser. "They have cancelled. Even at Christmas I don't expect the normal figure will be here and the normal figure usually is about 20,000 on the eve of Christmas and Christmas itself. I am sure that this year will have a few hundreds only." As violence continues in the area, all formal celebrations and activities have been cancelled (see the official Bethlehem 2000 Web site to see what's not going to happen.) The town experienced a $180-million facelift over the last few years to ready for celebrations starting last Christmas.
One American missionary killed, eight others injured in Haiti traffic accident
As of early Monday morning, at least three of the missionaries were in serious condition at Jackson Memorial Hospital in Miami. The Associated Press is reporting that the nine missionaries were part of a group of 11 in a pickup truck 18 miles west of Port-au-Prince when a commuter bus edged them off the road. The Coast Guard was dispatched to fly the injured to Florida. There's no mention yet of what church or organization the missionaries (From Georgia, North Carolina, West Virginia and Maryland) were working for. (See earlier reports here and here.)
Orthodox priest/bartender in trouble for gossip
Nelu Marin, a parish priest in Albesti, Ialomita, Romania, is also a bartender at the local pub. Now he's in trouble for allegedly spilling secrets told to him in the confessional to his customers, including who's having affairs with whom, who's having sexual dreams, and who's cheating financially. He's also accused of beating a child at the local school, then telling the complaining parents to kiss his, uh, backside, saying, "Even that is holier than you!"
Indianapolis Baptist Temple holds Sunday services
The U.S. Marshals Service still hasn't showed.
Strange assertion of the day ...
The Daily Record of Scotland today has an article what would appear to most readers as a breakthrough in biblical scholarship: "Scotland's patron saint St Andrew was crucified because a convert went on a sex strike, a new study claims." The article quotes liberally from environmentalist scholar Alastair McIntosh, and says his study "is the result of re-piecing together fragments of the second century writings, the Acts of St Andrew, lost for nearly 1000 years." Maybe Weblog is missing something significant about this story, but The Acts of St. Andrew, an apocryphal, Gnostic text from the third century at the earliest, has been available for quite some time. And the story about Maximilla refusing to have sex with her husband, a Roman proconsul named Aegeates, can be freely read by anyone. It's nice to see Christian history—or at least pseudohistory—in the news, but frustrating to see credit go where it doesn't belong.
Related Elsewhere
See our past Weblog updates:
November 17 | 16 | 15 | 14 | 13
November 10 | 9 | 8 | 7 | 6
November | 3 | 2 | 1 October 31 | 30
October 27 | 26 | 25 | 24 | 23
October 20 | 19 | 18 | 17 | 16
October 13 | 12 | 11 | 10 | 9
October 6 | 5 | 4 | 3 | 2
September 29 | 28 | 27 | 26 | 25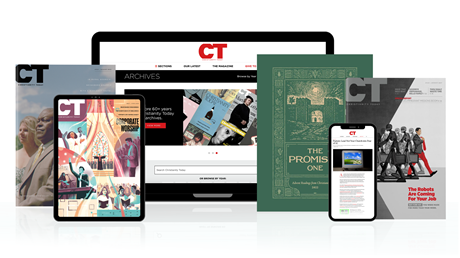 Subscribe to Christianity Today and get access to this article plus 65+ years of archives.
Home delivery of CT magazine
Complete access to articles on ChristianityToday.com
Over 120 years of magazine archives plus full access to all of CT's online archives
Subscribe Now
Pro-Marriage Pro-Gay Pro-blem.
Pro-Marriage Pro-Gay Pro-blem.