Bryan Lankford, first officer for the Texas Council of the Covenant of the Goddess (let's just do what the Dallas papers are doing and call him a Wiccan, or neopagan, priest), was invited to give the invocation at the Dallas City Council meeting last week. But after the mayor's office received several calls in protest, he was disinvited. That led to an apology by the mayor and an invitation back. "We are not in the business of choosing religions," Dallas mayor Ron Kirk has said repeatedly. But Christians in the area are still upset. "I want to encourage the City Council to do as our founding fathers did—to fear the one true God," Cathie Adams, president of the Texas Eagle Forum, told the council (the City Council, not the Covenant of the Goddess one). "And I'm asking that you consider the fact that just like it would be unwise for the American Jewish Congress to invite the American Neo-Nazis to address them, it is unwise for you to invite witches to pray before you." The Fort Worth Star-Telegram's report of the prayer sounds like it was the same one published in The Dallas Morning News last week after the rescinded invitation. (See also UPI's coverage of the invocation. Though The Dallas Morning News has been covering the controversy in detail thus far—see this story about Lankford's conversion to Wicca from being a Baptist—Weblog couldn't find anything on the paper's site about yesterday's meeting.)
American artist Robert Wilson says his "14 Stations" installation, located immediately behind the Passion Play Theater, is based on Christian themes, especially Quaker ones. The New York Times reports, "Nearly everyone who visits … is disturbed by it, and some … say they are terrified, even though they may feel no particular involvement with the Passion story itself." The Times' critic, John Rockwell, thinks he knows why: "From the form '14 Stations' has taken, it appears Mr. Wilson drew his pictorial inspiration not just from representations of Christian cathedrals, Quaker villages and craggy Alps, but also from photos of nearby Dachau, Auschwitz and the ultimate Nazi killing machine, Birkenau, near Auschwitz." Wilson admits, "You could see it that way," but judge for yourself at the 14 Stations site. If you're unfamiliar with the Stations of the Cross, Britannica.com has a brief introduction, or take a look at the Franciscans' as-official-as-it-gets Way of the Cross site.
Yesterday's Weblog noted a National Post article on Christian video games. Well, call it a trend, but today it's the Fort Worth Star-Telegram that's covering Christian gaming. Apparently not all Christian games are as outdated as the WisdomTree software noted in yesterday's article. "This is an auspicious time for Christian gamers … because a groundbreaking crop of Bible-inspired action titles have appeared within the last year," reports Julio Ojeda-Zapata. "Perhaps the most ambitious effort to date, 'Catechumen,' pits First Century Christians against Roman soldiers in first-person sequences that meld fast-paced combat with campy humor." The game is even getting mixed reviews in the mainstream PC gaming press. Mixed! That's huge! For some of these magazines to say, as PC Gamer does, that it has "a 3D engine that's not too shabby" is a big compliment for a Christian game. The Catechumen Web site has more information on the game, including a downloadable demo. Old Man Murphy, which is definitely not a Christian Web site (easily offended readers beware), also liked the game. A sidebar in the Star-Telegram notes that video games exist with Jewish, Islamic, Hindu, and other religious teachings in mind.
Related Elsewhere
See our past Weblog updates:
October 4 | 3 | 2
September 29 | 28 | 27 | 26 | 25
September 21 | 20 | 19 | 18
September 15 | 14 | 13 | 12 | 11
September 7 | 6 | 5
September 1 | August 31 | 30 | 29
August 25 | 24 | 23 | 22 | 21
August 18 | 17 | 16 | 15 | 14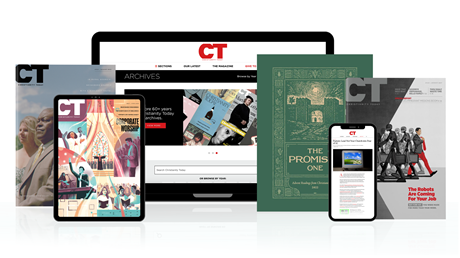 Subscribe to Christianity Today and get access to this article plus 65+ years of archives.
Home delivery of CT magazine
Complete access to articles on ChristianityToday.com
Over 120 years of magazine archives plus full access to all of CT's online archives
Subscribe Now
Wiccan Opens Dallas City Council Meeting in Prayer
Wiccan Opens Dallas City Council Meeting in Prayer