We all remember the story of Mary and Martha. Mary was commended for her attentiveness, Martha admonished for her busy-ness. Many of us find it hard not to sympathize with Martha. After all, somebody had to cook dinner. She was trying to be hospitable!
Every culture in the world holds up some standard of hospitality as a basis for civilized behavior. The word shares the same root as hospital and hospice, both having to do with caregiving and healing. Hospitality is a form of healing: in extending food, shelter, rest, and good conversation, one is providing a place where people may be healed from the bruises and buffeting of a culture in which overcommitment has become a virtue and home a launching pad.
Students I know who have gone on mission trips to Mexico and Central America have invariably returned humbled and amazed at the generous hospitality of the very poor people they encounter. Some of them, somewhat to their dismay, have been given the only bed in the house while family members sleep on mats.
As middle-class consumers in the wealthiest nation in the world, most of us can extend hospitality without depriving ourselves. We give out of our abundance. We have guest rooms or foldout sofas, something on the shelf we can whip into a meal on short notice, or a deli around the corner we can call. But, reminded daily of crime, scams, and antisocial behavior, we are wary of strangers, and generally don't allow anyone in our houses but those we know and love—including the occasional difficult relative. I'm not necessarily suggesting we round up the homeless and sit them down at our tables, though such a gesture is not unthinkable. But I am suggesting that we take time to perhaps enlarge our notions about hospitality.
I was recently at a retreat where a young minister told us, rather ruefully, that his wife would give anything away. If she learned that someone needed something, she'd just hand it over—a blanket, an electric mixer, the food in the refrigerator. This was sometimes disconcerting and inconvenient for the family. But her reasoning was simple: "It's all God's stuff." I've thought about that funny little sentence many times since. Frequently when I find myself deciding whether to loan or give or donate something that is "mine," it comes back to me: "It's all God's stuff."
Christians are specifically called to break out of their insularity, look need in the face, and recognize in it the face of Christ. One of the clearest mandates in the ancient Rule of St. Benedict, still observed in monastic communities all over the world, is "Receive all guests as Christ." And in the letter to the Hebrews we read, "Do not neglect to show hospitality to strangers, for by doing that some have entertained angels without knowing it."
Does all this sharing mean lavish expenditure or improvidence? I don't think so. One wise woman I knew declared that if she had a chance to entertain one of the great spiritual leaders of the day, she wouldn't bother with a big meal. "I'd just give him a bowl of cereal," she said, "and tell him to start talking." Her "cereal solution" brings me to another point: hospitality begins not in food, but in conversation. In encounter. In eye contact. In attentive listening.
Basic conversational skills are an important dimension of Christian charity: possibly the most important way of attending to guests. In French the word for attend (attendre) means to wait. When we attend to one another, we give time. We wait, for instance, long enough to hear what the hesitant have to say. As good hosts, it may be our part to "bring them out." Engaging people in good conversation is a gracious art, and a way of extending grace. The idea of social graces is not entirely separable from the theological idea of grace. The give and take of good conversation involves not only sprightly speaking but thoughtfully receiving others' observations.
And this brings up a final bit of reflection: hospitality includes receiving. When we are the recipients—when we stay with relatives, for example, we are called to practice another sort of hospitality: to receive with humility, gratitude, and an uncritical spirit what is offered in love—to remember that we are to receive every good thing as from the hand of God. To consider hospitality in this way is to recognize that it always involves exchange—and that we are never in a position to calculate the final value of what is given and what is received. Portia's words about the quality of mercy apply also to this virtue, rightly exercised: "It blesseth him that gives and him that takes."
Related Elsewhere
Read the story of Mary and Martha in various translations: NIV | NLT | NASB | KJV | NKJV | RSV
In a May 2000 Christianity Today article, Stephen Winzenburg lamented, "Whatever Happened to Hospitality? | Even in churches, many believers feel safer ignoring those they don't know."
A recent issue of Christianity Today looks at how Florida churches are extending hospitality to Haitian immigrants. Hospitality has also been covered by several of Christianity Today's sister publications. Books & Culture reviewed Christine Pohl's Making Room: Recovering Hospitality as a Christian Tradition. Your Church magazine has an article on building hospitality into historic churches, and Marriage Partnership looks at how husbands and wives can often have different approaches to hospitality. Virtue, now sadly defunct, offers an article on the virtue of hospitality. Leadership has two articles on hospitality. The first discusses ways churches can practice hospitality toward those new to a church. The second looks at how one pastor and his wife opened up their home to parishioners and the lessons they've learned from that experience. Leadership also discusses how churches can function in an age of rampant individualism.
Article continues below
"Spirtuality of Work in the Hospitality Industry" compares the practice of hospitality in classical, biblical, and modern worlds. David Gowler of Emory University has posted an essay on Jesus' hospitality that shows how Jesus' understanding of hospitality differed from that of the scribes and Pharisees.
Christine Pohl wrote an article for Sojourners magazine summarizing many of the themes of her book on hospitality. The Diocese of Antwerp (Belgium) also has a brief historical overview of Christian hospitality.
Previous McEntyre columns for Christianity Today include:
Rx for Moral Fussbudgets | Good guilt entails more than repentance for merely personal sins. (Mar. 19, 2001)

Community, Not Commodity | Let us acknowledge, and even mourn, what we lose when worship meets media. (Jan. 16, 2001)

Nice Is Not the Point | Sometimes love is sharp, hard-edged, confusing, and seemingly unfair. (Nov. 29, 2000)

The Fullness of Time | I'd like life to be a series of pauses like a poem, rather than a fast-paced, page-turner airport novel. (Oct. 12, 2000)

'I've Been Through Things' | Meditating on "Honor your father and your mother." (Sept. 6, 2000)

Silence Is to Dwell In | An hour of quiet is a rare gift, hard to come by in an ordinary week, even for those who seek it. (Aug. 10, 2000)
Have something to add about this? See something we missed? Share your feedback here.
Marilyn Chandler McEntyre
Marilyn Chandler McEntyre has taught at Princeton University, the College of New Jersey, Mills College, Dominican University, and Westmont College. She now teaches at the UCSF/UC Berkeley Joint Medical Program and in the University Writing Program at UC Davis. Her column for Christianity Today appeared from 2000 to 2001.
Previous Marilyn Chandler McEntyre Columns:
Our digital archives are a work in progress. Let us know if corrections need to be made.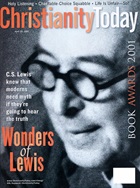 This article is from the April 23 2001 issue.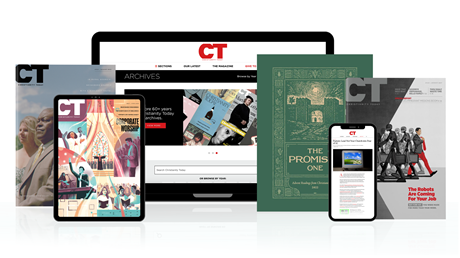 Subscribe to Christianity Today and get access to this article plus 65+ years of archives.
Home delivery of CT magazine
Complete access to articles on ChristianityToday.com
Over 120 years of magazine archives plus full access to all of CT's online archives
Subscribe Now
My House, God's House
My House, God's House