Persecution worsening in much of world, says U.S. Commission on International Religious Freedom
Last year's annual report of the U.S. Commission on International Religious Freedom focused its policy recommendations on only three countries: China, Russia, and Sudan (Egypt, India, Iran, and Vietnam were also briefly discussed). This year, the commission broadened its scope to also include India, Indonesia, Iran, North Korea, Nigeria, Pakistan, and Vietnam. Its findings: religious persecution is on the rise in most of them. "The situation in China has grown worse over the past year," India has seen "a disturbing increase in violence against minority Christians and Muslims," violence in Indonesia "reached new and more-deadly levels," and Sudan was named "the world's most violent abuser of the right to freedom of religion and belief."
It's rather difficult to summarize the broad scope and recommendations of the report in a few sentences—they include such disparate proposals as "ensure that Beijing is not selected as a site for the Olympic Games" and "[use] U.S. foreign-assistance funds … to support civic groups that teach and foster religious tolerance." But it's worth noting that this year's commission report has several potentially controversial additions from last year. In one, the commission examined the right to evangelize and change religion. "These are important, complex, and sensitive issues, and thus can present difficult challenges for U.S. policymakers," the report said. Also, the commission recommended that the U.S. government use its capital markets to pressure foreign companies that do business in persecuting countries. (Some argue that allowing companies like Talisman Energy to do business in places like Sudan can lead to improving the situation there.) Finally, there's a brief paragraph in the report complaining that "The [State] Department has … constructed a cumbersome and lengthy process whereby Commission staff are able to review cables after they have been redacted." Expect more on this later.
Meanwhile, see China's response to the report, as well as related articles from CNN and the Los Angeles Times.
Is Washington's anti-bullying bill meant to bully those who think homosexuality is wrong?
In this post-Columbine era (haven't had a chance to use that phrase in a while), you'd think an anti-bulling bill would be a good thing. Christian author Frank Peretti called for such public policy actions in his latest book, The Wounded Spirit. But in Peretti's home state of Washington, Christians are actually lining up against such a bill, saying it limits free speech. "It looked like it could be (used against) people who might speak out against behavior," Rick Forcier, director of the state's Christian Coalition, told the Seattle Post-Intelligencer. More specifically, he's concerned that the bill, which would have required school districts to create anti-harassment policies and train workers to prevent intimidation, would also mean that Christian students wouldn't be allowed to speak out against homosexual behavior. To Republican opponents of the bill, it looks and sounds like a hate-crime law. "We don't want to see kids beat up on," says Forcier. "But I think this one went well beyond what we think is necessary." As a result of such opposition, the bill didn't make it out of the House Education Committee before the legislative session ended April 22.
Other stories on homosexuality and public life:
Homosexuality and the church:
More stories
Prayer:
God speed: Americans' hectic lives are reflected in way they pray | Many Americans pray just like they eat: on the run, between their kids' soccer games and trips to the supermarket. Some pray more in their cars than in their homes. (The Dallas Morning News)
Americans mark National Day of Prayer (UPI)
Denominational battles:
Church life:
Missions and ministry:
Life ethics:
Education:
Knicks controversy, continued (and, one hopes, concluded):
Related Elsewhere
See our past Weblog updates:
May 2 | 1 | April 30

April 27 | 26 | 25 | 24 | 23

April 20 | 19 | 18 | 17 | 16

April 12 | 11 | 10 | 9

April 6 | 5 | 4 | 3 | 2

March 30 | 29 | 28 | 27 | 26

March 23 | 22 | 21 | 20 | 19

March 16 | 15 | 13 | 12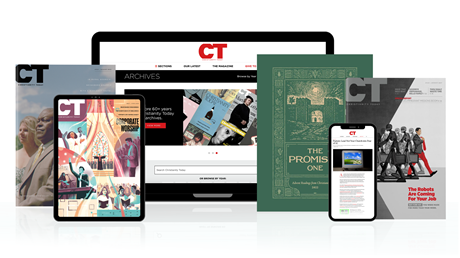 Annual & Monthly subscriptions available.
Print & Digital Issues of CT magazine
Complete access to every article on ChristianityToday.com
Unlimited access to 65+ years of CT's online archives
Member-only special issues
Subscribe
"Religious Persecution Increasing Worldwide, Says U.S."
"Religious Persecution Increasing Worldwide, Says U.S."