Everybody has "traditional" Christmas ornaments. The tree at my parents' house traditionally features a patchwork-covered-styrofoam turtle and a Wonder Woman ball (blue with silver glitter stars). The large tree at Wheaton College traditionally bears decorations sent in by alumni missionaries around the globe. Germans traditionally hide a glass pickle in their trees, while Ukrainians opt for a silver spider. But what would a truly traditional—as in historical—Christmas tree look like?
To answer that question, we would first need to pin down the date and location of the first decorated Christmas tree. Unfortunately, at least two candidates vie for that distinction, not counting the many pagan tree customs that may or may not relate to modern practice.
Riga, Latvia, claims to have been the site of the first decorated evergreen, which was displayed in the town market in 1510. Why Latvia? Riga's Web site offers this explanation:
"In the 7th century a monk from Crediton, Devonshire, went to Germany to teach the Word of God. He did many good works there, and spent much time in Thuringia, an area which was to become the cradle of the Christmas Decoration Industry.
"Legend has it that he used the triangular shape of the Fir Tree to describe the Holy Trinity of God the Father, Son and Holy Spirit. The converted people began to revere the Fir tree as God's Tree, as they had previously revered the Oak. By the 12th century it was being hung, upside-down, from ceilings at Christmastime in Central Europe, as a symbol of Christianity.
"The first decorated tree was at Riga in Latvia, in 1510."
The monk was Boniface (680-754), but he worked almost exclusively in Germany, so I'm not sure of the Latvian connection. The Riga story also makes no mention of what the 1510 tree was decorated with.
The person more commonly credited with bedecking the first Christmas tree is Martin Luther (1483-1546). Supposedly, while he was walking outside one night, he was so inspired by the stars twinkling through the trees that he cut down a tree and decorated it with candles, to recreate the outdoor effect. No contemporary record of this event exists, so it may never have happened, but if it did, that makes candles the most traditional ornament of all. (Note: Christian History does not recommend exposing trees to open flame.)
Two more ornaments can be traced to the Middle Ages as well. Medieval mystery plays, designed to entertain the masses while teaching them Christian doctrine, often featured "paradise trees" decorated with apples. Apples and other fruits made their way onto Christmas trees quite early, first in natural forms and later made from marzipan, glass, and other materials. Mystery play trees also featured unconsecrated Communion wafers, representing the antidote to the forbidden fruit. Wafers appeared on early Christmas trees, too.
If candles, apples, and wafers don't seem quite festive enough, it's also historically accurate to add paper roses and shiny foil shapes. All of these decorations appeared on the first tree about a which a written description remains, a tree set up in a home in Strasbourg in 1605. For an authentic mid-17th-century German tree, you can get even wilder, loading up the boughs with nuts, cookies, and sugary sweets.
I would like to see a bona fide "traditional" tree sometime, but not in my house. The only tradition that includes my favorite ornaments—souvenirs from Sunday school parties, blown glass balls from an artistic friend, an angel my dad made, Santa on skis—is my own.
Related Elsewhere:
More Christian history, including a list of events that occurred this week in the church's past, is available at ChristianHistory.net.
Riga's account of the first decorated Christmas tree is available online.
It's almost impossible for any one account of a folk custom like tree-decorating to be absolutely authoritative. These sites offer some different ideas:
Information for this article was adapted from the Encyclopedia of Christmas, by Tanya Gulevich (Omnigraphics, 2000).
Christian History has examined the history and meaning of Advent before. Other articles are available in Christian History's holidays area.
The BBC has an online advent calendar where each day more history about Christmas is revealed
Christian History Corner appears every Friday at ChristianityToday.com. Previous editions include:
Christmas Countdown | When does the holiday season really start? (Dec. 7, 2001)
Serving God with Mammon | John Wesley's wisdom for hard economic times: earn all you can, save all you can, and give all you can. (Nov. 30, 2001)
Eat, Drink, and Relax | Think the Pilgrims would frown on today's football-tossing, turkey-gobbling Thanksgiving festivities? Maybe not. (Nov. 21, 2001)
Where Are the Women? | The Christian tradition includes few female history-writers but plenty of female history-makers. (Nov. 20, 2001)
God Bless, More or Less | Irving Berlin's anthem captures America. (Nov. 2, 2001)
Festival of Fears | What's scarier than Halloween? The anxieties that drive it. (Oct. 26, 2001)
Forget 'Normal' | C.S. Lewis's warning against panic during World War II resonates in our new crisis. (Oct. 19, 2001)
Apocalypse Not | As speculations mount regarding the significance of recent events in God's plan for the end of the world, voices from the past urge restraint. (Oct. 12, 2001)
'He Does Not War' | In the Anabaptist tradition, a Christian must never fight back. (Sept. 28, 2001)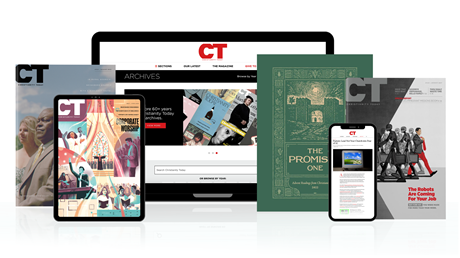 Subscribe to Christianity Today and get access to this article plus 65+ years of archives.
Home delivery of CT magazine
Complete access to articles on ChristianityToday.com
Over 120 years of magazine archives plus full access to all of CT's online archives
Subscribe Now
O Christmas Tree
O Christmas Tree