true
The Christian penetration of popular music has taken a surprising step: the sheep have found a small place in the wolves' den of sex, drugs, and ear-busting rock. Though evangelicals have enjoyed a substantial effect on pop music—more than on film, TV, or video games—they have done so only in certain genres. Believers who've won cultural acclaim have generally been pop balladeers (such as Amy Grant and Michael W. Smith) or gentler bands (such as Sixpence None the Richer and Jars of Clay). Christians generally gave up on hardcore as the province of hedonistic wastrels spewing lust and violence.
True, Christians claimed a few of their own metal bands: Resurrection Band in the '70s , the Spandex-bedecked novelty Stryper in the '80s, and numerous groups today such as Zao. But now, surprise, Christians who play hardcore, thrash, rap, and metal are shooting to the top of secular Billboard charts and landing major tour gigs and broad video and audio play.
Not your church choir
Take for instance, the rap-thrash foursome P.O.D. (Payable on Death). Their dreadlocks, tattoos, studs, and dyed hair signal they're not your typical church choir, but you'll recognize the words of "Follow Me": "What good is it for a man to gain the whole world yet lose or forfeit his very self? / He must deny himself and take up his cross daily and follow me."
Those straightforward lyrics haven't kept P.O.D. from scoring a hit (the battle-cry "Southtown" and "Rock the Party"), a platinum record (The Fundamental Elements of Southtown), and tour spots with Korn, a group whose shady lyrics and stoned fans would make any Christian parent shudder. That makes P.O.D. the rebels, as lead singer Sonny Sandoval explained in Revolver magazine: "We play concerts full of [other bands'] acts telling kids to put their middle finger up in the air, sleep with women, and do all the drugs they can. … When you get up and talk about love, people say, 'What do you mean? Rock and roll is about anarchy.' They say there's no room for God in rock. So you look at it and tell me who's the rebel. Who's the one looked down upon because of what he believes?"
P.O.D. includes Sandoval, his cousin Wuv on drums, and their mutual friend Marcos on guitar. They all grew up in the gritty Southtown neighborhood of San Diego, not far from Tijuana. (A bassist, named Traa, came from Cleveland.) When Sonny's mother lay dying of cancer, it moved him, as he told Synge.com: "I wasn't raised Christian, but as I continued to get older, most of my family were becoming Christian, and I was watching their lives change. And when my mom … was on her dying bed and stuff, I had to make a decision: Am I going to keep living this way? Am I going to keep doing this? Or am I going to trust in God and make a change out of my life?"
Wuv's father was a drug dealer who lived in the streets for three years. When his dad became a Christian, Wuv says in a band bio, "He would bring me to church and I started to see God change my dad's life. … We have a lot to be thankful for, so we just try to tell people about being positive and spreading love, instead of all the negative stuff that goes on." After a show, the group may talk with young fans for hours.
P.O.D. is gaining attention by combining lyrics of faith and a grinding sound akin to Rage Against the Machine. In 2000 P.O.D. placed a single on the soundtracks of Any Given Sunday and Little Nicky and appeared on the main stage at Ozzfest, the hardcore extravaganza named after the infamous Black Sabbath front man Ozzy Osbourne.
According to Teri VanHorn of Addicted to Noise, an online rock magazine, the members of p.o.d. once found themselves recording in a studio next to Marilyn Manson, the self-dubbed Antichrist Superstar. Did the day-and-night bands get along? "We got to hang out with [Manson] and meet the rest of [his] band," Wuv said. "That was pretty neat."
Though many Christians might not find it "neat" to hang out with Marilyn Manson, the famous 19th-century missionary C. T. Studd probably would approve: "Some wish to live within the sound of church and chapel bell. I wish to run a rescue mission within a yard of hell."
Reciting the creed
A second band standing near the intersection of Christian faith and secular rock is the phenomenally successful Creed. The band recorded its first album, My Own Prison, for a measly $6,000, yet four of the album's songs hit number one. Now the band has sold nearly 10 million albums and was named rock artist of the year (2000) by Billboard.
The lyrics to "My Own Prison" ("I hear a thunder in the distance / See a vision of a cross / I feel the pain that was given / On that sad day of loss") quickly made fans ask, "Is Creed a Christian band?" Lead vocalist and co-lyricist Scott Stapp disavows that label on the band's Web site (www.creednet.com): "No, we are not a Christian band. A Christian band has an agenda to lead others to believe in their specific religious beliefs. We have no agenda!"
Still, Spin magazine declares that all four members of Creed are Christians. (Bassist Brian Marshall left the band since that interview.) And the band's lyrics drip with biblical imagery: "golden streets," "step inside the light," "souls are lost." Creed's songs tackle serious themes such as sin and forgiveness; they avoid violence, sexual degradation, and obscenity (except for one "God d—"). On the road, band members chide each other for using the F-word. Open Creed's CDs, and under "The band would like to thank," the first name you read is "God." Lead vocalist Scott Stapp's arm sports a large, tattooed cross, and the singer named his son Jagger—not after the Rolling Stones' front man but for its definition in a book of baby names: "One who carries a message sent by God."
Stapp grew up in a conservative Florida Pentecostal home (no rock records, other than those by Elvis, allowed) and left home at 17. Stapp explains that he has not "abandoned those [childhood Christian] beliefs, [but is] just searching for where they fit into my life."
That searching apparently has led to universalism, evidenced in this quote from creednet.com: "Who are we to say that being a Christian is the only way to heaven?" One popular Creed song, "Higher," sounds like it celebrates heaven ("Can you take me higher? / To the place where blind men see") but really refers to lucid dreaming, an altered state learned from Hindu monks. Nor would most evangelicals rejoice that Creed lent songs to the soundtracks of the horror films Halloween H2O and Scream 3.
View Creed, then, not as a Christian band but as a God-haunted band.
"I am haunted by my past," Stapp says on CreedOnline.com. "I'm haunted by God. … I believe in God because it's what I've been told my entire life. So there's a conflict in me … I'm not preaching; I'm not trying to get people to believe in Christianity. And a lot of the songs are me trying to figure out if I believe in it at all."
Creed's sound is reminiscent of (some say a clone of) Pearl Jam, and its stage show boasts Metallica-style pyrotechnics. But Creed's lyrics stand far apart from those of, say, Limp Bizkit, which recorded a song that features the F-word 46 times. Stapp explained to Alternative Press: "I've learned how to write and got the poetic mind from Psalms and Proverbs. And that's where a lot of my songwriting references come from—so when I'm trying to relate a point to someone, when I'm trying to paint a picture with words, it's biblical although I'm not even thinking about it."
Stapp's quest to figure out if he believes leads to some curious ironies. After nearly killing himself experimenting with psychedelic mushrooms, Stapp wrote the sober lyrics of "My Own Prison."
"I realized that I could not continue to blame others for why I was in the situations I had placed myself in," he says. "I was blaming my parents, God, and anyone I could find, when really the only blame rested with me." Self-responsibility following self-indulgence? Themes like that used to violate rock-star regulations.
Kevin A. Miller is executive editor of www.PreachingToday.com, an Internet resource of Christianity Today International.
Related Elsewhere
P.O.D. is on the cover of the January 2001 CCM magazine. Read about P.O.D. in CCM's "Better Than Bizkits" and "The Fundamental Elements of Southtown"
Read the lyrics to P.O.D. 's MTV hit "Rock the Party."
All of P.O.D.'s Southtown is available in MP3.
Visit Creed's official Web site where you can download MP3s of songs not released in the U.S. and view popular videos.
Recent Christianity Today articles about music include:
Slivers of Enlightenment | Seven years after its publication, Roaring Lambs—now with a companion CD—still prods Christian artists to engage the culture. (Oct. 2, 2000)
Singing Briner's Praises | A review of the Roaring Lambs CD. (Oct. 2, 2000)
Books & Culture Corner: Roaring Lambs | The Evangelical Culture of Euphemism, Part 3.(July 31, 2000)
Incarnating Mystery | Michael Card argues that a proper view of Christ is a key to creativity.(July 28, 2000)
The Ballad of John and Jesus | Two books tell the story behind John Lennon's short-lived conversion. (June 14, 2000)
An Education with a Backbeat | (Nov. 3, 1999)
Hymns on MTV | Christian music has traveled a long way from the Bay Psalm Book to the charts of Billboard magazine. Now Jars of Clay is shaking up Contemporary Christian Music. (Nov. 1, 1999)
What Makes Music "Christian"? | One CCM veteran thinks it means more than mentioning Jesus. (June 14, 1999)
Where No Ministry Has Gone Before | To be more effective ministers, Five Iron Frenzy resists the packaging of Christian rock bands. (May 24, 1999)
Have something to add about this? See something we missed? Share your feedback here.
Our digital archives are a work in progress. Let us know if corrections need to be made.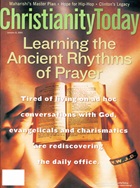 This article is from the January 8 2001 issue.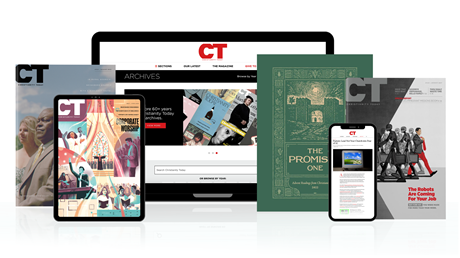 Annual & Monthly subscriptions available.
Print & Digital Issues of CT magazine
Complete access to every article on ChristianityToday.com
Unlimited access to 65+ years of CT's online archives
Member-only special issues
Subscribe
Rock's Real Rebels
Rock's Real Rebels