On a Sunday morning in 1987, 13-year-old Kur Mach Kur sat in church in Makol Cuai, a small village in southern Sudan, when armed Muslim raiders burst in during the pastor's sermon. The raiders demanded that the preacher renounce his faith in Jesus Christ. The pastor refused, and as Kur watched, the raiders shot and then dismembered the man who moments before had been teaching from the Bible.
A few months later, as Kur kept watch over the family's cattle outside the village, the marauders returned. On this Sunday morning raid, they did not stop with the pastor. The intruders moved through the sanctuary, promising jobs and comfort to those who agreed to become Muslims and relocate to Khartoum, Sudan's capital. Kur's mother recoiled at the offer—and as a result she was fatally shot. The gunmen set fire to the church and homes across the village.
So began the harrowing odyssey for Kur and thousands of other Sudanese "lost boys" who have experienced similar horror. With most of their parents murdered or taken captive for slave labor to northern Sudan, these youth (many of them Christian) have lived in refugee camps in Ethiopia and Kenya. But the United Nations changed their status recently, allowing them to resettle in other countries, become citizens, and attempt to make new lives for themselves.
Lost Childhood
Kur is making his new life in the Seattle suburb of Kent, living in a two-bedroom apartment with three younger cousins from the same village. Cal Uomoto, director of the World Relief refugee program in Seattle, laments that the resettlement of these Sudanese youth "should have happened years ago." One reason for the delay, according to Uomoto, is that the United Nations took too long to approve permanent refugee status for people from Sudan, which would pave the way for refugees to become citizens of other nations. Uomoto says the Sudanese boys were overlooked while the international community focused on refugees from the Balkans and other nations.
Christian ministries, including World Relief, Lutheran Immigration and Refugee Services, and the U.S. Catholic Conference, are among the nine agencies that have stepped up to the job of resettling at least 3,000 Sudanese young people. By the end of summer, Uomoto's staff will have found places for 50 Sudanese refugees in the Seattle area.
The four cousins are polite, personable, and friendly, remarkably well adjusted for what they have been through. Yet their smiles do not come naturally. "We used to cry. We have seen so many people die," says Abil Abil, 18, who was 5 when the atrocities in his village began. "We don't cry anymore."
In Kent, one of the fastest-growing cities in Washington, they live in a $750-a-month apartment, full of modern conveniences they once had no idea existed: a flush toilet, a refrigerator, carpeting, electric lights, and beds with mattresses. During the refugees' initial 16 weeks in their new home, World Relief pays their rent, helps them find employment, and provides a small amount of spending money. They are eligible for employment immediately because of their refugee status. They qualify for $349 in food stamps and medical coupons. In March, Kur and Abil began working the swing shift at Insulate Industries, a vinyl-window manufacturing plant.
"It's been a major mental adjustment," Uomoto says. "They really didn't know how to relate to U.S. culture. They hadn't been acclimated." Instead they have been trying to survive for 14 years, relying on each other, themselves, and the Lord.
"My parents were Christians," says Simon Anyang, 19. "They told me about the Word of God." He last saw them when he was 5. "I cannot say if they are dead or alive."
In some cases, parents have been killed or disappeared without a trace.
The four cousins, like thousands of others, have survived desperate adventures, beginning with escaping from their Dinka tribe village of Makol Cuai, to get where they are today. Refugee experts estimate that about 12,000 Sudanese children and young adults escaped from their villages, eventually making their way 1,000 miles on foot to a refugee camp in northern Kenya.
After scrambling across the hot deserts of Sudan, these four wandered into an Ethiopian refugee camp. But political turmoil there four years later forced them to flee again. They walked back to southern Sudan, where they stayed for six months, until government soldiers captured about 1,000 others in their group. Danger did not dissipate once they had dodged the bullets of Sudanese soldiers. Wild animals killed some of the youth on their trek to the refugee camp in Kakuma, Kenya. Some boys ran to rivers to escape, only to drown or fall prey to crocodiles. Once they were in camp, misery continued. Sometimes restricted to one meal every three days, they faced starvation and disease. They lived in a five-person dirt hut, sleeping on weathered blankets atop piles of twigs. Relief workers taught English as part of the boys' education.
"All other aspects of life were difficult," Abil says. "There was no work or food there." And by spending more than eight years in camp they missed something as vital: their childhood.
Learning to Use a Lock
World Relief seeks to place refugees with a family for the first two weeks of their stay so they can adjust more quickly to American life. But because the four cousins arrived during Christmas week with little notice, Uomoto had no volunteers.
Members of First Evangelical Presbyterian Church of Renton, with a weekly attendance around 850, bought clothes and furnished the two-bedroom apartment for the arrivals. But being on their own meant learning by trial and error. A key bent in the door because no one knew how to use the lock. Spilled beverages left carpet stains (the ground had always absorbed spills before).
When another two refugees arrived in March, Uomoto was able to line up a sponsor family from First Evangelical Presbyterian Church, making the transition easier and giving the sponsors an opportunity to serve others in new ways.
Jacob Makuel, 19, and Paul Guet, 21, lived with Roger and Leonda Cox for two weeks before moving into their own apartment. "We had never done anything like this before," says Roger, a 53-year-old university teacher. "We learned along the way."
The Coxes learned about the plight of the Sudanese from fellow church member Dennis Bennett, whose national Blue Nile Project helps the persecuted in southern Sudan by mobilizing church-based prayer, political advocacy, and direct donations for food and supplies.
"It is a privilege to help them on this part of their journey," says Leonda, a 52-year-old nurse. Along with taking the refugees to appointments to obtain Social Security cards or to receive immunizations, the Coxes taught practical lessons: how to read a bus schedule, how to operate a calculator, the difference between a freezer and a refrigerator, and why you do not use the same towel to clean both the dishes and the toilet.
"They know how to run from dangerous animals, but they do not know how to cross a busy street," Roger says. The refugees do not understand some customs, such as why Leonda's 90-year-old mother lives in a retirement facility rather than in the family home.
International pressure
The problems of Sudan don't show signs of getting solved in the near future—which only means more refugees will need to be welcomed in the next few years.
During the 18-year civil war, 2 million Christian and animist Sudanese have died from war or famine at the hands of the militant Muslim government. Another 4 million have been displaced as houses, churches, schools, hospitals, and relief facilities have been bombed.
The war has taken on a new urgency and brutality because the government's war efforts are being financed with crude-oil revenues from southern Sudan. In addition to torture, rape, and enslavement, a scorched-earth policy of burning homes, destroying crops, bombing medical clinics, and killing livestock has hastened the exodus from the largely agrarian region of Sudan, Africa's largest country, which is more than three times the size of Texas.
A new international focus on Sudan occurred when American and European religious-freedom advocates traveled to Sudan, paying cash to redeem slaves. Since then, a growing coalition of American Christians—conservative and liberal, black and white—has urged international pressure to stop the genocide and slave trade. In March, U.S. Secretary of State Colin Powell called Sudan the world's greatest tragedy. He said ending the war will be a Bush administration priority.
By the end of this year, an estimated 4,000 Sudanese refugees, mostly men ages 18-26 and many Christian, will have permanent homes in the United States.
"God is bringing people here," Uomoto says. "What shall we do with them?"
Related Elsewhere:
Also appearing on our site today, fleeing Kosovo Muslims find refuge in Kent, Washington.
World Relief has more on Sudan's "Lost Boys" and how to help.
Other media covering Sudan refugees in the U.S. include The New York Times Magazine, Newsweek (alternate site), CNN, The Daily Herald, The Las Vegas Sun, Christian Science Monitor, The Chicago Tribune, Pittsburgh Post-Gazette and the Burlington (Vermont) Free Press.
Earlier Christianity Today articles on refugee resettlement include:
European Churches Declare Immigrants Are Not 'Potential Criminals' | Petitions submitted to the European Union for more protection, aid. (June 13, 2001)

Separation Anxiety | Haitian immigrants are less welcome than Cubans, but Florida churches are filling the hospitality gap.(April 24, 2000)

Saving Bodies, Rescuing Souls | Chechen Muslims find Salvationist care has compassionate accent. (April 24, 2000)

In Sri Lanka's No Man's Land, Churches Provide Some Hope for Refugees | Christians mobilize to help nearly a million left homeless by Tamil conflict (April 18, 2000)

The Torture Victim Next Door | Hidden victims of religious persecution find refuge in America (Mar. 6, 2000)

Church Aids Refugees Despite Violence | The Catholic church has been a place of refuge and reform for those opposing the Indonesian government. (October 25, 1999)

Coming to a Neighborhood Near You | Refugees from around the world are knocking on our door. (July 12, 1999)

Churches Reach Out to Refugees | In many cases, the groups are relying on churches to help provide temporary housing, furniture, clothing, language training, and money for rent. (June 14, 1999)
Article continues below
The U.S. Department of State's Bureau of African Affairs has country information on Sudan.
The U.S. Department of State's Annual Report on International Religious Freedom for 2001 gives more background on religious freedom in Sudan.
Christians can help those in Sudan through Christian Solidarity Worldwide, Samaritan's Purse, and Persecution.com.
Lutheran Immigration and Refugee Services is also active in resettling Sudanese refugees.
Blue Nile Project's various programs allow school children to get involved in Sudan relief and more.
Make Me Your Voice is a worship album dedicated to the massive persecution currently taking place in Sudan.
The United States Holocaust Memorial Museum site has a page to warn against the current Sudan genocide. The Sudan area includes resources for more information.
Human Rights Watch: Sudan indexes annual updates on Sudan human rights in addition to special reports on causes of famine, slavery and slave redemption, and more.
In 1999, Christianity Today examined the challenges and potential rewards of resettling refugees for American Christians.
For more articles, see Yahoo's full coverage area, allAfrica.com and Christianity Today's area on persecution.
Our earlier coverage of the Sudan genocide includes:
No Greater Tragedy | What you can do to help persecuted Christians in Sudan. (June 25, 2001)

Freedom Panel Alleges Genocide | U.S. Commission on International Religious Freedom makes suggestion on Sudan's worsening abuses. (May 4, 2001)

Turn Off Sudan's Oil Wells, Say Canadian Church Visitors | Christian leaders say they are "outraged" that a Canadian oil company is paying huge royalties to Sudanese government. (Apr. 20, 2001)

The Maturing of Victimhood | A new exhibit at the Holocaust Museum is a very good sign. (Mar. 29, 2001)

Sudan Loses Election for U.N. Security Council Seat | Sanctions continue to plague the African nation's bid for international acceptance. (Oct. 12, 2000)

Southern Sudan Bombed Despite Cease-fire Promise | Details sketchy from town of Yei, near Democratic Republic of the Congo. (May 8, 2000)

Editorial: Confronting Sudan's Evils | Western Christians and governments should press Khartoum on multiple fronts. (Apr. 12, 2000)

Sudan Relief Operations Endangered | Rebel demands cause agencies to curtail efforts. (April 3, 2000)

Bombs Continue to Fall on Ministry Hospitals in Sudan | Samaritan's Purse hit for fourth time, two killed in Voice of the Martyrs bombing. (March 24, 2000)

Mixing Oil and Blood | Sudan's 'slaughter of the innocents' toughens religious freedom coalition. (Mar. 15, 2000)

Protest Begins as White House Rethinks Policy on Sudan Regime | Religious leaders urge Clinton administration to act against oppression. (Feb. 10, 2000)

Christian Solidarity Loses U.N. Status | Slave-freeing organization's rebel spokesman violated U.N. rules (Dec. 14, 1999)

Sudan Releases Jailed Catholic Priests | President Resolves Impasse in Contrived Bombing Trial (Dec. 13, 1999)

Jailed Sudanese Priests Reject Presidential Amnesty | Clerics waiting for 'total acquittal' by courts. (Dec. 6, 1999)

Oil Exports Draw Protests | Christians urge divestment from Canadian company (Nov. 15, 1999)

Starvation Puts 150,000 at Risk (Sept. 6,1999)

Slave Redemption | Americans are becoming instant abolitionists. But is the movement backfiring? (Aug. 9, 1999)

The Price of a Slave | "I was taken by a slave master [who] beat me and shamed me, telling me that I was like a dog." (Feb. 8, 1999)

Sudanese Christians Bloody, but Unbowed (Aug. 10, 1998)

How Apin Akot Redeemed His Daughter (Mar. 2, 1998)

Muslim-Christian Conflicts May Destabilize East Africa | Christians raped, forced into slavery, and killed. (Apr. 29, 1996)
Article continues below
Have something to add about this? See something we missed? Share your feedback here.
Our digital archives are a work in progress. Let us know if corrections need to be made.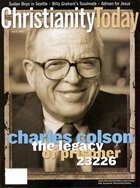 This article is from the July 9 2001 issue.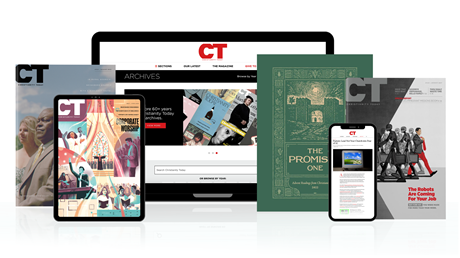 Annual & Monthly subscriptions available.
Print & Digital Issues of CT magazine
Complete access to every article on ChristianityToday.com
Unlimited access to 65+ years of CT's online archives
Member-only special issues
Subscribe
Finding Homes for the Lost Boys
Finding Homes for the Lost Boys