Introduction | John Sanders 1 | Chris Hall 1 | Sanders 2 | Hall 2
Part 2:John Sanders 3 | Chris Hall 3 | Sanders 4 | Hall 4 | Sanders 5 | Postscript
• Does God change his mind?
• Does he ever change it in response to our prayers?
• How do Bible statements that God ordains the future and that he alters his plans relate to each other?
• Does God know your next move—whether it's a life-changing decision or a routine choice at the grocery store?
• And if he really knows it all, are you truly free?
• Does God know the future?
• Does he know it precisely or just with a high degree of probability?
• Was God taking a risk in making the human race?
• If God doesn't know the future, how do we make sense of Bible prophecy?
• And if God doesn't know the future, what are we to make of the Bible's teaching that "those whom God foreknew, he also predestined to be conformed to the image of his Son"?
Evangelical theologians are now discussing (and debating) the nature of God's knowledge of the future. These theological debates have enormous implications for piety and pastoral care—especially for how we respond to the tragedies that invade our lives.
The Time Factor
All these questions hinge on one key issue: how God's knowledge relates to the flow of time. How is his experience of time different from ours? Does everything exist for him in a divine simultaneity?
Key Christian thinkers, from second-century theologians Irenaeus and Tertullian to the 20th-century apologist C. S. Lewis, believed that God is free of the constraints of time, and therefore knows everything future and past. But a few theologians are now teaching that God doesn't know the future precisely because the future does not yet exist. Thus, while God is very good at calculating the odds, he still takes risks—especially in dealing with his free creatures.
The one-word shorthand for this view—openness—comes from the title of a 1994 book, The Openness of God, by Clark Pinnock, Richard Rice, John Sanders, and William Hasker. Those authors called their position "a biblical challenge to the traditional understanding of God." As with all such challenges, the burden of proof clearly rests on those who advocate against the tradition. In the 20th century, key elements of this challenge were discussed in the personalist and process schools of thought, but no denomination or confessional tradition has taught it.
Openness theology has been generating much heated discussion in venues such as the Evangelical Theological Society. Some have called it heresy. Others have said it treads the verge of heresy. CT decided to bring together a key spokesman for openness and a defender of the historic Christian view, both of them with cool heads. At a December 1999 meeting of CT's senior editors, we tapped Eastern College's Chris Hall (author of Reading Scripture with the Church Fathers, IVP) and asked him to set up an e-mail dialogue with Huntington College's John Sanders (author of The God Who Risks, IVP). Part one of that dialogue appears here; part two, in our next issue; and in expanded form, it will constitute a book to be published next year by Baker Academic.
The e-mail format has produced a series of to-the-point exchanges that make a complex topic more accessible and far more instructive and digestible than a pair of pro-con essays would have been.
Chris and John proved to be models of civility and clarity. If all discussions of this topic were like this, we all would be grateful.
The conversation begins, next page.
Related Elsewhere:
A ready-to-download Bible Study on this article is available at ChristianBibleStudies.com. These unique Bible studies use articles from current issues of Christianity Today to prompt thought-provoking discussions in adult Sunday school classes or small groups.
Have something to add about this? See something we missed? Share your feedback here.
Our digital archives are a work in progress. Let us know if corrections need to be made.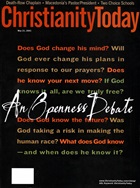 This article is from the May 21 2001 issue.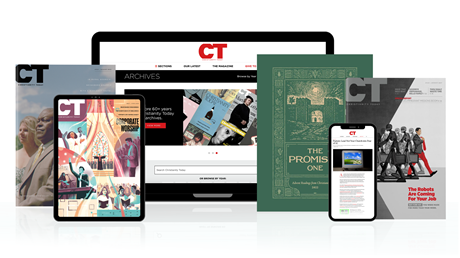 Annual & Monthly subscriptions available.
Print & Digital Issues of CT magazine
Complete access to every article on ChristianityToday.com
Unlimited access to 65+ years of CT's online archives
Member-only special issues
Subscribe
Does God Know Your Next Move?
Does God Know Your Next Move?