A federal panel on religious freedom has appealed to the Bush administration to mount a "comprehensive, sustained campaign" to pressure Sudan to respect basic human rights.
The U.S. Commission for International Religious Freedom said in a March 21 report that the Sudanese government's abuse of human rights has reached "genocidal proportions," and has worsened since the commission's annual report on religious freedom last May.
That report urged Washington to help end the 18-year-old civil war in Sudan by tightening sanctions against the country, creating a military no-fly zone over Sudan, and pressuring the Sudanese government to end human-rights violations.
More than 2 million people have died since 1983 in fighting and war-induced famines amid the struggle between the Islamic government in the north and autonomy-seeking groups in the predominantly animist and Christian south.
The United States should strengthen economic sanctions against Sudan, the report said, and it should require foreign companies doing business with Sudan to disclose that information to investors in America when using U.S. markets to raise money.
The commission discouraged any appointment of an ambassador to Sudan. Commissioners suggested instead that Bush appoint an envoy "whose sole responsibility is directed to bringing about a peaceful and just settlement of the war in Sudan and an end to religious freedom abuses and humanitarian atrocities."
Related Elsewhere
U.S. Commission on International Religious Freedom's March 21 report on Sudan and a related press release are available at the commission's Web site.
This week, the commission released its annual report, which reiterated many of its March 21 findings. Sudan, it said, is "the world's most violent abuser of the right to freedom of religion and belief." (See Christianity Today Weblog's take on the report.)
The U.S. State Department's 2000 Human Rights Report (released in February 2001) and 2000 Religious Freedom Report (released in September 2000) on Sudan are also available.
Our earlier coverage of the Sudan genocide includes:
Slave Redemption | Americans are becoming instant abolitionists. But is the movement backfiring? (Aug. 9, 1999)
Turn Off Sudan's Oil Wells, Say Canadian Church Visitors | Christian leaders say they are "outraged" that a Canadian oil company is paying huge royalties to Sudanese government. (Apr. 20, 2001)

The Maturing of Victimhood | A new exhibit at the Holocaust Museum is a very good sign. (Mar. 29, 2001)

Sudan Loses Election for U.N. Security Council Seat | Sanctions continue to plague the African nation's bid for international acceptance. (Oct. 12, 2000)

Southern Sudan Bombed Despite Cease-fire Promise | Details sketchy from town of Yei, near Democratic Republic of the Congo. (May 8, 2000)

Editorial: Confronting Sudan's Evils | Western Christians and governments should press Khartoum on multiple fronts. (Apr. 12, 2000)

Sudan Relief Operations Endangered | Rebel demands cause agencies to curtail efforts. (April 3, 2000)

Bombs Continue to Fall on Ministry Hospitals in Sudan | Samaritan's Purse hit for fourth time, two killed in Voice of the Martyrs bombing. (March 24, 2000)

Mixing Oil and Blood | Sudan's 'slaughter of the innocents' toughens religious freedom coalition. (Mar. 15, 2000)

Protest Begins as White House Rethinks Policy on Sudan Regime | Religious leaders urge Clinton administration to act against oppression. (Feb. 10, 2000)

Christian Solidarity Loses U.N. Status | Slave-freeing organization's rebel spokesman violated U.N. rules (Dec. 14, 1999)

Sudan Releases Jailed Catholic Priests | President Resolves Impasse in Contrived Bombing Trial (Dec. 13, 1999)

Jailed Sudanese Priests Reject Presidential Amnesty | Clerics waiting for 'total acquittal' by courts. (Dec. 6, 1999)

Oil Exports Draw Protests | Christians urge divestment from Canadian company (Nov. 15, 1999)

Starvation Puts 150,000 at Risk (Sept. 6,1999)

The Price of a Slave | "I was taken by a slave master [who] beat me and shamed me, telling me that I was like a dog." (Feb. 8, 1999)

Sudanese Christians Bloody, but Unbowed (Aug. 10, 1998)

How Apin Akot Redeemed His Daughter (Mar. 2, 1998)

Muslim-Christian Conflicts May Destabilize East Africa | Christians raped, forced into slavery, and killed. (Apr. 29, 1996)
Article continues below
Other publications' recent articles and opinion pieces about Sudan include:
Top-flight defense puts heat on Sudan | Starr at D.C. hearing, Cochran isn't — The Washington Post (May 2, 2001)

End the terror in Sudan | Call for change: If U.S. friends can't win the war, administration should try negotiating it. — Editorial, The Sun, Baltimore (May 2, 2001)

Talisman CEO faces human rights critics over Sudan | Human rights activists and Sudanese expatriates descended on Talisman Energy Inc.'s annual meeting on Tuesday to accuse the Canadian oil company of fueling Sudan's civil war, but Talisman's chief executive said the firm's presence was only improving the situation. — Reuters (May 1, 2001)

Sudan protest makes ddd bedfellows | Only a place as truly evil as Sudan could pull this crowd together — The Washington Post (Apr 30, 2001)

Rights activists say oil worsening Sudan conflict | Toronto's Talisman Energy calls for work "to end the war, rather than finger-pointing" — Reuters (Mar. 30, 2001)

Sudan Tops List of Religious Freedom Violators — Voice of America (Apr. 30, 2001)

Sudan abuses raise ire — UPI (Apr. 30, 2001)

Powell weighs diplomatic ties with Sudan — UPI (Apr. 26, 2001)

Rights groups push US to end Sudanese war — Business Day (Mar. 30, 2001)

US considering Sudan initiatives — Financial Times (Mar. 27, 2001)

Armey: Sudan Needs Special US Envoy -Associated Press (Mar. 27, 2001)

Colin Powell begins much-needed push for end to Sudan civil war — Editorial, San Jose Mercury News (Apr 27, 2001)

When will we act on Sudan's slave trade? | Millions of Americans have been made unknowing partners to the slave trade in Sudan because mutual funds or pension funds they hold contain Talisman stock. — Charles Jacobs, The Boston Globe (Mar. 23, 2001)
Article continues below
Yahoo's full coverage and allAfrica.com offer regular updates and resources on the Sudan genocide.
Have something to add about this? See something we missed? Share your feedback here.
Our digital archives are a work in progress. Let us know if corrections need to be made.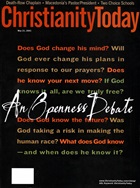 This article is from the May 21 2001 issue.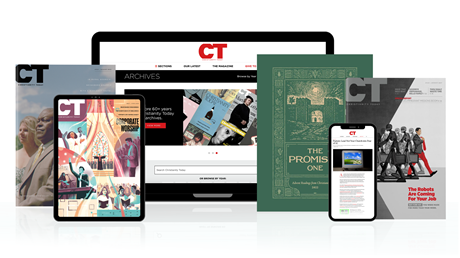 Annual & Monthly subscriptions available.
Print & Digital Issues of CT magazine
Complete access to every article on ChristianityToday.com
Unlimited access to 65+ years of CT's online archives
Member-only special issues
Subscribe
Sudan: Freedom Panel Alleges Genocide
Sudan: Freedom Panel Alleges Genocide