America's latest blockbuster, Pearl Harbor, has already been blamed for dwelling on a shallow love triangle, ignoring the sacrifices of Japanese Americans, downplaying the Japanese empire's aggression, and generally Disney-fying the "date which will live in infamy." No surprises there; as director Michael Bay told Reuters, "It's not a history lesson." But it's far too easy to shoot holes in Hollywood history. Instead, I'm going to fault the movie for missing a poignant and inspiring Christian story: the saga of Mitsuo Fuchida.
Fuchida grew up loving his native Japan and hating the United States, which treated Asian immigrants harshly in the first half of the twentieth century. Fuchida attended a military academy, joined Japan's Naval Air Force, and by 1941, with 10,000 flying hours behind him, had established himself as the nation's top pilot. When Japanese military leaders needed someone to command a surprise attack on Pearl Harbor, they chose Fuchida. [Here, you can cut to the movie—it renders the attack pretty faithfully.]
Fuchida's was the voice that sent his aircraft carrier the message "Tora! Tora! Tora!" (Tiger! Tiger! Tiger!) indicating the success of the surprise mission. Later, he too was surprised when he learned that, of the 70 officers who participated in the raid, he was the only one who returned alive. He had another close call when he was shot down during the battle of Midway in 1942, but despite serious injuries, he survived again.
By 1945 he had attained the position of the Imperial Navy's Air Operations Officer. On August 6 he was eating breakfast in Nara, Japan, where a new military headquarters was under construction, when he heard about a bomb dropped on Hiroshima. He flew to investigate, then sent a grim report to the Imperial Command.
On the same day, an American P.O.W. named Jacob DeShazer felt moved by the Holy Spirit to pray for peace. DeShazer had been in captivity since 1942, when, as a member of Doolittle's Raiders, he dropped bombs near Tokyo and then was forced to parachute into China. While imprisoned, first in Nanjing and later in Beijing, DeShazer had become a Christian. He found his heart softened toward his Japanese captors. After being liberated, DeShazer wrote a widely distributed essay, "I Was a Prisoner of the Japanese," detailing his experiences of capture, conversion, and forgiveness.
Fuchida and DeShazer met in 1950. DeShazer had returned to Japan in 1948 as a missionary. Fuchida had read DeShazer's testimony, bought a Bible, and converted from Buddhism to Christianity. DeShazer had recently finished a 40-day fast for revival in Japan when Fuchida came to his home and introduced himself. DeShazer welcomed the new convert and encouraged him to be baptized. While DeShazer continued to plant churches throughout Japan, Fuchida became an evangelist, spreading a message of peace and forgiveness in his native country and throughout Asian-American communities.
Fuchida died 25 years ago, on May 30, 1976. Like dynamite inventor Alfred Nobel, who wished his legacy to be one of peace rather than destruction, Fuchida wanted the message of his changed heart to supersede the memory of his infamous attack. He wrote, "That morning [December 7] … I lifted the curtain of warfare by dispatching that cursed order, and I put my whole effort into the war that followed. … [But] after buying and reading the Bible, my mind was strongly impressed and captivated. I think I can say today without hesitation that God's grace has been set upon me."
Elesha Coffman is associate editor of Christian History.
Related Elsewhere
More Christian history, including a list of events that occurred this week in the church's past, is available at ChristianHistory.net. Subscriptions to the quarterly print magazine are also available.
Fuchida's conversion testimony, "From Pearl Harbor to Calvary," is reprinted on the Christian History site as well.
DeShazer's story, "From Bombs to Something More Powerful," appeared in our sister publication Christian Reader in 1997.
Other sites with information on Fuchida include: Richard Rongstad's obituary collection, Ralph Chambers' Harvest Time newsletters at Dorna's Lighthouse, and one of syndicated columnist Howard Kleinberg's pieces from last December.
For more on Pearl Harbor, both the movie and the event, Coffman recommends The History Channel's site and a joint online project between MSNBC and Newsweek.
Fuchida wroteMidway: The Battle That Doomed Japan. Gordon Prange's biography of Fuchida is called God's Samurai: Lead Pilot at Pearl Harbor.
Two weeks ago, Christianity Today's Books & Culture Corner examined John Gregory Dunne's assertion that Americans got what they deserved at Pearl Harbor.
National Geographic's site has a fancy multimedia Pearl Harbor area.
In addition to the usual film fare, the Pearl Harbor movie site has survivor stories and more history about December 7, 1941.
With a few exceptions the movie was not reviewed well by either mainstream or Christian critics, as Christianity Today's Film Forum noted Thursday.
Article continues below
BlueJacket.com offers a history piece on "What the Pearl Harbor Chaplains Were Doing."
Here's a live Webcam of what's going on at Pearl Harbor right now.
Christian History Corner appears every Friday at ChristianityToday.com. Previous Christian History Corners include:
Rivers of Life | In Africa, survival depends on open waterways. Missionary explorer David Livingstone believed that salvation did, too. (May 25, 2001)

Intro to the Inklings | C.S. Lewis's intellect was stimulated at one of the most fascinating extracurricular clubs ever. (May 18, 2001)

How Not to Read Dante | You probably missed the point of The Divine Comedy in high school. (May 11, 2001)

If My People Will Pray | The U.S. National Day of Prayer Turns 50, but its origins are much older. (May 4, 2001)

Mutiny and Redemption | The rarely told story of new life after the destruction of the H.M.S. Bounty. (Apr. 27, 2001)

Book Notes | New and noteworthy releases on church history that deserve recognition. (Apr. 20, 2001)

A Primer on Paul | The History Channel uses Holy Saturday not to discuss Jesus, but the apostle who spread his message. (Apr. 12, 2001)

Image Is Everything | The Taliban's destruction of Buddhist statues is only the latest controversy over the Second Commandment. (Apr. 6, 2001)

Christian Education for All | The first Sunday schools provide a positive example of government partnerships with faith-based organizations.(Mar. 23, 2001)

The Sport of Saints? | Forget St. Pat's. It's time for March Madness, baby! (And yes, it's Christian.) (Mar. 16, 2001)

Digging in China | Christianity in the world's most populous country may be a lot older than anybody imagined. (Mar. 9, 2001)

Food for the Soul? | Lenten traditions range from fowl-turned-fish to pretzels. (Mar. 2, 2001)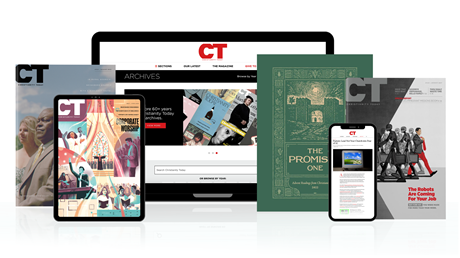 Annual & Monthly subscriptions available.
Print & Digital Issues of CT magazine
Complete access to every article on ChristianityToday.com
Unlimited access to 65+ years of CT's online archives
Member-only special issues
Subscribe
Beyond Pearl Harbor
Beyond Pearl Harbor