On the morning of September 11, activists urging the U.S. Congress to sanction Sudan's militant Muslim regime were about to hold a press conference on Capitol Hill. Then they received an order to evacuate. Terrorists had struck New York and the Pentagon.
The September 11 attacks brought a taste of southern Sudan's terror close to home for the Sudan Coalition. This broad-based movement includes the National Association of Evangelicals, the Family Research Council, and the afl-cio.
That day also apparently spurred a shift in U.S. policy toward Sudan that has stalled potentially punitive legislation. Sudan's National Islamic Front regime, which once harbored prime suspect Osama bin Laden, says it will now help bring some of his associates to justice.
The Sudan Coalition has been pressing Congress to maintain provisions in the Sudan Peace Act that would ban from U.S. markets companies that cooperate with Khartoum. Sudan is exploiting newly discovered oil reserves with foreign investment. The country had $500 million in oil revenues last year. That money, in turn, fuels Sudan's military campaign to impose Islamic law nationwide.
In southern Sudan, the rebel Sudan People's Liberation Army continues to fight back, but it has not been easy. Sudan's government has bombed civilian targets, condoned slave raids, and orchestrated mass starvation. More than 2 million southern Sudanese have died. More than 4 million have been displaced since 1983.
While the House version of the Sudan Peace Act supports capital-market restrictions, the Senate version does not. House and Senate versions were about to be reconciled on September 20. But House Speaker Dennis Hastert halted the process, apparently on behalf of the Bush administration.
An Unreliable Partner
Sudan Coalition members believe that Khartoum's sudden cooperation in Washington's new war on terrorism has stalled further action on the bill. Gary Bauer, a Sudan Coalition member and former Republican presidential candidate, believes the Bush administration is mistaken.
"It's tragic and ultimately makes no sense. What Khartoum is doing to the Christians in the south is a form of terrorism," says Bauer, president of American Values, a political advocacy group. "I'm hopeful the administration will rethink this tradeoff, which is likely to increase suffering rather than ease it."
Faith McDonnell, who has mobilized American churches for the Sudan Coalition, believes the U.S. government is dealing with an unreliable partner. "It looks incredibly naïve to trust a government that came to power illegitimately in a coup and has never spoken the truth about anything," says McDonnell, campaign director of the Church Alliance for a New Sudan, a project of the Institute on Religion and Democracy. "Every time they've declared a cease-fire they've bombed people. They do and say whatever is expedient."
Both versions of the Sudan Peace Act would have required the U.S. government to condemn bomb attacks on civilians. The bill also would have given $10 million to the National Democratic Alliance, an opposition group in Sudan.
Restrictions Resisted
Federal Reserve Chairman Alan Greenspan and many financial leaders have joined the Bush administration in opposing capital-market restrictions. Opponents believe that other international investors would take up the slack, making the U.S. restrictions irrelevant. Investors in Sudan's oil industry include corporations based in Belgium, Britain, Canada, China, France, Italy, Malaysia, and Sweden.
Stock exchanges in Toronto and New York trade shares of Canada's Talisman Energy. A 25 percent stake in the Greater Nile Oil Project in Sudan, which produces 200,000 barrels a day, is becoming a significant source of revenue for Talisman. Talisman has indicated it would sell its Sudan investment rather than face removal from the New York Stock Exchange.
Paul Marshall, senior fellow at the Center for Religious Freedom at Freedom House in Washington, d.c., notes that the United States has the largest capital market in the world. Marshall says that if lawmakers void restrictions, "We're saying we are willing to fund foreign companies to do things which we have forbidden American companies to do." American companies were barred from doing business with Sudan in a 1997 executive order.
The U.S. Commission on International Religious Freedom has joined the campaign for capital-market limits. Spokesman Lawrence Goodrich says he is worried about the delay.
But he is not ready to say that U.S. policy toward Sudan has fundamentally changed.
President Bush, he notes, recently appointed former Senator John Danforth of Missouri to broker a peace deal in Sudan. Goodrich says this is a sign of the administration's continued concern.
Republican Senator Sam Brownback, a backer of market restrictions, has cautioned Danforth, an Episcopal priest, not to "equate the two sides" in the conflict. "These are bad operators in Khartoum," says Brownback, who has visited Sudan. "They have done a lot of awful things over a long period of time."
Related Elsewhere:
Recently, Christianity Today reported that persecution watchdogs fear that religious freedom protection may be traded away for help in the war on terrorism.
Media coverage of the Sudan Peace Act since September 11 includes:
New casualty: Sudan peace act — The Washington Post (Oct.5, 2001)

US delays move to impose sanctions on oil companies — UN Integrated Regional Information Networks (Sept. 27, 2001)

The naughty are rewarded in US's foreign policy shift — Inter Press Service (Sept. 25, 2001)

Talisman reprieve comes by way of U.S. Congress — National Post (Sept. 25, 2001)
For in-depth analysis of religious persecution in Sudan, see the 2001 International Religious Freedom Report.
In June, Christianity Today'sBearing the Cross looked at the persecution of Christians in Sudan.
The U.S. Department of State's Bureau of African Affairs has country information on Sudan.
For more on how can you help Christians in Sudan, see Christian Solidarity Worldwide, Samaritan's Purse, and Persecution.com. Plus, Make Me Your Voice is a worship album dedicated to the massive persecution currently taking place in Sudan.
The United States Holocaust Memorial Museum site has a page warning against the current Sudan genocide. The Sudan area includes resources for more information.
For more articles on the Sudan and the peace act see Yahoo's full coverage area, allAfrica.com and Christianity Today's area on persecution.
Our earlier coverage of the Sudan genocide includes:
Slave Redemption | Americans are becoming instant abolitionists. But is the movement backfiring? (Aug. 9, 1999)

Freedom Panel Alleges Genocide | U.S. Commission on International Religious Freedom makes suggestion on Sudan's worsening abuses. (May 4, 2001)

Turn Off Sudan's Oil Wells, Say Canadian Church Visitors | Christian leaders say they are "outraged" that a Canadian oil company is paying huge royalties to Sudanese government. (Apr. 20, 2001)

The Maturing of Victimhood | A new exhibit at the Holocaust Museum is a very good sign. (Mar. 29, 2001)

Sudan Loses Election for U.N. Security Council Seat | Sanctions continue to plague the African nation's bid for international acceptance. (Oct. 12, 2000)

Southern Sudan Bombed Despite Cease-fire Promise | Details sketchy from town of Yei, near Democratic Republic of the Congo. (May 8, 2000)

Editorial: Confronting Sudan's Evils | Western Christians and governments should press Khartoum on multiple fronts. (Apr. 12, 2000)

Sudan Relief Operations Endangered | Rebel demands cause agencies to curtail efforts. (April 3, 2000)

Bombs Continue to Fall on Ministry Hospitals in Sudan | Samaritan's Purse hit for fourth time, two killed in Voice of the Martyrs bombing. (March 24, 2000)

Mixing Oil and Blood | Sudan's 'slaughter of the innocents' toughens religious freedom coalition. (Mar. 15, 2000)

Protest Begins as White House Rethinks Policy on Sudan Regime | Religious leaders urge Clinton administration to act against oppression. (Feb. 10, 2000)

Christian Solidarity Loses U.N. Status | Slave-freeing organization's rebel spokesman violated U.N. rules (Dec. 14, 1999)

Sudan Releases Jailed Catholic Priests | President Resolves Impasse in Contrived Bombing Trial (Dec. 13, 1999)

Jailed Sudanese Priests Reject Presidential Amnesty | Clerics waiting for 'total acquittal' by courts. (Dec. 6, 1999)

Oil Exports Draw Protests | Christians urge divestment from Canadian company (Nov. 15, 1999)

Starvation Puts 150,000 at Risk (Sept. 6,1999)

The Price of a Slave | "I was taken by a slave master [who] beat me and shamed me, telling me that I was like a dog." (Feb. 8, 1999)

Sudanese Christians Bloody, but Unbowed (Aug. 10, 1998)

How Apin Akot Redeemed His Daughter (Mar. 2, 1998)

Muslim-Christian Conflicts May Destabilize East Africa | Christians raped, forced into slavery, and killed. (Apr. 29, 1996)
Article continues below
Have something to add about this? See something we missed? Share your feedback here.
Our digital archives are a work in progress. Let us know if corrections need to be made.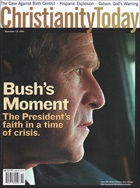 This article is from the November 12 2001 issue.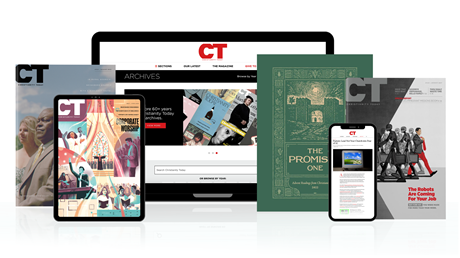 Annual & Monthly subscriptions available.
Print & Digital Issues of CT magazine
Complete access to every article on ChristianityToday.com
Unlimited access to 65+ years of CT's online archives
Member-only special issues
Subscribe
Congress: Justice Delayed
Congress: Justice Delayed