World celebrates as Shelter Now aid workers go home
After three months of imprisonment by the Taliban, all 24 Shelter Now employees—including 16 Afghans, four Germans, two Americans, and two Australians—are free.
Late Monday night, as the Taliban fled the capital city of Kabul, it rounded up the eight foreign Christians and put them into trucks bound for Kandahar. "We knew that if we ended up in Kandahar we would probably not survive there," Georg Taubmann told reporters (video). Fortunately, they never made it there—the Taliban convoy only made it to Ghazni, 50 miles away, before being stopping at about 1 a.m. (2:30 p.m. CST). As the temperatures dropped near freezing, the Taliban placed the prisoners into a large steel container for the next eight hours. Their next location wasn't much better: a Ghazni prison. "It was a terrible place," said Taubmann. Outside the prison, the Taliban found Ghazni an even more terrible place: local residents and Northern Alliance forces attacked the Taliban, who fled two hours later.
Meanwhile, as Northern Alliance took control of Kabul, they released the 16 Afghan Shelter Now workers. Largely forgotten by the international press, these 16 workers probably faced a harsher future than the foreigners. Had the Taliban been found them guilty of promoting Christianity, they almost certainly would have been killed.
On Monday night in Kabul, the German, American, and Australian Shelter Now workers had heard a knock on their cell door and thought it was the knock of freedom. Tuesday morning in Ghazni, they heard a knock on their Ghazni cell and thought it was the Taliban coming to take them away again. Instead, it was the people of Ghazni celebrating their freedom. "The people came out of the houses, and they hugged us, and they greeted us; they were all clapping," Taubmann said. "They didn't know there were foreigners in the prison, so it was a big attraction … it was like a big celebration for all these people. The biggest day in my life."
The Shelter Now workers were then taken to a local warlord, who contacted the Red Cross to arrange a rescue plan. Early this morning, three U.S. special operations helicopters flew into the city to rescue them. They were unable to land before dawn, but eventually flew all eight workers to Islamabad, Pakistan, arriving at about 8:30 a.m.
"I'm really proud of our Armed Forces, and I'm also thankful for the folks in Afghanistan who helped with this rescue," President Bush said last night. "There have been a lot of people praying for the eight—eight innocent folks."
Among those praying the hardest were the parents of the aid workers. Tilden Curry was in a fitting place when he heard that his daughter, 29-year-old Dayna Curry, had been released from captivity in Afghanistan. He was in his Nashville church, standing in line for dinner.
From the church in Waco, Texas, where Heather Mercer, 24, and Dayna Curry attended, to their hometowns (Vienna, Virginia and Thompson's Station, Tennessee respectively), the good news—and worship—spread quickly.
Pastor Jimmy Seibert, pastor of Waco's Antioch Community Church, was watching television when he heard the news. He didn't believe it at first. When it was confirmed, he jumped into the air and shouted, "Thank you, Lord!"
While logistics of the rescue and release are unconfirmed, loved ones of Mercer and Curry point to one common reason for their safety: prayer. "Thousands of people all over the world have been praying. Truly, God has answered our prayers," Seibert told the Houston Chronicle. For fifteen weeks, 24-hour prayer vigils have been held at the church.
Curry's stepfather, Jim Cassell told local television reporters that he knows the prayers of the American people led to the positive outcome. In enthusiastic and moving interviews, Cassell said he has been touched by the unending support for the women and has felt the effect of the prayers. (Nashville's WEWS has several videos available on its site, including a wonderful interview with Cassell only moments after he heard the news).
As word spread, friends and family gathered spontaneously at churches for worship and praise. From about 5:30 p.m., the phones rang non-stop at Antioch Community Church. According to the Star-Telegram in Fort Worth, Texas, a steady stream of worshippers filled the sanctuary:
By late Wednesday, members were still arriving at the church, many of them bolting from their cars and running into the cavernous sanctuary with Bibles. They were mostly young people, dressed in jeans and T-shirts, some with infants in their arms as they sang church songs whose words were lighted up on a wall.

Amy Tarter said she felt "unbelievable excitement that they actually made it." Asked what she will do when she sees her friends, Curry and Mercer, Tarter said, "I don't know that I'll say anything to them. I'll just hug them."
Before that happens, reports the Australian AAP news service, the aid workers will undergo counseling at a retreat in Germany, where Shelter Now is based.
The West Australian newspaper was at the home of Marie and Andrew Thomas, parents of 51-year-old Australian prisoner Diana Thomas, when the phone call came. "It's so wonderful to hear your voice," Marie told her daughter. "You are coming home for good? Thanks darling, I am so happy for you, I can't believe it."
This story continues to develop. Antioch Community Church is holding a press conference as Weblog types. The Department of Defense briefing at 12:15 p.m. will likely touch on the rescue as well, but with so many developments, it's sure to only be one of many topics.
And if you can read German, here's the story from Frankfurter Rundschau, which apparently had this news at least a day before anyone else.
Related Elsewhere:
See our past Weblog updates:
November 14 | 13 | 12

November 9 | 8 | 7 | 6 | 5

November 2 | 1 | October 31 | 30 | 29

October 26 | 25 | 24 | 23 | 22

October 19 | 18 | 17 | 16 | 15

October 12 | 11 | 10 | 9 | 8

October 5 | 4 | 3 | 2

September 28 | 27 | 26 | 25 | 24

September 21 | 20 | 19 | 18 | 17
Weblog
Launched in 1999, Christianity Today's Weblog was not just one of the first religion-oriented weblogs, but one of the first published by a media organization. (Hence its rather bland title.) Mostly compiled by then-online editor Ted Olsen, Weblog rounded up religion news and opinion pieces from publications around the world. As Christianity Today's website grew, it launched other blogs. Olsen took on management responsibilities, and the Weblog feature as such was mothballed. But CT's efforts to round up important news and opinion from around the web continues, especially on our Gleanings feature.
Ted Olsen is Christianity Today's executive editor. He wrote the magazine's Weblog—a collection of news and opinion articles from mainstream news sources around the world—from 1999 to 2006. In 2004, the magazine launched Weblog in Print, which looks for unexpected connections and trends in articles appearing in the mainstream press. The column was later renamed "Tidings" and ran until 2007.
Previous Weblog Columns: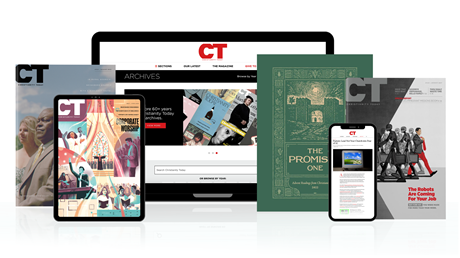 Subscribe to Christianity Today and get access to this article plus 65+ years of archives.
Home delivery of CT magazine
Complete access to articles on ChristianityToday.com
Over 120 years of magazine archives plus full access to all of CT's online archives
Subscribe Now
Free at Last!
Free at Last!