Though the perpetrators of Tuesday's massive terrorist attack on the United States have not been identified, Arab and Muslim Americans in the United States say they fear a backlash from fellow citizens.
Aslam Abdullah, vice chairman of the Muslim Public Affairs Council in Los Angeles, says his group received a number of threatening phone calls and e-mails on Tuesday from unidentified people. "Basically their message is the same: Pack up and leave. You have no place in America," Abdullah says.
Jean Abinader of the Arab American Institute monitored talk radio from the public policy group's Washington, d.c., office. "(Tuesday) morning I was hearing people say, 'That's what we get for letting people like that into our country,'" he says.
Riffat Hassan, a professor of Islamic studies at the University of Louisville, says most of her Muslim students did not come to class Tuesday, including a woman who wears an Islamic head covering. "She was not even allowed to come out of her house," says Hassan, who received an e-mail from the student.
"We see a very bad backlash coming," says Abinader, "no matter who is responsible—even if it comes out that they are right-wing Americans, like Oklahoma City; still the reaction will be there."
In the days after the 1995 attack on the Murrah Federal Building in Oklahoma City, Muslims reported more than 200 incidents of harassment, threats, and violence, according to the Council on American-Islamic Relations (cair) in Washington, D.C. On Tuesday cair advised Muslims who wear Islamic attire to stay out of public areas "for the immediate future" and requested that authorities provide additional police patrols in the vicinity of mosques. CAIR estimates there are 7 million Muslims in the United States and 1.2 billion worldwide. The 2000 Yearbook of American and Canadian Churches, however, says the Muslim population in America is 5.7 million.
Abdullah lamented that he felt unwelcome in public just hours after the attack. "I went to the Red Cross to donate blood in the morning, and I could see the kind of frown on the faces of people," he says.
Hassan says Muslims on the Louisville campus expressed fear about the days ahead. "Some people were saying Today they are in a state of shock, and tomorrow they are going to get very angry."
What has increased the anger of many Americans are the televised images of Palestinians publicly celebrating the attacks with shouts of "God is Great." Egyptian students, taxi drivers, and shopkeepers were among others who joined in the revelry Tuesday, according to news reports.
Abdullah says, however, that he cried in sorrow when he saw the Palestinian celebration. "How can any human being rejoice at the destruction of a fellow human being, especially in the name of religion?" he asked. "This is just obscene. I think this must be deplored with the loudest voice."
Abinader notes, though, that some Palestinians feel the U.S. is now paying the price for its support of Israel. "We think it's the irrational response of a people who live in an irrational environment," he says. "They don't understand. They see death everyday of their own people. They can't find any satisfaction in dealing with Israel. And so this gives them the opportunity to say, It's God's will— what's happening in the United States."
The Palestinians in the streets reflected the sentiments of only a small minority, who view the U.S. in an abstract way, according to Sami Awad, executive director of Holy Land Trust in Bethlehem. "The U.S. is not seen by Palestinians here as a location where there are just normal people who work and live," he explained. "The U.S. is perceived as the enemy. The first celebrations took place as the attack was announced, but as the reports kept coming in and we saw the extent of the damage, then there was clearly a somber feeling in the Palestinian community."
Rateb Rabie, director of the Holy Land Christian Ecumenical Foundation in Silver Springs, Maryland, a group that raises support from American churches, says that assessment matches his experience. "We are getting messages of sadness and condolences from our people in the Holy Land," he says.
But monitors of Palestinian media point out that Muslim clerics have published fatwas, or edicts, ordering suicide bombings and declaring bombers to be martyrs. On Wednesday, Israeli Sephardi Chief Rabbi Eliyahu Bakshi-Doron called on "leaders of the Arab world who are condemning this terrible tragedy" in the U.S. to cancel the edict. "Whoever calls a suicide bomber a martyr is an accessory to the horrible crime, because that is the spiritual infrastructure for the perpetrators of these crimes," the rabbi said in a statement.
Greg Livingstone, an adjunct professor at Fuller Seminary in California and former general director of Frontiers, an evangelical mission to Muslims, fears that Tuesday's attacks are only the beginning. "The offense [that Muslims perceive] is so deep that I think this is going to just grow," he says. "I think there will be a constant wave of Islamic martyrs. And it isn't about converting us to Islam; it's about, in their minds, justice."
Bob Klamser of Crisis Consulting International in Ventura, California, quickly issued an advisory Tuesday morning to the global Christian community he serves. He believes the New York and Washington attacks may inspire copycats from other terrorist groups. "One of the favorite targets of terrorism has been struck a real hard blow and has been wounded, and other groups will want to exploit that situation," he says.
Awad says he met with Christian leaders in the Bethlehem area on Wednesday to discuss the possible fallout from the attacks on the U.S. "The major fear is that the U.S. might go into a mode of isolationism and there would be less concern and interest in the Middle East, especially if it is found out that Islamic groups were behind these attacks," he says.
Authorities in Massachusetts have identified five Arab men as suspects in the attack on New York City, the Boston Herald newspaper reported Wednesday morning. News reports Tuesday cited Pentagon officials who pointed to Osama bin Ladin, a Saudi millionaire blamed by the U.S. for the deadly 1998 bombings of the U.S. embassies in Kenya and Tanzania. In 1998, a group launched by Bin Ladin called the International Islamic Front to Fight Jews and Christians issued a fatwa calling on Muslims to attack U.S. facilities.
Awad says the Bethlehem-area Christian leaders don't have a plan of action yet in response to this week's events. "But we want to show that the Palestinian people are very upset about what happened and regret the fact that loss of life and destruction of that scale has taken place," he says. "And we are hoping that the American public will realize that the Palestinians do not want to hurt Americans, but it has been the policy of the United States that has caused people to react in such a way."
U.S. groups such as the Muslim Public Affairs Council (mpac) have been criticized by Jewish organizations and others for similar statements that seem to justify Palestinian terrorism. In 1999, House Minority Leader Richard Gephardt withdrew his nomination of mpac Director Salam Al-Marayati to the National Commission on Terrorism, a congressional advisory body, after complaints from Jewish groups. Al-Marayati has said Israel's occupation of the West Bank and Gaza has caused some Palestinians to commit violence to express their suffering. He insists, however, that he has condemned terrorism "any time it has shown its ugly intent."
Related Elsewhere
Christianity Today's other articles on the attacks include:
In the Belly of the Beast | Christians, calling terrorist attack "satanically brilliant," minister at epicenter of World Trade disaster. (Sept. 12, 2001)

Churches, Agencies Respond to Attacks | Leaders call for prayer, justice, and mercy. (Sept. 12, 2001)

Muslims Fear a Backlash | No matter who is responsible, observers feel a reaction will still be present. (Sept. 12, 2001)

A Wake-Up Call to Become Global Christians | The deadly attacks on America will provoke many responses, but Christians are commanded to love our neighbors. (Sept. 12, 2001)

Nation's Religious Leaders Urge Calm, Pray for Peace | Churches will maintain prayer vigils for victims and leaders. (Sept. 11, 2001)

Church Leaders Around World Deplore 'Unspeakable Horror' of Attack | Christians urged to unite in prayer as they unite in shock and denunciation. (Sept. 11, 2001)

Experts Say Spiritual Roots Will Aid in Coping With Catastrophe | Pray and connect with others, advise nation's chaplains. (Sept. 11, 2001)

Fear and Hate | In times like this, as in all other times, Christians have a responsibility to love above all else. (Sept. 11, 2001)

God's Message in the Language of Events | In the face of evil, we must focus on keeping our hearts right. (Sept. 11, 2001)
For in-depth and continuing coverage of the attacks, see The New York Times, The Washington Post, BBC, CNN, and Yahoo full coverage.
For more Christian perspectives and responses, see various articles posted Christianity.com, Crosswalk.com, and Beliefnet.com.
The BBC, Boston.com, The Village Voice, and USA Today have photo essays of yesterday's destruction.
For video or audio coverage, see CNN, ABC News,and Sky News. The Washington Post is running a live Web cam of the Pentagon building.
The BBC has compiled reactions from world leaders (with video).
President Bush addressed the nation on Tuesday evening (video | transcript). He also released a statement Tuesday afternoon. Bush first learned of the World Trade Center tragedy while preparing to speak to schoolchildren in Sarasota, Fla.. There, he asked Amercians for a moment of silence for the victims.
Slate.com explained who responds to crisis situations like Tuesday's.
The Pope and Billy Graham have spoke out on the tragedy and sent out prayers to the victims and their families.
An Interpol report details the 1993 bombing of the World Trade Center.
Article continues below
Muslim perspectives on Jesus and Christianity are ubiquitous online. They include Al-Sunnah, Harakah, Islam 101, Answering Christianity, and WhatIsIslam.com
Christian sites discussing Muslim beliefs about Jesus and Christianity are available at Answering Islam, Campus Crusade for Christ, and FarsiNet.
Previous Christianity Today articles on Muslim-Christian relations include:
How Muslims See Christianity | Many Muslims don't understand Christianity—especially the idea of salvation by grace through faith.
Islamic Fundamentals | Christians have a responsibility to understand our Muslim neighbors and their beliefs
Islam, U.S.A. | Are Christians prepared for Muslims in the mainstream?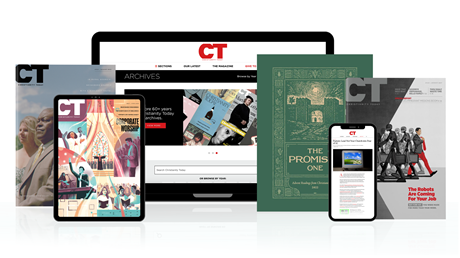 Annual & Monthly subscriptions available.
Print & Digital Issues of CT magazine
Complete access to every article on ChristianityToday.com
Unlimited access to 65+ years of CT's online archives
Member-only special issues
Subscribe
Muslims Fear a Backlash
Muslims Fear a Backlash