"It could have easily been my airplane," says Scott McClain, an American Airlines pilot from West Chicago, Illinois.
Two of the hijacked planes were American Airlines flights.
Like Christians across the United States, McClain and other believers participated in impromptu prayer services in America's heartland and tried to make sense of the September 11 disaster.
Staff at Wheaton Bible Church in Wheaton, Illinois, held a prayer service within hours of the attacks. Learning about the service through e-mails, word of mouth, and a sign posted along the road, about 150 people attended the 6 p.m. gathering.
There, pastor Rob Bugh read Psalm 46, which begins "God is our refuge and strength, an ever-present help in trouble."
"The point of the psalm is that when everything is unraveling, we can be certain we have comfort in God," Bugh said. "We want to say, 'Yes, God, we know you are in control. Yes, God, we want to affirm that.'"
Worshipers read passages and prayed at microphones in the front of the large sanctuary before Bugh led a prayer for government, emergency personnel, and the injured and bereaved.
John Gration, a church member, said that his family waited three hours before learning that Gration's son, Scott, an Air Force brigadier general who works in the Pentagon, was unharmed.
"God, we live in Disneyland," Margit Amstutz prayed softly. "We have our comfortable homes and our fat tummies, and we don't seek you with our whole hearts. We let immorality seep in among us. We don't honor and worship with all our hearts. We compromised the gospel, and we compromised holiness, and now our nation has paid a price for having left you, Lord."
"Our prayer focus is that this would create a hunger for more people to know God," Bugh says. "Something like this is very unsettling for people. For better or worse, we attend to the visual—so it creates a great deal of unease when something happens to some of our visual symbols."
At a prayer service at College Church in Wheaton on Wednesday evening, senior pastor Kent Hughes emphasized that dependence on God was all parishioners could cling to in the face of such tragedy. "We have to understand we have a sovereign God who is in control of all things," he said.
During the hour-long service, adults, children, and teenagers went to posted microphones to pray for renewed passion for God, strength to model a peaceful attitude before children and that Christians would use the opportunity to bring seekers to Christ.
Hughes said several church members were directly and indirectly affected by the attacks. Two graduates of nearby Wheaton College were on planes or working in the World Trade Center, and Hughes recognized the name of a young man he had known in a previous pastoral position who was lost. The church also prayed for the family of Jeff Mladenik, an associate pastor at the nearby Christ Church of Oak Brook, who perished in the first World Trade Center crash.
Pastor of outreach Niel Nielson encouraged prayer for the perpetrators as well.
"Father, it is good and proper for us to cry out for justice, and we do," he said. "Father, we know the hope of the world does not lie in the destruction of Osama bin Laden, but it lies in hearts changed and made new through Christ."
Nielson also encouraged members to pray for the protection of innocent ethnic Arabs, some of whom have received threats.
After the service, a small group prayed with a Wheaton College student whose brother-in-law was on one of the hijacked planes.
"Lord, we know that such an occasion is one in which each of us draws closer to you or pushes away. Let us have the discernment to draw closer to you," prayed Wayne Martindale, an elder and a professor at Wheaton College. "I pray that you would make us quick to respond to the needs of others, that they would turn to you."
Pilot McClain says the disaster is a wake-up call for self-reliant Christians.
"In this profession, it's a good trait to have—self-reliance, self-dependence," he says. "It's why they choose us. But it's difficult to balance with dependence on God."
Related Elsewhere:
See the Web sites for Wheaton Bible Church, Wheaton College, College Church in Wheaton.
Christianity Today's other articles on the attacks include:
Christians Provide Comfort in the Shadow of Calamity | Still "stunned and reeling," New Yorkers seek support at prayer service. (Sept. 13, 2001)

Illinois Pastor on Fatal Flight | Jeffrey Mladenik, 43, was involved in workplace ministry, international adoption. (Sept. 13, 2001)

Communication Troubles Challenge U.S. Church Relief Agencies | Aid work continues amid atmosphere of shock, fear, and sporatic harrassment. (Sept. 13, 2001)

When Sin Reigns | An event like this shows us what humans are capable of becoming—both as children of darkness and of light. (Sept. 13, 2001)

Reflections on Suffering | Classic and contemporary quotations for dark times. (Sept. 13, 2001)

In the Belly of the Beast | Christians, calling terrorist attack "satanically brilliant," minister at epicenter of World Trade disaster. (Sept. 12, 2001)

Churches, Agencies Respond to Attacks | Leaders call for prayer, justice, and mercy. (Sept. 12, 2001)

Muslims Fear a Backlash | No matter who is responsible, observers feel a reaction will still be present. (Sept. 12, 2001)

A Wake-Up Call to Become Global Christians | The deadly attacks on America will provoke many responses, but Christians are commanded to love our neighbors. (Sept. 12, 2001)

Nation's Religious Leaders Urge Calm, Pray for Peace | Churches will maintain prayer vigils for victims and leaders. (Sept. 11, 2001)

Church Leaders Around World Deplore 'Unspeakable Horror' of Attack | Christians urged to unite in prayer as they unite in shock and denunciation. (Sept. 11, 2001)

Experts Say Spiritual Roots Will Aid in Coping With Catastrophe | Pray and connect with others, advise nation's chaplains. (Sept. 11, 2001)

Fear and Hate | In times like this, as in all other times, Christians have a responsibility to love above all else. (Sept. 11, 2001)

God's Message in the Language of Events | In the face of evil, we must focus on keeping our hearts right. (Sept. 11, 2001)
Article continues below
For in-depth and continuing coverage, see The New York Times, The Washington Post, BBC, CNN, and Yahoo full coverage.
Yahoo has also compiled aid organization contact information, closure notification, and survivor lists.
For more Christian perspectives and responses, see various articles posted on Christianity.com, Crosswalk.com, and Beliefnet.com.
The Text This Week, a resource for pastors, has collected sermons and reflections in response to the Sept. 11 events.
The BBC, Boston.com, The Village Voice, and USA Today have photo essays of the destruction.
For video or audio coverage, see CNN, ABC News,and Sky News. The Washington Post is running a live Web cam of the Pentagon building.
The BBC has compiled reactions from world leaders (with video).
President Bush addressed the nation on Tuesday evening (video | transcript). He also released a statement Tuesday afternoon. Bush first learned of the World Trade Center tragedy while preparing to speak to schoolchildren in Sarasota, Fla.. There, he asked Amercians for a moment of silence for the victims.
Slate.com explained who responds to crisis situations.
The Pope and Billy Graham have spoke out on the tragedy and sent out prayers to the victims and their families.
An Interpol report details the 1993 bombing of the World Trade Center.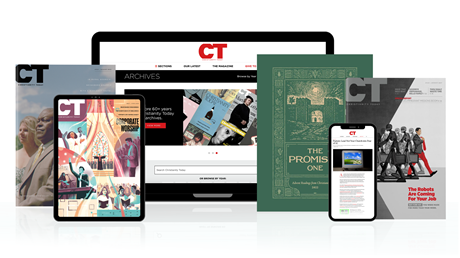 Subscribe to Christianity Today and get access to this article plus 65+ years of archives.
Home delivery of CT magazine
Complete access to articles on ChristianityToday.com
Over 120 years of magazine archives plus full access to all of CT's online archives
Subscribe Now
Shaken Christians Turn to Prayer
Shaken Christians Turn to Prayer