Christ, why do you allow wars and massacres on earth? By what mysterious judgment do you allow innocent people to be cruelly slaughtered? I cannot know. I can only find assurance in the promise that your people will find peace in heaven, where no one makes war. As gold is purified by fire, so you purify souls by these bodily tribulations, making them ready to be received above the stars in your heavenly home.
—Alcuin of York (c.735-804) (quoted in 2000 Years of Christian Prayer)
As noted briefly yesterday, President Bush has declared today a National Day of Prayer and Remembrance. "I ask that the people of the United States and places of worship mark this National Day of Prayer and Remembrance with noontime memorial services, the ringing of bells at that hour, and evening candlelight remembrance vigils," he said. "I encourage employers to permit their workers time off during the lunch hour to attend the noontime services to pray for our land. I invite the people of the world who share our grief to join us in these solemn observances." Starting at 11:45 EST, you'll be able to catch streaming video of the National Cathedral service at C-SPAN's Web site and elsewhere. After that, C-SPAN will probably have the video archived.
Likewise, The Mission America Coalition, America's National Prayer Committee, National Association Of Evangelicals, and The National Day Of Prayer Task Force are asking churches to join in another National Day of Mourning and Prayer on Sunday. A full-page ad in USA Today has a "A prayer by the nation for the nation, in an hour of unprecedented sorrow, to help America speak to God with one voice." The prayer is clearly Trinitarian and largely evangelistic, praying, "In the place of destruction, pour out the full extent of Jesus' life … In the midst of our great troubles, give us Christ's victory over all the terrors of Hell." Certainly some folks might protest that many Americans won't be comfortable with that prayer—especially as several news outlets are reporting widespread interfaith services between Christians, Jews, and Muslims. "As the dust settled around the rubble of the World Trade Center, there were signs that the terror in New York may be nurturing the interfaith movement in Northern California," reports the San Francisco Chronicle. Other media continue reporting on local prayer vigils around the country.
But will secularist groups and strict separationists complain about today's state-sponsored prayer services? Probably not. But they might want to respond to Jerry Falwell's comments 45 minutes into Thursday morning's 700Club broadcast regarding the terrorist attack: "The ACLU has got to take a lot of blame for this … I really believe that the pagans, and the abortionists, and the feminists, and the gays and the lesbians who are actively trying to make that an alternative lifestyle, the ACLU, People for the American Way—all of them who have tried to secularize America—I point the finger in their face and say, 'You helped this happen.'" Falwell's rationale is that the secularization of America has provoked God "to lift the curtain and allow the enemies of America to give us probably what we deserve."
700 Club host Pat Robertson, who said he "totally concurs" with Falwell's assessment, has been preaching a similar message for days. "It [terrorism] is happening because God Almighty is lifting his protection from us," he said in a statement quoted by the Associated Press. "We have a court that has essentially stuck its finger in God's eye. … We have insulted God at the highest level of our government. Then, we say, 'Why does this happen?'"
Folks, this is what the National Religious Broadcasters was talking about when it issued suggested guidelines earler this week for covering the tragedy: "Millions of people are at their television sets looking for answers. This is not the time to run 'Christian TV as usual'—we need to provide answers to people filled with questions."
An ACLU spokeswoman tells both The Washington Post and The New York Times that it "will not dignify the Falwell-Robertson remarks with a comment," but the White House has not such qualms. An unnamed official there called the remarks "inappropriate," adding, "The president does not share those views."
Other Christians certainly do. Weblog has been noticing that this explanation for the bombing is common among many Christians, not just Robertson and Falwell. A new evangelistic tract by Ray Comfort says, "God's promised blessings of health and protection from enemies are dependent upon something we have forgotten about—righteousness." And World magazine publisher Joel Belz makes a similar argument in his latest issue:
It's the wages we always pay for sin. … Sometimes that payment is exacted for our own sin. Sometimes we're called on to pay for the sin of others. In this case, there's plenty of both. Both "we" and "they" have worshipped false gods—and now we're being called on to look our idolatry square in the face. High on our own Western shelf of false deities have been the gods of nominalism, materialism, secularism, and pluralism. And it's hard to think of more apt symbols of all those "isms" than the twin towers of the World Trade Center—anchored in the financial capital of the world, and capped as they were with transmitting towers for the major media and entertainment networks. Babel needed just one such tower; New York built two.
Others are blaming Satan directly for the attack—and saying he left his mark. The Philadelphia Daily News says some people clearly—and literally—see the face of Satan in an AP photo of smoke pouring out of the World Trade Center before it collapsed. Right now, however, you won't be able much of anything; the Daily News site has apparently collapsed under the strain of so many people looking for the devil.
In other commentary, John Piper in World distinguishes between public and private responses to the attack:
We will magnify the mercy of God by praying for our enemies to be saved and reconciled to God. At the personal level we will be willing to suffer for their everlasting good, and we will give them food and drink. We will put away malicious hatred and private vengeance. But at the public level we will also magnify the justice of God by praying and working for justice to be done on the earth, if necessary through wise and measured force from God-ordained authority.
And World editor Marvin Olasky draws connections between 9/11 and 911 and between the Twin Towers and the biblical Tower of Siloam.
On Boundless, a Focus on the Family Web magazine for college students, Roberto Rivera (who also works on Charles Colson's Breakpoint) considers the prayer "Thy kingdom come" in light of these events. "I hope precisely because I know that the kingdom I yearn for looks nothing like what we see around us. It's a kingdom whose king suffered on behalf of others, and who forgave those who treated him unjustly. It's a kingdom whose subjects are called upon to suffer injustice rather than commit it. It's a kingdom whose outline you see every time man proves the aptness of the Roman phrase homo homini lupus, man is a wolf to his fellow men."
I know Weblog promised the big non-terrorism stories today, and we will have them. Later. Check back after 5 p.m. CST for a Weblog Bonus. You won't want to miss it.
Related Elsewhere:
See our past Weblog updates:
September 13 | 12 | 10

September 7 | 6 | 5 | 4

August 31 | 30 | 29 | 28 | 27

August 24 | 23 | 22 | 20

August 17 | 16 | 15 | 14 |13

August 10 | 9 | 8 | 7 | 6

August 3 | 2 | 1 July 31 | 30

July 27 | 25 | 24 | 23

July 20 | 19 | 18 | 17 | 16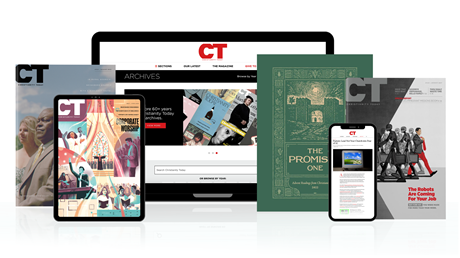 Annual & Monthly subscriptions available.
Print & Digital Issues of CT magazine
Complete access to every article on ChristianityToday.com
Unlimited access to 65+ years of CT's online archives
Member-only special issues
Subscribe
"Weblog: As the World Prays, Falwell and Robertson Blame ACLU, Gays, and Others for 'Deserved' Attack"
"Weblog: As the World Prays, Falwell and Robertson ...