In a postmodern world in which people see many 'truths' as equally valid, how can you convince someone of the truth of salvation through Christ?
—Michael Curley, Hacienda Heights, California
One of the most obvious challenges Christians face from our postmodern culture is that there are so many "truths" that it seems impossible to speak of the one who described himself as the Truth. I have space to look at only two approaches to this question.
You could begin by affirming the importance of truth itself, and then move on to explain why the gospel indeed provides this truth. We all need to base our lives on something reliable, something that may be trusted. After all, who wants to base a life on delusions, lies, or dreams? The traditional evangelical emphasis upon the objectivity of truth affirms that we need to find something that is true in itself, not something that we would just like to be true.
You could then move on to affirming that the gospel is indeed true by focusing on the way in which it has transformed your own life. This allows you to build on two emphases that postmodernity finds particularly attractive—personal experience and telling stories.
Our culture seems to have come to value stories over arguments. This allows you an opening to tell your story—the story of how the gospel became real in your life. The gospel is not just true, it is real. Telling your personal story of faith is one of the best ways of declaring the transformative power of the gospel.
You might like to try a second approach: Focusing on the attractiveness of the gospel. You could point out how Paul regarded all his achievements as being trivial compared with the unsurpassable richness of knowing Christ (Phil. 3:7-8): "Whatever was to my profit, I now count as loss for the sake of Christ. What is more, I consider everything a loss compared to the surpassing greatness of knowing Christ Jesus my Lord." These words resonate with the excitement of discovery and fulfillment. Paul had found something that ended his long quest for truth and meaning.
Jesus made a similar point in one of his parables. He compared the kingdom of heaven to a pearl of great price. "The kingdom of heaven is like a merchant looking for fine pearls. When he found one of great value, he went away and sold everything he had and bought it" (Matt. 13:45-46). The merchant finds a priceless pearl for sale and decides that he will sell everything in order to possess it. Why? Because here is something of supreme value. Here is something worth possessing. Everything else he possesses seems of little value in comparison.
What the merchant had obtained previously was a preparation for this final purchase. When he saw the pearl, he knew that everything already in his possession seemed dull and lackluster in comparison.
Just as the brilliance of the sun drowns that of the stars, so that they can only be seen at night, so this great pearl led the merchant to see his own possessions as less than dazzling. What he had thought would satisfy him proved only to disclose his dissatisfaction and make him long for something that was beyond his grasp. When he saw that pearl, he knew he had to have it.
Thus you could make the point that the gospel is deeply satisfying, with the power to change human lives. And this is no delusion, no human invention to ease the pain of life. It is grounded in the bedrock of truth. The New Testament offers us hints as to how we can proclaim the gospel in a variety of contexts. But above all, it reassures us that truth and relevance are intrinsic to the gospel, part of its very fabric.
Yes, we face new challenges. But we can trust that the gospel is able to meet those challenges, and that we too can rise to them.
Alister E. McGrath is Professor of Historical Theology at Oxford University and author of Intellectuals Don't Need God and Other Modern Myths: Building Bridges to Faith Through Apologetics.
Related Elsewhere
Earlier Good Question columns include:
What is the difference between the brain and the soul?
How can I reconcile my belief in the inerrancy of Scripture with comments in Bible translations that state that a particular verse is not 'in better manuscripts'?
Is there a biblical principle behind the punishment of those who break the law?
Is it unscriptural for a Christian to be cremated?
Won't heaven's joy be spoiled by our awareness of unsaved loved ones in hell?
Where exactly do "Oneness" Pentecostals stand in relation to orthodoxy?
Do a man and a woman become married after having sex or after exchanging vows?
How Do You Know That You Have Truly Forgiven Someone?
Who Are We to Judge?
Should We File Lawsuits?
Can We Expect God to Forgive Unbelievers Who 'Don't Know What They're Doing'?
Is the Stock Market Good Stewardship?
Is Satan Omnipresent?
Is Suicide Unforgivable?
Was Slavery God's Will?
A Little Wine for the Soul?
Should We All Speak in Tongues?
Did Jesus Really Descend to Hell?
Take, Eat—But How Often?
Is Christmas Pagan?
Are Christians Required to Tithe?
Is Revelation Prophecy or History?
You're Divorced—Can You Remarry?
If Grace Is Irresistible, Why Evangelize?
Does the 'Bible Code' Really Exist?
What's the Unforgivable Sin?
What Bible Version Did Jesus Read?
Did God Die on the Cross?
You Must Be Born Again—But at What Age?
Was the Revolutionary War Justified?
Can the Dead Be Converted?
What Is the Significance of the Shroud of Turin?
Is Hell Forever?
Why Are There Denominations?
Did Paul Baptize for the Dead?
Do Demons Have Zip Codes?
What Is the Gospel of Thomas?
Have something to add about this? See something we missed? Share your feedback here.
Our digital archives are a work in progress. Let us know if corrections need to be made.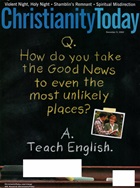 This article is from the December 9 2002 issue.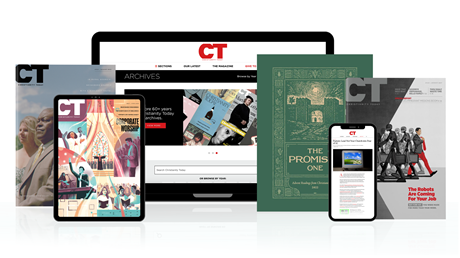 Annual & Monthly subscriptions available.
Print & Digital Issues of CT magazine
Complete access to every article on ChristianityToday.com
Unlimited access to 65+ years of CT's online archives
Member-only special issues
Subscribe
The Real Gospel
The Real Gospel