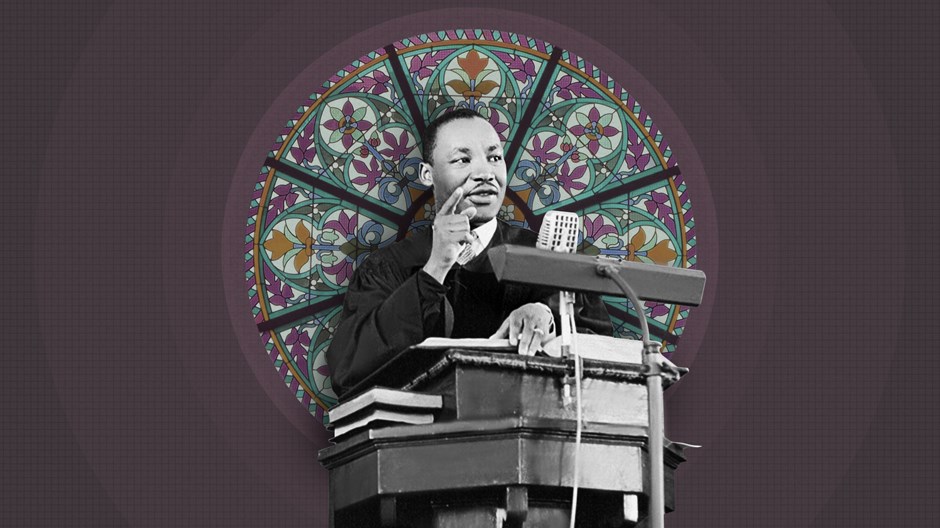 Image: Source image: Michael Ochs Archives/Getty Images / Falco / Pixabay
King Came Preaching:The Pulpit Power of Martin Luther King Jr

.
Mervyn A. Warren
IVP, 223 pages, $19.99
When students enroll in my "Life and Thought of Martin Luther King" course, they expect to encounter his learned theological treatises. They are surprised to discover that in his mature years he wrote no sustained theological reflections on love, justice, suffering, or reconciliation. What he did do was preach sermons. In fact, until the day of his assassination, King never stopped preaching. In his sermons, mass meeting speeches, and civil addresses he articulated his theology and his vision for America. He admitted as much in an Ebony magazine article: "In the quiet recesses of my heart, I am fundamentally a clergyman, a Baptist preacher."
In the last 15 years, more than a few commentators, including James Cone, David Garrow, Keith Miller, Taylor Branch, and Lewis Baldwin, have acknowledged and celebrated King the preacher and his roots in the black church. Before he was a thinker or an activist, King was an orator who skillfully transposed his message from beneath the sacred canopy of the black church into the arena of American law and public policy.
King Came Preaching is by Mervyn A. Warren, a veteran preaching teacher at Oakwood College, a Seventh-day Adventist institution in Huntsville, Alabama. Warren looks at King's sermons through the lens of current speech and communication theory. Warren promises to avoid the two extremes of "a mere biographing of a preacher with only incidental references to his hands-on process of bringing a sermon to readiness … and a flooding of readers and practitioners with homiletical assumptions whose vagueness and impalpability would be mere shadows for chasing around discussion tables in ivory towers."
Before King and After King
Warren tells the familiar story of King's life and his ascendancy as a black preacher. With King in mind, he quotes William Sangster's admonition that preachers should wear their learning lightly, as King did in his best orations. Because of the legitimacy King lent the black pulpit (in white eyes), Warren divides black preaching into two eras—Before King and After King.
Warren is at his best discussing the audience's reception of a sermon. He uses the observations of several speech theorists. In comments on the sermon "Our God is Able," Warren demonstrates how King scrupulously followed the standard steps in communication: attention, need, satisfaction, visualization, and action.
Warren includes a long chapter on King's language, which yields interesting quantitative information but also a certain disappointment. He analyzes King's speech in light of Rudolf Flesch's "difficulty score" ("First, determine the average length of sentences and multiply that number by .1338. Second, take the number of affixes per 100 words and multiply that by .0645"). But this is a bloodless method of encountering one of the most moving poets and prophets of the 20th century. There must be a more passionate means of encountering King than the quantitative analysis of his sentences.
Neglecting King's Borrowings
Warren's book began as a doctoral dissertation first published in 1966. Its great strength is that Warren was researching in the 1960s, when King was preaching. Warren once interviewed King and had the opportunity to hear him preach three times. Thus he brings to his book the enviable perspective of the informed eyewitness.
The downside is that he does not explore the many discoveries that have emerged since 1966—for example, King's unattributed use of other preachers' material. Warren includes a table of King's sources in his sermons, but he does not acknowledge Keith Miller's amazing detective-like investigation of King's borrowing from other Protestant preachers, such as Phillips Brooks, Wallace Hamilton, and Harry Emerson Fosdick. To list the sources of literary quotations in King's "The Drum Major Instinct," for example, is beside the point; nearly the entire sermon is borrowed from Wallace Hamilton's "Drum Major Instincts."
The interesting question, which Warren doesn't address, is how King modified the language he borrowed from others. For example, how did his focus on liberation and the love of enemy refocus Protestant preaching in his day? How did King put his own stamp on his public preaching of the gospel?
Likewise, a catalog of King's figures of speech, though interesting to the student of rhetoric, does not answer the question of how King's gorgeous rhetoric functioned on the big stage of American politics and religion. Was he merely speaking over the head of his audiences? Or by the beauty of his language was he lending nobility to what was often a sweaty and dangerous struggle? And how did King's many intellectual and poetic allusions knit together white liberals and moderates? There is more complexity to King's strategy of language than meets the eye.
Warren says the underlying theme of King's sermons was that all people should live together "in equal personhood." In the last decade of research, however, we have witnessed a growing recognition of King's powerful, prophetic anger. David Garrow meticulously documented it in his biography of King, and James Cone suggested that King and Malcolm X were on a converging path when they died.
In the last three years of his life, after Selma and in the agony of the Vietnam War, something turned in King. He quit repeating the platitudes he had inherited from liberal philosophy and theology and assumed the posture of the angry prophet. He issued denunciations of America that would have been unthinkable earlier in his career. He accused his own country and the white church of endemic racism. He intimated genocide in Vietnam. The topic of his final sermon (which he did not live to preach) was "Why America May Go to Hell."
Warren's book offers useful insights into the sermons of Martin Luther King. But I wish it had taken into account the later, more confrontational King as well, the prophet whose outrage defies quantitative analysis. This King, too, demands our passionate response.
Richard Lischer teaches at Duke University Divinity School. He is the author of The Preacher King. His most recent book is Open Secrets (Doubleday), a memoir of his first pastorate.
Related Elsewhere
King Came Preaching is available at Christianbook.com.
Richard Lischer's The Preacher King is available at Amazon.com. The book was reviewed by Christianity Today sister publication Books and Culture in "Jesus in Mississippi" and "The Burden of the Black Leader."
Previous Christianity Today articles on Martin Luther King, Jr. include:
Martin Luther King, Jr.: A History | No Christian played a more prominent role in the century's most significant social justice movement than Martin Luther King, Jr. (Jan. 17, 2000)
Catching Up With a Dream | Evangelicals and Race 30 Years After the Death of Martin Luther King, Jr. (March 2, 1998)
She Has a Dream, Too | Bernice King talks about her father's death, her call to ministry, and what the church still needs to do about racism. (June 16, 1997)
Confessions of a Racist | It wasn't until after Martin Luther King, Jr.'s death that I was struck by the truth of what he lived and preached. (January 15, 1990)
Article continues below
The March to Montgomery | Christianity Today's coverage of King's historic voting rights march, from our April 9, 1965 issue
For more general information on Martin Luther King, Jr., be sure to visit the Martin Luther King Jr. Papers Project at Stanford University and the Seattle Times' Martin Luther King Jr. site.
The Dr. Martin Luther King, Jr. Day site from Infoplease.com includes a biography, historical quotes, timelines, and a history of the MLK holiday.
Salon.com has posted an audio file of the civil rights leader's "I Have a Dream" speech. Or, you can read the full text of the speech.
Yahoo!'s Full Coverage of Martin Luther King Day includes links to news stories, audio and video archives, opinion pieces, and the best Martin Luther King Web sites.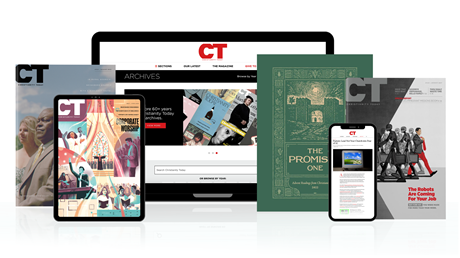 Annual & Monthly subscriptions available.
Print & Digital Issues of CT magazine
Complete access to every article on ChristianityToday.com
Unlimited access to 65+ years of CT's online archives
Member-only special issues
Subscribe
To the End, a Baptist Preacher
To the End, a Baptist Preacher