true

The Elms
Sparrow Records
The Elms show additional musical growth as they conjure up vintage memories of The Who, Tom Petty, and other classic rockers on their follow-up to last year's list maker, Big Surprise. From the gun-slinging guitars of "Speaking in Tongues" to the simmering balladry of "Shine at Life Again," soul-stirring truth couched in scorching rock settings have never been so engaging. As a frontman, Owen Thomas has matured by leaps and bounds, while his bandmates have tightened up just as much, confirming that The Elms get better as they grow older.
Read the original review here.

Pillar
Flicker Records
From merely one spin of their superior sophomore effort, Fireproof, it's obvious the energy is there, as well as Pillar's uncanny ability to blend monstrous hooks with thunderous beats. Throughout hints of P.O.D. and Incubus, as well as shades of 311 and Rage Against the Machine, Pillar still stands on their own as a heavy-hitting, yet free-flowing hybrid of controlled chaos and inspired poetry. The record also is thematically varied, chronicling everything from lead singer Rob Beckley's role in the army reserves to uniting as a body of believers to take the Good News to the streets.
Read the original review here.

The Blind Boys of Alabama
Sparrow / Real World Records
After performing together for more than 60 years, the Blind Boys deliver an ambitious covers collection of spiritual songs originally performed by some of mainstream music's biggest stars. The trio touches on everything from Curtis Mayfield's "People Get Ready" to Stevie Wonder's "Higher Ground" to Ben E. King's "Stand By Me" with delightful soul, blues, and gospel elements. Throw in the authentic blues-backing ensemble Robert Randolph and his Family Band, along with the highly varied skills of Ben Harper, and you've got the perfect preservation project for these living legends.
Read the original review here.

Denison Marrs
Floodgate Records
Citing influences of everyone from The Cure to The Smashing Pumpkins to Starflyer 59, the group has carved out their own place in today's scene, breaking out of the over-commercialized and contrived rut many of their contemporaries have fallen prey to. Denison Marrs shines on their first national release, showcasing increased continuity between each song's lyrical construction and the musical backdrops that encompass them. More than just a Christian industry equivalent to a band like Jimmy Eat World, Denison Marrs has carved out a niche of their own with their potent originals; and they even threw in a clever reworking of Real Life Sterry's '80s club classic "Send Me An Angel."
Read the original review here.

Michael W. Smith
Reunion Records
Little did Michael W. Smith know that his live Worship disc would release on the same day as America's most catastrophic series of events. Since September 11, 2001, Smith has been on a quest to encourage a country crippled with hurt and desperation through a combination of patriotism and praise. Such a spirit is duplicated and even surpassed on the mostly live Worship Again, which features several memorable original worship tunes and a handful of key covers set to Celtic-flavored undertones and spine-tingling, piano-based backdrops. One particular highlight is Smith's return to his collaborative roots with Amy Grant on the gripping studio-version duet of "Lord Have Mercy."
Read the original review here.

Jars of Clay
Essential Records
These acoustic rock and rollers with a knack for intelligent songwriting are never ones to jam their spirituality down listeners' throats; instead they couch their messages amidst a sea of metaphoric poetry and a lush combination of guitar strums and effective orchestration. The Eleventh Hour is Jars' back-to-the-basics record, where they not only write, produce, arrange, and design the entire project by themselves, but they also return to a more organic sound that appeals to fans on a grassroots level. Key tracks include "Fly" (about losing a close loved one), "I Need You" (a praiseworthy plea to our Creator), and the chilling title cut describing the heavenly realms will make this a staple of the band's catalogue.
Read the original review here.

Souljahz
Warner Records
After setting the industry on fire with an explosive and eclectic debut at 2002's GMA week, SoulJahz's hybrid of soul, funk, dance beats, and rock converged on their debut, The Fault is History. The project consists of smooth grooves, phat raps, funky break beats, and occasional Latin influences as dueling male and female vocal parts blend cohesively. At times the lyrics are satirical, other times they're more serious, but nearly all the group's messages are cleverly crafted and eloquently delivered on this genre-hopping escapade.
Read the original review here.

The Benjamin Gate
Forefront Records
Hailing from South Africa, The Benjamin Gate's second project is a dynamic hybrid of alternative rhythms with electronic undertones. Contact is much more accessible and down to earth than their debut, trading in pretentious musings for textbook radio-friendly pop/rock intensity. Adrienne Liesching's unbridled vocal energy shines through on cuts such as "Lift Me Up" and "The Way You Are," while her bandmates kick up the aggression level one more notch on both "This Is Not" and "Need." Additional kudos go to the group for their intelligent cover of Men At Work's "Overkill," stripping the original of its somewhat dated schmaltz and breathing additional life into that band from down under. Moments of plain old fun and excitement are appropriately balanced out with tactful presentations of spiritual truths in a culturally relevant manner.
Read the original review here.

Daily Planet
Reunion Records
Southern California's Daily Planet debuted to rave reviews and fanfare this year. The group, whose touring roots began with now labelmates Jake, had been stirring up quite a buzz on the independent circuit, winning over new audiences with their entertaining live shows and genre-bouncing sounds. On Hero, the group takes a canvas of rock and roll (both classic and current), drapes a bit of funk and soul over it, and then douses the entire surface with solid lyrical craftsmanship. At times reminiscent of the Dave Matthews Band or Blues Traveler, while also alluding to revered singer/songwriters such as Paul Simon and Billy Joel, this group covers tons of territory, capable of pleasing listeners regardless of age. Not only is the band's music incredibly catchy, but each band member's enthusiasm is contagious. Whether listening to the disc, seeing them in concert, or better yet, chatting with them one on one, the guys will put a smile on your face and direct your heart to the right place.
Read the original review here.

Sara Groves
INO Records
I absolutely loved Sara Groves' national debut, Conversations, although with so many other selections from last year finding spin time in my stereo, I unfortunately didn't include the project on my top 12 for 2001. A year later, Groves has not only matched but surpassed that quality label debut with her latest ethereal masterpiece. Between her vocal croon and songwriting style running the gamut between Joni Mitchell, Carole King, and Lisa Loeb to her ability to paint everyday situations and emotions into marvelous works of art, Groves will have you hooked. From Conversations to All Right Here, she spices up her folk base with buoyant pop, jazz, and a worshipful, yet cliché-free lyrical structure. Reuniting with producer Nate Sabin was certainly a productive decision, while bringing on board Sara's husband, Troy, as an executive producer helped bring out her tender persona all the more. If you're looking for thought-provoking sentiments, moving balladry, and crystalline vocals, they're "all right here."
Read the original review here.

Newsboys
Sparrow Records
Hook-heavy pop/rock influenced by the likes of Midnight Oil and INXS, with clever production and co-writing assistance from the legendary Steve Taylor, encompass what is arguably the Newsboys' best album to date. Indeed Mr. Taylor has been partially responsible for some of their cornerstone collections (including Not Ashamed and Take Me to Your Leader), and the Newsboys' collaborative return with him has only improved their cause (especially as they sought to follow-up the lukewarm reception of Love, Liberty, Disco). Besides just the high-quality songwriting, the Newsboys once again maintain a delicate blend of pop sensibilities with a modern rock edge. In addition to the group's stellar musicianship, this project benefits from creative programming and effective instrumental loops. Not many bands a decade and a half into their career can continue to evolve with as much ease as the Newsboys, all while maintaining their position as a thriving force in Christian music.
Read the original review here.

Sixpence None the Richer
Reprise / Warner Records
Following record company red tape, these indie darlings turned major label stars rebound with sheer brilliance, serving as the Christian industry's ultimate example of roaring lambs. Highlights include the sugary sweet textural nuggets "Breathe Your Name" and "Tonight," along with the lamenting finale "I've Been Waiting." The group does no wrong with their timeless cover of Crowded House's "Don't Dream It's Over," collaborates with Lifehouse's Jason Wade on his penning of "Waiting On the Sun," and digs incredibly deep on the topically varied trio "Dizzy," "Paralyzed," and "Still Burning." Such songs deal with everything from Biblical characters' strengths and weaknesses, to senseless killing, and finding solace in the Lord despite the severity of a hardship. The fact that Sixpence is willing to offer up praise while subsequently trudging through the muck of earthly frustrations only complements their instrumental ingenuity. It's a winning recipe several years in the making that will leave listeners at various points in their faith walk divinely content.
Read the original review here.
Browse All Music Reviews By: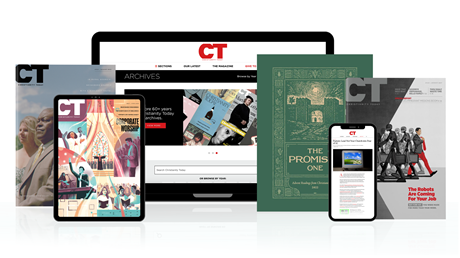 Annual & Monthly subscriptions available.
Print & Digital Issues of CT magazine
Complete access to every article on ChristianityToday.com
Unlimited access to 65+ years of CT's online archives
Member-only special issues
Subscribe
Top 12 Christian Albums of 2002
Top 12 Christian Albums of 2002