Those of you who track religious news through outlets like ChristianityToday.com's daily Weblog will have picked up some pops and crackles emanating from the National Religious Broadcasters. The trouble began in January, when the organization's new president, Wayne Pederson, said in an interview that Christian radio had become too political (specifically, too far right) and that spiritual subjects like theology and evangelism should be broadcasters' focus. Immediately, radio personalities for whom conservative social commentary is a staple—James Dobson, Donald Wildmon, and Tim LaHaye among them—suggested that Pederson's views did not represent the NRB.
Under pressure, Pederson resigned in February. The NRB executive committee voted 7-1 to accept Pederson's resignation (compared to a 47-36 margin in the full board vote). But it ain't over.
Alleging that "power boys" and "600-pound gorillas" unduly influenced earlier proceedings, Moody Broadcasting VP Robert Neff has written a letter demanding Pederson's reinstatement and criticizing opponents' behavior. Dobson called the letter "vicious and uncalled for," then declared the conflict a "full-scale split in evangelicalism."
Dobson overstates his point. Lots of people who consider themselves evangelicals don't even listen to Christian radio, let alone care who leads the NRB. Sixty years ago, waves in the broadcast community might have sent tsunamis through evangelicalism, because religious radio was one of just a few things binding conservative Christians together. Today, though, the effect likely will be a ripple.
In his very helpful book Revive Us Again: The Reawakening of American Fundamentalism (Oxford, 1997), Calvin College history professor and provost Joel A. Carpenter argues that parachurch organizations formed the core of evangelicalism in the 1930s and '40s. A rough summary of his story goes like this: Protestant conservatives lost some key battles in the 1920s, both in the public sphere (Prohibition, evolution) and in their denominations. But instead of giving up, as liberals hoped, conservatives quietly regrouped.
Some fundamentalists founded splinter denominations and seminaries, but most conservatives stayed in their drifting denominations while seeking fellowship with like-minded Christians elsewhere. That "elsewhere" came to include summer camps, Bible colleges, alternative publications, faith missions, and Christian radio. This is why evangelicalism is defined not by hierarchy, headquarters, or creed, but by entities like World Vision, Focus on the Family, Fuller Seminary, and Christianity Today—insofar as evangelicalism is defined at all.
No single type of parachurch program outranked all others in the formation of evangelical identity, but radio occupied a unique position at the intersection of several of the movement's key emphases. Evangelicals have always been populists, making use of the catchy and new, and radio was certainly the "wave of the future" in the '30s and '40s. Radio was also a verbal medium, well suited to the message of Christians rooted in the Word. Most importantly, radio gave revival preachers—perennial evangelical superstars—an audience much larger than the crowds they could draw under crusade tents.
The NRB was founded in 1944 by conservative broadcasters who had more listeners than clout. In the 1920s and '30s these broadcasters had achieved such popularity that their mainline critics tried to silence them by asking network powerhouses CBS and NBC not to carry their "sectarian" programs. The block failed; conservatives bought time for their programs on networks that needed the money (ABC and the Mutual Broadcasting System) and built their own networks. Memories of this saga, as well as skirmishes with the generally unsympathetic Federal Radio Commission, gave the NRB a defensive edge.
New Federal Communications Commission rules in the 1970s invited a rush of evangelicals to the airwaves. It was during this era of the Moral Majority and developing Religious Right that Christian radio personalities became better known for political commentary than for on-air evangelism. Randall Balmer's new Encyclopedia of Evangelicalism(more on this handy reference in a future newsletter) notes that Jimmy Carter, Ronald Reagan, and George Bush all addressed NRB conventions. Reagan gave his famous "Evil Empire" speech, on the Soviet Union, at the group's 1983 meeting.
Today, the NRB still sometimes tussles with the FCC, and a serious split within the organization could leave both sides too small to mount a lobby. NRB members do not, however, face much competition from theological liberals on the dial. An overwhelming number of the more than 1,940 Christian radio stations in America fall on the conservative side of the spectrum. Even if Pederson were reinstated, about all he could do to budge broadcasters from this niche would be to mix a little chiding into his official speeches. A resolution that would force broadcasters to tone down their political speech, the threat some commentators seemed to see in Pederson's interview, isn't a possibility.
Still, the extent to which prevailing conservative theology should be connected to vocal conservative politics is a valid question for Christian broadcasters. It's a valid question for the rest of us, too, especially in light of the proposed Houses of Worship Political Speech Protection Act, which would allow pastors to endorse candidates from the pulpit. But the real tempests over the issue are unlikely to originate in the back rooms and conference calls of the NRB. Radio is simply not the evangelical center of gravity it used to be.
Elesha Coffman is managing editor of Christian History magazine.
Related Elsewhere
More Christian History, including a list of events that occurred this week in the church's past, is available at ChristianHistory.net. Subscriptions to the quarterly print magazine are also available.
Related Christianity Today coverage includes:
Weblog: Battle for NRB Heats Up as Dobson, Moody Square Off | Robert Neff calls Focus on the Family head's actions "ungodly," Dobson says he's victim of "smear campaign." (March 5, 2002)
New NRB President Resigns | Christian broadcasters divided over politics-religion controversy. (Feb. 18, 2002)
Politics May Splinter NRB | Christian broadcasters may sack incoming president or bolt the organization. (Feb. 15, 2002)
Weblog: Saying Christian Radio is Too Political May Get Head of Religious Broadcasters Fired | The battle for Christian radio. (Feb. 22, 2002)
Daring to Discipline America | James Dobson's influence, already huge, is growing. Can he keep his focus? (March 1, 1999)
The NRB controversy began following Pederson's comments in a January 5 article in the Minneapolis Star-Tribune.
Statistics on how many people listened to Christian radio in 1997 are available at Duncan's Radio Comments.
Christianity Today sister publication Christian History's issue 55: "The Monkey Trial and the Rise of Fundamentalism" is available online.
Christian History Corner appears every Friday at ChristianityToday.com. Previous editions include:
Translation Wars | Sharp as debate over the TNIV may be, the version's translators are getting off easy compared to John Wycliffe and William Tyndale. (March 1, 2002)
The Cremation Question | Firm belief in resurrection hasn't kept Christians from caring-and arguing-about what happens to the bodies of the dead. (Feb. 22, 2002)
Article continues below
Citius, Altius, Sanctus | The modern Olympics, though hardly Christian, hail from an era when athleticism was next to godliness. (Feb. 15, 2002)
Alternative Religions | Many non- and semi-Christian groups laid claim to the West, but none more successfully than the Mormons. (Feb. 8, 2002)
Zion Haste | Does the passion of a few nineteenth-century Chicagoans still influence American policy in the Middle East? (Feb. 2, 2002)
Final Solution, Part II | The Nazis planned to obliterate Christianity, too, according to newly published Nuremberg documents. (Jan. 25, 2002)
Tell Me a Story | The most helpful church history scholarship is both broad and narrative. (Jan. 18, 2002)
State of the Fragmentation | If "society" denotes a group with mutual interests and common culture, the American Society of Church History almost doesn't qualify. (Jan. 11, 2002)
Spurgeon's Epiphany | The event he recounted more than 280 times in his sermons first occurred on January 6, 1850. (Jan. 4, 2002)
Christmas Kettles | The history behind a Yuletide institution. (Dec. 21, 2001)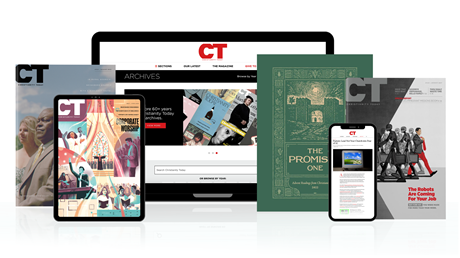 Subscribe to Christianity Today and get access to this article plus 65+ years of archives.
Home delivery of CT magazine
Complete access to articles on ChristianityToday.com
Over 120 years of magazine archives plus full access to all of CT's online archives
Subscribe Now
Don't Touch That Dial
Don't Touch That Dial