Bill Frist, the new Senate Majority Leader, strode into Room S. 207 at the Capitol, where he was to meet with roughly 30 Christian and African leaders on February 5. The topic was how to battle HIV/AIDS worldwide, and the Tennessee Republican had come not to fault the efforts of Christians but to praise them.
"In my eight years here, evangelicals have now stepped up to the plate. They represent a great hope, and I think there's a great awakening on this issue," said Frist, according to meeting participants. "The ultimate cure cannot be found without the church."
Frist's comments highlight the dramatic change in evangelical responsiveness to the HIV/AIDS problem overseas. Richard Cizik, vice president of governmental affairs for the National Association of Evangelicals, recalls that ten years ago he was one of two evangelicals to attend a White House conference on HIV/AIDS.
Christians today, in contrast, are lobbying for specific strategies to prevent infection and care for people with HIV/AIDS.
New money, new strategy
In his January 28 State of the Union address, President Bush proposed that the federal government spend $15 billion over the next five years to fight the disease in Africa and the Caribbean. Of that amount, $10 billion would be new money, a tripling of previous funding.
Twelve of the 14 countries in Bush's plan lie in southern Africa, where tens of millions of families have been hit by the virus. "We're very pleased by what the President has said and is doing on this," said Steve Haas, vice president for church relations with World Vision.
Decimated early on by HIV/AIDS, Uganda is emerging as the Bush administration's model for fighting the virus in southern Africa. First Lady Laura Bush welcomed Peter Mugyenyi, director of the Joint Clinical Research Center in Uganda, as her guest during the State of the Union. Uganda's plan is called ABC, an acronym for Abstain, Be faithful, or use a Condom. Unlike South Africa, Zambia, Zimbabwe, and Kenya, Uganda has sought to prevent the disease mostly by encouraging citizens to abstain from sexual activity or remain faithful to one partner.
Uganda has succeeded in taming the virus. According to an academic study commissioned by the U.S. Agency for International Development (USAID) and released last July, the country of 24 million is "considered to be one of the world's earliest and best success stories in overcoming HIV." The share of Ugandans with the disease dropped from 15 percent in 1991 to 5 percent in 2001, according to the Joint United Nations Program on HIV/AIDS.
Still, 600,000 Ugandans had HIV/AIDS at the end of 2001, according to USAID. Life expectancy for Ugandans has dropped from 54 to 43 since 1989.
Religious groups are central to the plan's overall success, the USAID report notes, because they "wield enormous influence in Africa." It says that in 1991 Ugandan Christians organized a workshop for bishops and other religious leaders, and those leaders in turn began HIV/AIDS prevention and care programs throughout the country.
Politicized debate
Nevertheless, Uganda's approach is likely to attract criticism from some conservatives for its position concerning condom use. Condom usage increased substantially among men and women from 1995 to 2001 in Uganda, according to the USAID report.
The report also found that condoms played a lesser role in reducing HIV/AIDS rates than did abstinence and fidelity. Several Republicans and evangelical leaders seized on this finding to promote the Uganda model. Pennsylvania Republican Senator Rick Santorum said Uganda's approach is the most effective.
"That's why they call it ABC and not CBA," Santorum told Christianity Today.
But Shepherd Smith, president of the Institute for Youth Development, a nonpartisan organization that promotes a message of risk avoidance to young people, noted that condoms have helped curb the spread of disease among prostitutes and those who visit them. "So to say that condoms don't work is not realistic in today's world," Smith said.
Fighting HIV/AIDS overseas doesn't carry the complications that such efforts do domestically. Conservative Jerry Thacker, who contracted the virus in 1986 from a blood transfusion, withdrew his nomination to the Presidential Advisory Council on HIV/AIDS on January 23, after being accused of calling HIV/AIDS the "gay plague" and homosexuality a "deathstyle". Thacker later told Christianity Today that because homosexual activists have politicized the virus in the United States, fighting the disease abroad is easier.
Action plan emerging
Smith traveled to four African nations last year as part of a delegation with Health and Human Services Secretary Tommy Thompson. Jay Lefkowitz, deputy assistant to President Bush for domestic policy, said that trip helped form a consensus that American money could help save many lives at risk from HIV/AIDS, malaria, tuberculosis, and starvation.
Last year Samaritan's Purse held a "Prescription for Hope" conference in Washington, D.C. Frist was one of the speakers during the gathering of 900 African, religious, and Bush administration officials. SP organized a similar meeting in Kampala in February.
As of early March, the Bush administration had not released the full details of its HIV/AIDS spending plan. An early outline of the plan does not call for major spending until the start of fiscal 2004 this October.
The additional spending may go further because the cost of fighting HIV/AIDS is less than it was a decade ago. The price of antiretroviral drugs has plunged from thousands of dollars a year to $300 annually. In addition, the U.S. Food and Drug Administration recently approved a rapid HIV test by OraSure Technologies Inc.
Rep. Jim McDermott (D-Wash.), who is chairman of the HIV/AIDS caucus in the House, welcomed the proposed increase in spending. But he questioned whether the Bush administration will lobby for it vigorously. "I'm afraid we've got such a terrible problem with the war in Iraq that there won't be any money left," he said. "I hope I'm wrong. It's such a disaster in Africa."
Related Elsewhere
Last month, Christianity Today posted an exclusive interview with Jerry Thacker: "Politics Muddies Fight Against AIDS | The politics of homosexuality has made it easier to battle the disease in foreign countries than domestically, says a former nominee to the Presidential Advisory Council on HIV and AIDS."
Previous Christianity Today articles on AIDS in Africa include:
Bono's American Prayer | The world's biggest rock star tours the heartland, talking more openly about his faith as he recruits Christians in the fight against AIDS in Africa. (Feb. 21, 2003)
Killing a Pandemic | The church may be best equipped to deal HIV/AIDS a crippling blow. (Nov. 18, 2002)
U.S. Blacks Preach Abstinence Gospel | Mission workers testify that Christ helps control sexual urges. (March 27, 2002)
Mercy Impaired | Let's shock the world by reversing our apathy toward African sufferers. (September 27, 2001)
Kenyan President Suggests Hanging for 'Knowingly' Infecting Others with AIDS | Church organizations criticize use of capital punishment as solution to epidemic. (July 19, 2001)
Dying Alone | Baptist women seek out and care for ashamed, abandoned AIDS patients. (June 15, 2001)
Few to Receive Generic AIDS Medicines | Pharmaceutical companies drop suit against South Africa, but problems remain. (May 18, 2001)
Zambia's Churches Win Fight Against Anti-AIDS Ads | Church leaders are concerned that condom promotion encourages promiscuity. (Jan. 12, 2001)
Article continues below
Mandela, De Klerk, and Tutu Join to Fight AIDS | South Africa's men of peace call for end of silence and stigmatization. (Dec. 14, 2000)
Speaking with Action Against AIDS | A report from the Thirteenth International AIDS Conference. (July 19, 2000)
'Have We Become Too Busy With Death?' | As 4,900 people die each day from AIDS, African Christians are faced with the question. (Feb. 4, 2000)
'Sexual Revolution' Speeds Spread of HIV Among Africans | An interview with World Relief's Debbie Dortzbach. (Feb. 4, 2000)
Books & Culture Corner: An Open Letter to the U. S. Black Religious, Intellectual, and Political Leadership Regarding AIDS and the Sexual Holocaust in Africa (Jan. 24, 2000)
Africa: Fidelity Urged to Fight AIDS (July 12, 1999)
Global Death Rates May Skyrocket (May 24, 1999)
I Am the Father of an AIDS Orphan (Nov. 17, 1997)
For more articles on AIDS in Africa, see allAfrica.com and Yahoo Full Coverage
Have something to add about this? See something we missed? Share your feedback here.
Our digital archives are a work in progress. Let us know if corrections need to be made.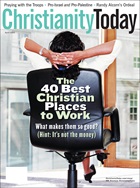 This article is from the April 2003 issue.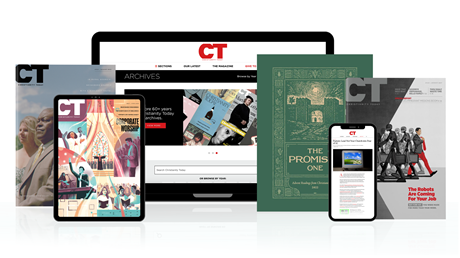 Annual & Monthly subscriptions available.
Print & Digital Issues of CT magazine
Complete access to every article on ChristianityToday.com
Unlimited access to 65+ years of CT's online archives
Member-only special issues
Subscribe
ABC vs. HIV
ABC vs. HIV