The Bible tells us that anything we ask according to his will, we shall have (1 John 5:14-15). How is it, then, that not all prayers for the salvation of others are answered?
—Amy Lynn Nuttall, Brooklyn, New York
All Christians, I suppose, like myself, have prayed for the conversion of loved ones without seeing it happen. So did Paul (Rom. 9:1-3, 10:1), and so did prayer giant George Müller in at least one case (though the prayed-for person came to Christ at Müller's funeral).
Much is uncertain here; we cannot tell, for instance, how God may deal with holdouts who, as we say, "know it all" in the moments of their dying. But we know the pain of the love that makes us pray for them, and while they continue impervious to Christ, the pain stays.
Now, our heavenly Father is indeed a promise-keeping God who answers all proper prayer in positive terms. Proper prayers flow from faithful, obedient hearts bringing to God real needs that we beg him to meet. His answer may be "Yes, here and now, as requested," or "Yes, but in a better way than you asked," or "Yes, but you must wait—I will take the right action at the right time, which is not yet."
God, the perfect Father, loves to give good gifts to his children but reserves the right to give only the best, and only in the best way. What he gives, therefore, is not always what the praying believer had in mind.
But proper prayers are made according to his will; what does that mean? The Lord's Prayer shows. All our requests are to be a spelling out of our motive, purpose, and desire, which matches God's own, for the hallowing (honoring, glorifying) of his name (that is, of God himself as revealed in the Bible and its Christ).
The bottom line here must ever be that God's will (command and plan) be done—not just in others' lives but in ours too. In our lives God may have lessons for us in the way he answers our askings.
As children growing up in God's family, we are to work out what we think will most advance the divine glory, and pray for that (as did Paul when he asked that his thorn in the flesh be healed). Then we must wait and watch to see what God, in his greater wisdom, does in answer (as when he strengthened Paul to live with the thorn unhealed).
But, given all that, does not God categorically state in 2 Peter 3:9 that he wants everyone on Earth to come to repentance? Well, no; not there, anyway. "The Lord," says Peter, "is patient toward you (my Jewish-Christian fellow believers, whom I am addressing), not wishing that any (of you) should perish, but that all (of you) should reach repentance." Texts must be understood in context, which often limits their application, as it does here.
But does not God call everyone who hears the gospel to come to Christ and be saved? Yes, but be careful; there is mystery here, the mystery of God's sovereignty. The gospel message is a bona fide, good faith, "whosoever will" invitation to Christ, who is truly present to save all who truly turn to him in faith and repentance.
To us who thus turn, the New Testament explains that God reached out to open our eyes, renew our hearts, and raise us from spiritual death into new birth and new life. Hence he is to be praised no less for our conversion than for providing our Savior. But not all turn, and the unbelief of those who do not is diagnosed as their own fault. Beyond this, the mystery of some-but-not-others is left unexplained, and humbly we have to settle for that.
Yet, though our prayers do not make God dance to our tune, they do make a difference. When, as so often, those who have come to faith learn that someone was praying for them, they know that they owe their salvation, under God, to that person.
And when God moves me to love and pray for someone (with verbal witness to them also, as God gives opportunity), I should assume that God means to bless that person. He is privileging me to be a link in the chain and will answer my prayer in positive terms, whether or not I see how.
Keep loving, then, keep praying, keep expecting, keep trusting God to know what he is doing, and keep praising him for his unsearchable wisdom. So did Paul (Rom. 9-11, especially 11:33-36), and so should we.
Have something to add about this? See something we missed? Share your feedback here.
Our digital archives are a work in progress. Let us know if corrections need to be made.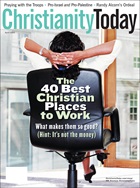 This article is from the April 2003 issue.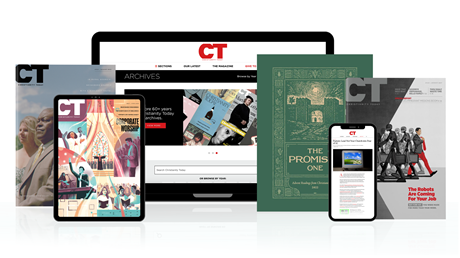 Subscribe to Christianity Today and get access to this article plus 65+ years of archives.
Home delivery of CT magazine
Complete access to articles on ChristianityToday.com
Over 120 years of magazine archives plus full access to all of CT's online archives
Subscribe Now
Prayers for Salvation
Prayers for Salvation