Prolife organizations rally members against AIDS—and House's AIDS bill
"Fighting AIDS on a global scale is a massive and complicated undertaking, yet this cause is rooted in the simplest of moral duties," President George W. Bush said Tuesday (text | audio | video). "When we see this kind of preventable suffering, when we see a plague leaving graves and orphans across a continent, we must act. When we see the wounded traveler on the road to Jericho, we will not, America will not pass to the other side of the road."
Among those applauding Bush's speech were Focus on the Family's James Dobson, Prison Fellowship's Chuck Colson, and evangelists Franklin Graham and Anne Graham Lotz.
"Americans can do something about this modern plague—and we must," Colson and William J. Bennett wrote in a Washington Times op-ed that same day (which was very similar to Colson's March 17 Breakpoint radio commentary): "President Bush has correctly identified African AIDS as a humanitarian catastrophe of staggering proportions—one that a strong and merciful nation must throw its considerable resources into fighting. His $15 billion plan to do so is both simple and sensible."
In yesterday's Breakpoint commentary, Colson again affirmed the President's plan, but added a warning: "There's a danger that the President's initiative may be derailed in Congress. The House International Relations Committee failed to pass two critically needed amendments."
One would have set aside at least one third of the funding for abstinence and monogamy programs, and the other would have provided a conscience clause exempting faith-based groups from having to hand out condoms (some say the amendment would also allow groups to hire workers consistent with their religious beliefs).
A third amendment that some other religious conservatives were pushing for would limit funding to the Global Fund to Fight HIV/AIDS, Tuberculosis and Malaria, which is affiliated with the United Nations.
Focus on the Family sent out a "special alert" e-mail message to supporters, asking them to "express your concern that Congressman Henry Hyde's Global AIDS bill, H.R. 1298, is inadequate to address the AIDS problem in Africa."
"I regret the fact that the White House signaled to the Congress that they were willing to take whatever came over," Dobson told The Baltimore Sun. "We think that's a big mistake, and we regret it."
Michael Schwartz, vice president for government relations at Concerned Women for America, says in a Focus on the Family article that without the amendments, the bill will be a disaster.
There's still a chance for the amendments. Rep. Joe Pitts (R-Pa.) promises to revive them today. Whether they'll pass is another issue. "It won't be easy, but it is possible," Pitts told Focus. "[White House officials] do want a bill passed pretty badly, so I suspect at this point they're going to say, 'Let's pass the bill, keep it going in the process, and try to correct some of these things in the conference committee.' "
But if that happens, Family Research Council president Ken Connor told The New York Times, he and his supporters won't be happy. "The AIDS lobby will be very happy, the homosexual lobby will be very happy, the condom crowd will be happy, the Planned Parenthood folks will be happy," he said. "That's not the President's base." He was even more critical of the President in speaking to The Washington Times: "It appears again the White House is so eager for the photo-op of a Rose Garden bill-signing ceremony that it will accept deeply flawed legislation even though it does not embody the principles the President himself laid out." (Connor's comments on the bill in his own "Washington Update" are available here and here.)
U.S. Rep. Mike Pence (R-Ind.) says the vote will be a watershed. "If the White House tells millions of pro-family voters that they're not interested in seriously promoting our values in the formation of U.S. policy in Africa, then that will greatly undermine the support for the White House and for the U.S. Congress" among conservatives, he told The Baltimore Sun.
Few conservatives seem to be complaining now that anti-AIDS funding could go to groups that encourage abortion overseas. That debate seems to have ended. But at least one faith-based organization is raising a new concern. "To fund HR1298, more than $60 million was cut from child survival programs designed to provide treatment for preventable health problems and common diseases in children under the age of five," says a World Relief press release. "In our fight against AIDS, we must not forget that every day thousands of young children are dying from preventable or curable diseases like dehydration, malaria and pneumonia.  If we fail to teach mothers how to protect their children, more innocent lives will be lost," said president Clive Calver.
[P.M Update: The bill overwhelmingly passed the House this afternoon with all three amendments added. Weblog will have more news, analysis and commentary on the vote tomorrow.]
More articles
Day of Prayer:
Politics and law:
Church and state:
Post-war Iraq:
Christian response to war:
Missions and Ministry:
James ossuary:
Film, music, and TV:
Sports:
Sexual ethics:
Clergy sex abuse:
Related Elsewhere
Suggest links and stories by sending e-mail to weblog@christianitytoday.com
See our past Weblog updates:
April 30 | 29 | 28
April 25 | 24 | 23 | 22 | 21
April 17 | 16 | 15 | 14
April 11 | 10 | 9 | 8 | 7
April 4 | 3 | 2 | 1 | March 31
March 28 | 27 | 26 | 25 | 24
March 21 | 20 | 19 | 18 | 17
and more, back to November 1999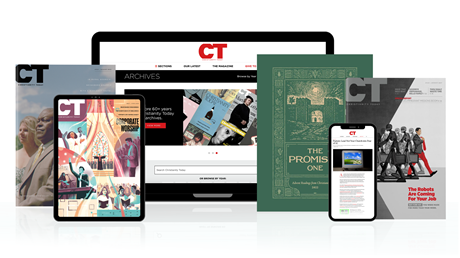 Annual & Monthly subscriptions available.
Print & Digital Issues of CT magazine
Complete access to every article on ChristianityToday.com
Unlimited access to 65+ years of CT's online archives
Member-only special issues
Subscribe
"Weblog: Religious Conservative Groups Call for Action on AIDS, But Criticize House Bill"
"Weblog: Religious Conservative Groups Call for ...