During the world economic forum in Jordan, the BBC broadcast a discussion between an Israeli businessman and the chair of the Palestine Development and Investment Company. The Israeli wants to set up industrial parks in Gaza, and the two men agreed enthusiastically that economic development was vital to achieving lasting peace between their peoples. At the end of the broadcast, however, all cordiality evaporated as they argued over which must end first: the occupation and settlements, or the guerrilla attacks on Israeli civilians. As the BBC correspondent quickly closed the segment with a polite thank you, you could still hear the two men sounding like squabbling preschoolers yelling, "He hit me first."
The event was a parable of the roadblocks to Middle East peace. The unconverted human soul does not have the resources to abandon the blame game, practice forgiveness, and achieve genuine reconciliation. Still, the unconverted can be made to see that compromises can make life better than endless violence.
This may well be a propitious time for the Bush administration to press for compromise. With the threat from Saddam Hussein removed, and with the American presence moderating the threat from militias in south Lebanon, the time seems ripe. Failure at this point will likely ensure a long future of frustration and vendetta.
More than 50 years of Israeli-Palestinian conflict has provided a superabundance of grievances for all. But the infinite regression of blame is the path to futility. The teachings of Jesus ask us to focus on creating the conditions in the present that will work for the common good.
Supporting Peaceful Palestinians
Newsweek recently put a stumbling block in the path to peace when it suggested that the Bush administration's "road map" could offend the leaders of "the nation's 50 million evangelicals," a voting constituency "which the White House hopes will turn out in record numbers next year."
But at no time in the past 50 years has there been as broad a spectrum of evangelical opinion on this issue as there is today. And this fact should free the Bush administration from vague fears of evangelical voting-booth backlash.
Christianity Today's Todd Hertz tested the perception of a monolithically Zionist evangelicalism by querying a wide range of leaders. Hertz also talked to the University of Akron's John Green, who tracks evangelicals' political behavior. In a study of 350 evangelical leaders, Green found that while 60 percent back Israel over Palestine, 52 percent favor a Palestinian state. "Evangelical élites want to see peace in the Middle East," Green told CT. "They believe the Palestinian people have legitimate aspirations to have their own country."
Green told CT that these leaders "would not support a state if it threatened Israel." And Richard Land, president of the Southern Baptist Ethics and Religious Liberty Commission, said that he "would argue that nothing could be more secure for Israel than creating a viable, self-sustaining Palestinian state that agrees to live in peace and agrees to suppress terrorism."
Other evidence that there's no monolith:
A June 18 op-ed in the

Los Angeles Times

by Dallas Seminary professor Darrell Bock listed the varieties of evangelical thinking on the modern state of Israel. Bock wrote with a dispensationalist accent, but he noted that believing God gave the land to Israel does not preclude Israel from negotiating parts of its territory in exchange for peace.
A decidedly non-dispensationalist tone suffuses a statement posted on the Knox Theological Seminary website and signed by 100 mostly Presbyterian and Reformed leaders. The statement's most striking assertion compares the "bad Christian theology" that "contributed to the tragic cruelty of the Crusades" to the "bad Christian theology" that "is today attributing to Israel a divine mandate to conquer and hold Palestine, with the consequence that the Palestinian people are marginalized and regarded as virtual 'Canaanites.' "
A

Christianity Today

online poll showed 49 percent of our Internet readers accept the creation of a Palestinian state under the right conditions, while 39 percent reject the idea.
Despite the broad diversity in the way God's people interpret his covenant with Israel, we should be able to agree on a few guiding principles. First, we all desire a secure Israel. The country was founded in order to provide a safe haven for those who had narrowly escaped genocide and their descendants. After 50 years, the security of Israel should not be a matter for debate.
Second, heavy-handed military approaches to security—though occasionally necessary—can never be a solution. Policies that result in closed Palestinian schools, razed houses and orchards, and a crippled economy actually increase sympathy for the radicals. Economic, education, housing, and health care efforts could have a significant moderating effect.
Third, peace is not a zero-sum game. Both radical Arab activists and right-wing Israelis can torpedo any hope of a stable future by clinging to their demands. The long-term fruit of such absolutism is fanaticism and increased resistance. Moderate elements on both sides have the power to undermine the extremism and must work toward win-win results—such as those the enterprising businessmen on the BBC were beginning to explore.
The Bush administration needs to know that when it comes to Israel and the Palestinians, evangelicals form no ideological bloc. Today's evangelical public cares deeply not only about security and safety for all in the region, but also about the health and well-being of all its people.
Related Elsewhere:
Other articles appearing on our site today include:
Articles referenced in the editorial include:
Opinion Roundup: The Evangelical View of Israel? | Evangelicals are more diverse on the Israeli-Palestinian conflict than we are led to believe. (Christianity Today, June 11, 2003)
A Very Mixed Marriage | Evangelical Christians lining up to fight for Israel may be an unmovable obstacle to Bush's 'road map' (Newsweek)
Previous related Christianity Today articles include:
A Middle Way in the Middle East | A third theological path through the Israeli-Palestinian thicket. (April 11, 2003)
How Evangelicals Became Israel's Best Friend | In the last 50 years, Israel has needed all the friends it can get, and evangelicals have been loyal and productive supporters. (October 5, 1998)
Activists well acquainted with terror | "Jerusalem Women Speak" tour gains relevance for audience members struggling with new fears. (September 27, 2001)
Palestine's Christians Persist Despite Pressures | With escalating violence in Israel, ministries face a "sad and scary" situation. (September 19, 2001)
Strengthen Christian Presence In The Holy Land, Carey Pleads | Middle-East leaders asked to help tone down violence that has killed 650 in 10 months. (August 2, 2001)
Violence Puts Archaeologists Between Rocks, Hard Places | About half of the planned excavations in the Holy Land this summer have been canceled. (June 27, 2001)
Greek Orthodox Priest Falls Victim to Middle East Conflict | Monks worry they may appear as threats to each warring side. (June 21, 2001)
Pilgrimages Drop and Workers Lose Jobs as Middle East Violence Continues | Silence fills places normally crowded with pilgrims, reports British group. (April 11, 2001)
Holy Land Roadblocks | Christian pilgrims learn about Palestinians' everyday indignities. (Apr. 9, 2001)
Article continues below
Christian Zionists Rally for Jewish State | More than 600 Christians from around the world flock to Jerusalem to show solidarity with Israel as peace process collapses. (Apr. 9, 2001)
Between a Rock and a Holy Site | Muslims have stepped up their efforts to take control of places revered by Jews and Christians. (Feb. 13, 2001)
The Peace Regress | What's behind the current outbreak of hostilities in the Holy Land? (Jan. 11, 2001)
Conflict in the Holy Land | A timeline of trials for the most contested piece of real estate in the world. (Jan. 11, 2001)
Between the Temple Mount and a Hard Place | Palestinian Christians want both peace in their villages and justice for their Muslim brothers. (Dec. 5, 2000)
Christmas Plans for Bethlehem Scrapped | Escalating violence cancels millennial celebration in town of Christ's birth. (Dec. 1, 2000)
Latin Patriarch tells Israel to Surrender Lands to Palestinians | Catholic leader says Israel will never have peace unless it "converts all of its neighbors to friends." (Nov. 1, 2000)
Israelis and Palestinians Pay Tribute to Pope's Pilgrimage to Holy Land | Though some at grassroots remain unappeased, leaders of both groups are full of praise. (March 29, 2000)
West Bank Squeezed by Warring Majorities (Nov. 16, 1998)
Jerusalem as Jesus Views It (Oct. 5, 1998)
Temple Mount on Shaky Ground? | (April 6, 1998)
Have something to add about this? See something we missed? Share your feedback here.
Our digital archives are a work in progress. Let us know if corrections need to be made.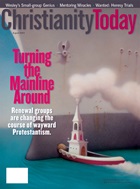 This article is from the August 2003 issue.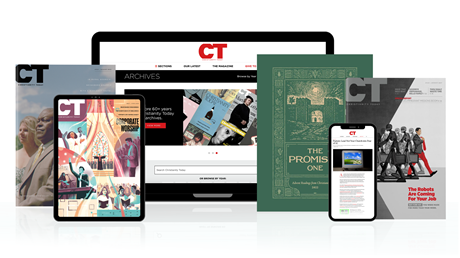 Subscribe to Christianity Today and get access to this article plus 65+ years of archives.
Home delivery of CT magazine
Complete access to articles on ChristianityToday.com
Over 120 years of magazine archives plus full access to all of CT's online archives
Subscribe Now
Roadblocks and Voting Blocs
Roadblocks and Voting Blocs