The highest Ontario court ruled on June 10 that the province's legal definition of marriage—that it is between a man and a woman—violates homosexuals' human rights enshrined in the Charter of Rights and Freedoms. The court of appeal in Ontario changed the common-law definition of marriage from "one man and one woman" to "two persons."
One week later, Prime Minister Jean Chrétien announced that the government would let the decision stand. The practical effect will be the legalization of homosexual marriage across Canada.
Chrétien said the federal justice department would rewrite the definition of marriage this summer and present it to the Supreme Court of Canada. The prime minister also promised a bill to protect "the rights of churches and religious organizations to sanctify marriage as they define it."
If the Supreme Court of Canada finds the bill constitutionally sound, the House of Commons would likely vote on it this fall.
Despite the exception, Christian critics say the government and gay-rights activists have hijacked the democratic process.
"The court unilaterally has altered an institution of vital social significance, and the government apparently has conceded the issue to the court by not appealing," Bruce Clemenger, president of the Evangelical Fellowship of Canada (EFC), said in a prepared statement. "It is not the role of the court, nor an appropriate use of the Charter, to redefine pre-existing social, cultural, and religious institutions."
The EFC joined an interfaith coalition that intervened in cases in Ontario and British Columbia. The coalition included Roman Catholics, evangelical Protestants, Sikhs, and Muslims.
Many Canadians oppose legalizing homosexual marriage. In June a national survey found that 54 percent of Canadians support same-sex marriages and 44 percent oppose them.
After a pro-gay marriage court ruling in British Columbia earlier this year, a federal justice committee convened cross-country hearings. "Polls show Canadians are very divided on this issue, and the hearings revealed that," said Focus on the Family policy analyst Anna Marie White.
In 1999 the House of Commons overwhelmingly reaffirmed the traditional definition of marriage.
The Charter gives the federal government jurisdiction over matters of marriage and divorce. Provinces have jurisdiction over ceremonies and licensing.
Some denominations already endorse ceremonies called same-sex blessings. Legalizing marriage of homosexuals will present social and legal pressures for conservative clergy in the Anglican and United Church of Canada (UCC) denominations. Neither denomination commented on Chrétien's statement.
Clemenger expressed concern for conservatives in those denominations. "For clergy, the issue is whether they will be able to follow their conscience and exercise their religious freedom in how they interpret the Bible," Clemenger told Christianity Today.
This year a lesbian couple asked North Lonsdale United Church near Vancouver to perform a same-sex blessing. They did not realize the congregation belongs to a UCC renewal movement that opposes same-sex blessings. There are three renewal groups in the UCC, representing at least 100 congregations and 15,000 members.
"We didn't mind the request," said church member Geoff Wilkins. "It was referred to another pastor willing to perform the service. If our pastor [were] compelled, or the couple were able to use our sanctuary, people would have been upset."
The Anglican Diocese of New Westminster has authorized 6 of its 80 parishes to perform same-sex rites.
Brent Hawkes, pastor of the Metropolitan Community Church, a Toronto congregation that supports active homosexuality as biblically acceptable, told CT that conservatives should not worry. Hawkes said he supports the right of pastors to refuse to wed same-sex couples for theological reasons.
"No Catholic priest must wed an interfaith couple, and no Protestant denomination must ordain women as clergy," Hawkes said. "Religious freedom rights already protect clergy from legal challenges if they refuse to wed same-sex couples on biblical grounds."
Clemenger is not convinced. "We are deeply concerned that the effect of the redefinition will be to begin a process of marginalization for many churches and their clergy who currently participate in the civil registration of marriage," Clemenger said. "As the right of religious exemption from the court's ruling was not addressed in the court's decision, we will watch carefully the legislation that will address religious freedom concerns."
• Carol Lowes in Toronto
Related Elsewhere:
Documents from the Ontario case are available online at the site for the Canadian Legal Information Institute.
Christianity Today's daily Weblog has compiled coverage and comment on Ontario and British Columbia's decisions to allow homosexual marriage:
Weblog: As Another Canadian Province Allows Same-Sex Marriage, Religious Groups Seek Supreme Court Appeal (July 9, 2003)
Article continues below
Weblog: Ontario Court Throws Out Marriage Definition (June 11, 2003)
Weblog: British Columbia Allows Same-Sex Marriages (May 2, 2003)
Yahoo full coverage has more links to coverage of Ontario and British Columbia's gay marriage decision. Related stories include:
Same-sex marriage makes B.C. history—The Vancouver Sun (July 9, 2003)
Second Canadian Province Allows Same-Sex Wedding—Reuters (July 8, 2003)
Religious groups fight gay marriage—The Ottawa Citizen (July 8, 2002)
Conservative groups fight same-sex marriages—The Globe and Mail (July 7, 2003)
Same-sex married couples rejoice—The Globe and Mail (June 11, 2003)
Court rules in favor of same-sex marriage—The Toronto Star (June 11, 2003)
Ontario legalizes gay marriage—BBC (June 11, 2003)
Previous Christianity Today articles on the Anglican New Westminster diocese include:
Anglican Communion Frays | Bishops worldwide chastise Canadian bishop who approved gay unions. (July 9, 2003)
Why I Walked | Sometimes loving a denomination requires you to fight. (Jan. 3, 2003)
Mortified in Vancouver | A church's actions can be in conflict with its professed faith only so long before faithful Christians wonder how much hypocrisy they can stand. (July 30, 2002)
Anglican Diocese Endorses Same-Sex Unions | Traditionalists walk out, issue global call for outside intervention. (July 12, 2002)
Vancouver Anglicans Approve Same-Sex Unions | Conservatives walk out after synod vote to bless gay couples. (June 17, 2002)
Have something to add about this? See something we missed? Share your feedback here.
Our digital archives are a work in progress. Let us know if corrections need to be made.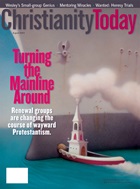 This article is from the August 2003 issue.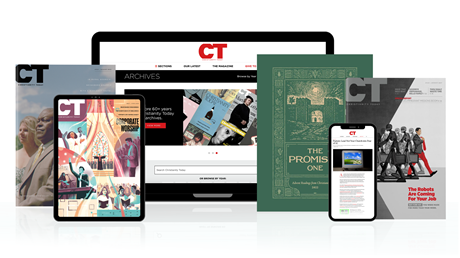 Annual & Monthly subscriptions available.
Print & Digital Issues of CT magazine
Complete access to every article on ChristianityToday.com
Unlimited access to 65+ years of CT's online archives
Member-only special issues
Subscribe
Canada Backs Gay Marriages
Canada Backs Gay Marriages