Kenyan bishop, Texas church attacked, apparently by gay activists
Conservative Anglican and Episcopalian bloggers are abuzz this week over two apparent hate crimes against orthodox opponents of gay bishops in the church. The two stories are unrelated and separated by 4,811 miles, but distressing nonetheless.
The first story comes from London, where two Church of England clergymen assaulted Anglican Church of Kenya Bishop Simon Oketch in London for opposing Gene Robinson, according to the East African Standard of Nairobi.
While he was walking down the street toward a church conference he was attending, Oketch told the newspaper, the two clergymen approached him and asked him where he was from.
"When I said I was from Kenya, they expressed anger and asked me to discuss an issue with them before I could continue with my journey," Oketch said. "One of them said they were saddened by the stand taken by the Anglican Church in Kenya and other countries over the appointment of the gay bishop. I told them we could not budge on the issue and that we will oppose it to the end because it is un-Christian."
It was then that the men grabbed him, verbally abused him, and threatened to beat him up when onlookers pulled them off of him.
"I did not have any fear being in the United Kingdom because Anglican clergymen in this country have never indicated their support for this kind of behavior," Oketch said.
The confrontation was condemned in the Kenyan church by bishops Beneah Salalah, who called for an apology from the British government, and by Thomas Kogo, who reiterated the Kenyan church's solidarity on the issue of homosexual bishops.
Two days before the assault on Bishop Oketch, vandals attacked and set fire to the Episcopal Church of the Holy Spirit in Graham, Texas.
"The main church was littered with food from the kitchen and candle wax from the altar," says a letter from pastor Scott Wooten, who also pastors two other Episcopal congregations in the area. "The parish hall received the same treatment. The office area was set on fire. The only lead the police have is writing on the wall: 'God and Jesus love Homosexuals.'"
Wooten calls the incident a probable hate crime against orthodox Episcopalians. "The thought of an active persecution crossed my mind when I decided to take a stand against Biblical revisionists, but it turned very personal when it hit my church," he said. "My small mission congregation has been shaken; this type of hate and violence are not common in small towns. The politics of hate became very real to me this week."
Louisiana Rep. to head Family Research Council
The Family Research Council has named Louisiana State Rep. Tony Perkins as its new president, effective September 1, calling him "the leading opponent of Louisiana's gambling industry and one of the state's most vocal prolife advocates."
"The very bedrock of our society and nation, the institution of marriage, is under attack," Focus on the Family founder James Dobson, an FRC board member, said in a press release. "I can't think of anyone more prepared to lead FRC and to promote and defend the sanctity of marriage and the family at this time than Tony Perkins."
Plus, you know, he was so good in Psycho. (Just kidding. That's a different Tony Perkins.)
Say what?
A developing story, noted by several bloggers already: Prophecy teacher Jack Van Impe says he's been invited to the White House to brief staffers on what's to come in the Middle East. "I am not sure whether [President Bush] knows all of the prophecies and how deep of a student he has been in God's Word, but I was contacted a few weeks ago by the Office of Public Liaison for the White House and by the National Security Advisor Condoleezza Rice to make an outline," Van Impe says on his website. "And I've spent hours preparing it. I will release this information to the public in September, but it's in his hands. He will know exactly what is going to happen in the Middle East and what part he will have under the leading of the Holy Spirit of God."
More articles
Remember, you got a break from all this homosexual clergy news yesterday …
Reaction to the confirmation of Gene Robinson:
More reaction within the Episcopal Church:
Reaction from other churches:
Commentary on the church and gays by the media:
Split in the Episcopal Church?:
Gay marriage:
Sexual ethics:
Sex and marriage:
Clergy sex abuse:
Related Elsewhere
Suggest links and stories by sending e-mail to weblog@christianitytoday.com
Check out Books & Culture's weblog, Content & Context.
See our past Weblog updates:
August 12 | 11
August 8 | 7b | 7a | 6 | 5 | 4
July 30 | 29 | 28
July 25 | 24 | 23 | 22 | 21
July 18 | 17 | 16 | 15 | 14
July 11 | 10 | 9 | 8 | 7
July 3 | 2 | 1 | June 30
and more, back to November 1999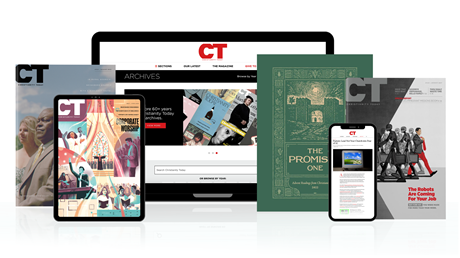 Annual & Monthly subscriptions available.
Print & Digital Issues of CT magazine
Complete access to every article on ChristianityToday.com
Unlimited access to 65+ years of CT's online archives
Member-only special issues
Subscribe
Orthodox Anglicans Attacked in Wake of Gay Bishop Debate
Orthodox Anglicans Attacked in Wake of Gay Bishop Debate