The pogrom problem
Weblog has seen far too many articles about whether Mel Gibson's The Passion is anti-Semitic, but comments appearing in today's Washington Times go way beyond reason. About two dozen Jewish demonstrators and New York lawmakers yesterday protested the film outside Fox News Corp. They hadn't seen the film, of course. Just a seven-minute clip, which the protesters say is anti-Semitic itself because it shows a Jewish mob calling for Jesus' crucifixion.
"It will result in anti-Semitism and bigotry," Assemblyman Dov Hikind promised. "It really takes us back to the Dark Ages … the Inquisition, the Crusades, all for the so-called sin of the Crucifixion of Jesus."
The Jewish demonstrators carried signs that said, "The Passion is a lethal weapon against Jews"—a slogan they also chanted.
Malka Moskowitz, who says she's a Holocaust survivor, suggested that the film will lead to genocide. With her voice breaking, she told the Times, "This is the way it started."
William A. Donohue, president of the Catholic League, was present to offer reporters and others an alternative view. "How anybody could watch this movie and come out with hatred toward Jews, that person belongs in Bellevue Hospital," he said.
But a rabbi from Brooklyn claimed that by making such a comment, Donohue himself "would be responsible if violence broke out."
Let's put aside the fact that it was completely pointless to protest outside Fox News Corp., since that company has absolutely no connection to The Passion apart from having first rights to distribution (which the company says it has refused). These comments are utterly off the wall. First, they say that Gibson's film itself is a form of violence against Jews. By extension, that would mean that every church in America that does a Holy Week play on the life of Christ is engaged in an annual pogrom. Has any film on the life of Christ, in any place around the world, ever, led to such violence? There have been dozens upon dozens of Jesus movies, most of which were far less careful in their efforts not to suggest all Jews are responsible for the crucifixion. The Jesus film is the most widely seen film in history, and there has never been a recorded case of it promoting anti-Jewish violence. In another case, a new movie shows the entirety of the Gospel of John, word for word, which means that narrated references to "the Jews" will abound. So far, Weblog has heard not a peep of concern (as it should be).
Let's be clear: The film does not depict Jesus' death (which Christians see as a good thing) as a kind of Christ vs. "the Jews" battle. The only people who are tying the film to anti-Semitism—the only people who are suggesting that "the Jews" were responsible for killing Jesus—are these Jewish protesters. If they'd just be quiet, any debate over the film would center on its biblical faithfulness, its historicity, and on Christian theological issues. But by making Jews vs. Jesus the center of the film, Passion critics may in fact be encouraging anti-Jewish feelings.
Newspapers need to read the news
Regular Weblog readers may notice that there are no more links to The Times of London, which used to be a staple of this feature not too long ago. That's because The Times has closed off access to its site except for paying subscribers. But via the BBC today, Weblog came across this link: "Death of a sacrificial lamb: An autistic boy was suffocated during a faith-healing service in Milwaukee, but the minister will not be charged with his death."
The article appears to have run within the last 24 hours, which is problematic: Ray Hemphill, the minister who oversaw this service was charged with felony abuseon Tuesday. But what's with that headline: Death of a sacrificial lamb? Folks are welcome to disagree over whether 8-year-old autistic boy Terrance Cottrell Jr. should have been the subject of a two-hour deliverance service. And certainly something went wrong during that service. (Not much is known about what happened. The Faith Temple Church of the Apostolic Faith says the boy's mother didn't tell anyone that the boy had just taken medication. Hemphill reportedly sat on the boy's chest for much of the service.) This is clearly a very sad story.
But a headline suggesting that Cottrell was sacrificed is inexcusable. It's pure bigotry. And, unfortunately, it puts many of us who want to discuss the dangers of these deliverance services in the position of defending this church's beliefs and practices.
Sigh.
Yeah, as you can see, Weblog is a bit more on edge today. That's probably less because of the news than because today is the last day that Todd Hertz, Christianity Today's online assistant editor, will be working for us. Regular visitors to the site will remember his many, many articles, including his popular evangelistic interview with the Austin Powers IM bot.
Todd is leaving CT, but he's staying in the company: Starting Tuesday, he'll be the new associate editor for sister publication Campus Life, a magazine for teens. We wish him all the best, and are glad he'll still be around the building, and his byline will appear on the Campus Life channel of ChristianityToday.com (which, it should be noted, is the corporate website of Christianity Today International, which includes Christianity Today's website and that of our 10 other magazines.)
And for you journalists reading this, it means there's an opening. Apply here—quickly.
More articles
Ten Commandments:
Alabama tax reform:
Aftermath of Episcopal gay bishop vote:
Gay marriage:
Sexual ethics:
Persecution:
Anti-missionaries:
Missions and ministry:
Bible and theology:
Life ethics:
Public prayer:
Church and state:
Discrimination suits:
Education:
Geoghan murder:
Clergy sex abuse:
Crime:
Church life:
Internet:
Music:
TV and film:
Books:
Sports:
Money and business:
Education:
Politics and law:
California Recall:
Christian Europe:
God and country:
Tourism:
Other religions:
Catholicism:
Advertising:
Other stories of interest:
Suggest links and stories by sending e-mail to weblog@christianitytoday.com
Check out Books & Culture's weblog, Content & Context.
See our past Weblog updates:
August 28 | 27 | 26 | 25
August 22 | 21 | 20 | 19 | 18
August 15 | 14 | 13 | 12 | 11
August 8 | 7b | 7a | 6 | 5 | 4
July 30 | 29 | 28
July 25 | 24 | 23 | 22 | 21
July 18 | 17 | 16 | 15 | 14
and more, back to November 1999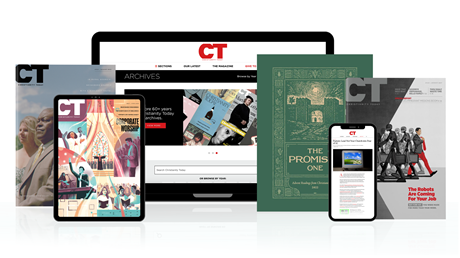 Annual & Monthly subscriptions available.
Print & Digital Issues of CT magazine
Complete access to every article on ChristianityToday.com
Unlimited access to 65+ years of CT's online archives
Member-only special issues
Subscribe
Weblog Gets Testy
Weblog Gets Testy