The wave of recent business scandals presents Christian churches with a challenge. Commentators have spread blame widely for the scandals: Greed-infected officers, sleepy boards of directors, gutless attorneys and accountants, politicians hog-tied by corporate contributions. But what about the church? Does it share some of the blame?
What should we make of the fact that some of the now-disgraced executives were active in their churches and outspoken about their faith?
Historically, Christian thinking about business has swung between the two extremes of warm embrace and cynical rejection.
"Embrace" theology has wrapped Christian doctrine, capitalism, profits, and business practices in one big group hug: Capitalism forms part of God's kingdom, and the Lord rewards Christian ethics with an enhanced bottom line.
"Rejection" theology, on the other hand, identifies capitalism as a system built on greed and warns against the evils of accumulating wealth. The value of business, if any, is instrumental. The workplace can serve as a platform for evangelism and can generate funds for charitable work. But business itself is, if not sinful, at least dirty and distasteful. Robert A. Sirico wrote in Forbes magazine nearly a decade ago of how businesspeople leave the church because of open hostility from clergy who assume they sin more than others.
Neither approach is of particular use to a sincere Christian active in business. The church has fallen into these extremes for two reasons.
First, many Christians understand neither business nor the issues facing church members who work in it.
Second, and more troubling, many of us don't have a clear theology of business. The church urgently needs to identify and teach how God sees business and how it can intrinsically further his purposes.
Inadequate model
While many recent business failures appear to have been the result of clear-cut criminal behavior, many were not. Apparently we have witnessed not merely defects in human character but also a fundamental failure of the dominant business model.
Most business schools teach that a corporate manager's primary responsibility is to maximize shareholder value by taking all possible actions within the bounds of the law. Under this model, many "good" executives are taught to look for gray areas in legal and accounting standards and push their companies to the colorable limit. Because there remains plenty of room for unethical behavior even within legal limits, we need something more.
To help prepare Christian managers who will not cooperate with Enron-like shenanigans, we need a model built around a theological telos for business. If maximizing shareholder value alone is an inadequate goal, what should a corporate manager who is seeking to glorify God pursue?
We can build the answer to this question from the ground up by examining the grand movements of God's story as recorded in Scripture.
Creation
The opening lines of Genesis speak of God's purposes for humankind. In Genesis 1:28 he gives Adam and Eve a charge: "God blessed them and said to them, 'Be fruitful and increase in number; fill the earth and subdue it. Rule over the fish of the sea and the birds of the air and over every living creature that moves on the ground.' "
This call serves as the bedrock on which to build an understanding of the fundamental purpose of business in God's kingdom. Specifically, from God's perspective, business exists to:
Create and distribute goods and services to meet the needs of people.


Provide employment that allows people to use their gifts and abilities creatively.


Act as a steward of creation's resources for the sake of all people and future generations.


Under this model, which many Christian executives already practice, corporate managers direct their businesses according to objectives that help customers, employees, and the local and broader communities to be fruitful. Profit is necessary to meet these objectives, but maximizing profit and shareholder return ceases to be the overriding concern.
Such a model calls into question the absolute preeminence of the shareholder and the primacy of capital. When the shareholder is king, the legitimate needs of customers and the fair treatment of employees are valued only as they contribute to the bottom line. Under the biblical model, the legitimate needs of customers, employees, and creation become the company's paramount goals.
Profit must be sufficient to permit a business to attract the capital it needs to achieve its objectives—but profit is not the goal of business. Profit is to for-profit corporations what charitable contributions are to most nonprofit organizations: a necessary means to accomplish their objectives.
This model also questions the ultimate authority of the market. Because its goals are to meet needs, business owners who pursue these objectives will no longer merely ask what product will provide the greatest return on investment. Rather, they will focus on what legitimate needs they can best meet with the company's resources.
The Fall
Legal standards alone are not an adequate protection against the ravages of the Fall. Many legal business activities fail to reflect God's justice and integrity. As a starting point, in addition to keeping the law, the reality of the Fall mandates that businesses guard against the tendency to seek material gain at the expense of others. Specifically, businesses must not:
Treat people in a manner inconsistent with human dignity.


Fail to pay just compensation.


Require employees to work in unreasonably dangerous conditions.


Engage in practices that threaten the long-term sustainability of the created order.


Mislead people.


Disrupt God's intended rhythm of rest and work.


Redemption
The redemption of life in Christ and the transforming presence of the Holy Spirit are the unique gifts Christians bring to business. The Cross reminds those in business that as they participate in the coming of God's kingdom through their work, invariably they will come into conflict with the dominant culture.
On occasion, managing a business to further God's agenda may require making choices that hurt the company's bottom line. Taking actions to protect the environment, ensuring that employees are paid at least a livable wage, or declining to capitalize on a competitor's mistake may all cost a business some of its profits. Success for the Christian in business, however, must be measured on a different scale. Christians need to be prepared to "fail" for the sake of the gospel. Redemption does not point only to the Cross, however. It also points beyond it to the resurrection life of the Spirit. It is the redeeming, recreating, and restoring Spirit who:
Renews our capacity to pursue God's intentions for business with integrity, justice, truth, and regard for community.


Infuses our business decisions with the values and life of God's kingdom.


Assures us that, in the end, God will transform a fallen economic structure—often fueled by greed and selfish ambition—into an agent of healing and reconciliation.


Seeing business through this lens of redemption enhances the Christian discipleship of business owners, as it affirms not only the instrumental but also the intrinsic value of business as a holy calling. The owner of a dry cleaner, a company engineer, a stock analyst, a grocer, or a chief financial officer can all recognize intrinsic value in their work as God-ordained activity.
A Christian "does not work simply to make money or to pay the bills," Sir Fred Catherwood once wrote. "He works because it is part of the divine order that he should work."
Business is indeed a sacred calling. In the provision of goods and services we encounter the sacred: people who exist in the image of God and the natural resources that belong to him. The Christians who operate Chick-fil-A, ServiceMaster, Interstate Batteries, R. W. Beckett Corp., and many other companies with godly values give on-the-ground expression to the sacredness of the calling.
Rather than being either ignorant of, or hostile to, the place of business in God's kingdom, we can both practice and preach a theology that reveals the glory of God in the rough and tumble of the marketplace.
Jeff Van Duzer is dean of Seattle Pacific University's School of Business and Economics. Tim Dearborn is the university's dean of the chapel and associate professor of theology.
Related Elsewhere
Also appearing on our site today:
Bad Company Corrupts | Michael Novak, theological champion of the free market, reflects on what recent business scandals mean for church and state.
The February Christianity Today cover package looks at New Age spirituality in business. Articles include:
The Higher Self Gets Down to Business | An old movement appears anew—in the corporate world. (Jan. 24, 2002)
Utopia or Kingdom Come? | Discerning wheat from chaff in the new business spirituality. (Jan. 24, 2002)
Prosperity Consciousness | How the higher self gets down to business. (Jan. 24, 2002)
Christianity Today articles on ethics in business include:
The Wages of Secularism | New laws won't prevent another Enron. (June 4, 2002)
Morals for the Marketplace | A treasury of ethical capital for men and women in the world of business. (Feb. 3, 1997)
Holding Corporate America Accountable | Christians press for greater responsibility from businesses. (October 28, 1996)
For more articles, see Christianity Today'sMoney and Business archive.
Christianity Today sister publication Books & Culture recently examined the lessons of the Enron scandal.
In a Washington Post piece last summer, Prison Fellowship founder (and Christianity Today columnist) Charles Colson responded to the paper's editorial assertion that "it is naive to suppose that business can be regulated by some kind of national honor code." Colson also wrote on the need for more than just new laws in his regular CT column.
In August, Christian Science Monitor wrote on faith-based groups, like the Business Leadership and Spirituality Network and the Mockler Center for Faith and Ethics in the Workplace, who are working to close the gap between personal beliefs and corporate behavior
Have something to add about this? See something we missed? Share your feedback here.
Our digital archives are a work in progress. Let us know if corrections need to be made.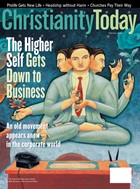 This article is from the February 2003 issue.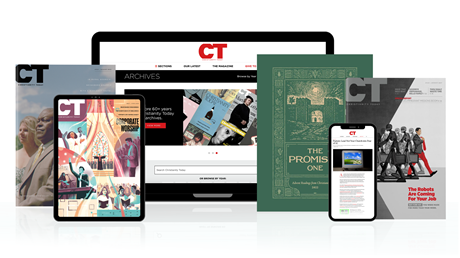 Subscribe to Christianity Today and get access to this article plus 65+ years of archives.
Home delivery of CT magazine
Complete access to articles on ChristianityToday.com
Over 120 years of magazine archives plus full access to all of CT's online archives
Subscribe Now
The Profit of God
The Profit of God