A onetime leftist who morphed into a proponent of free-market capitalism, Catholic theologian Michael Novak has been a strong voice for the role of business in God's purposes for more than 20 years. Author of Business as a Calling and Toward a Theology of the Corporation, in which he likened multinational firms to Christ on the Cross, Novak spoke to CT about apparent moral failures in companies such as Enron Corp., WorldCom Inc., and Tyco International Ltd.
Post-Enron, is there anything you would add to Business as a Calling?
I reread my chapter where I mention [former Enron Corp. Chairman] Ken Lay, and it stands. The basic structure of what I want to say is intact: Business is a moral activity, and you can't escape the moral questions—both great good and great evil may be done.
Kenneth Lay wanted people in his company to think outside the box and open up new horizons. This is a good emphasis, but there is a great danger when this approach is applied to ethics. In technology and business models we can invent new things, but in ethics you can't. Virtues are permanent. The more innovative you are in business models and technology, the more guarded you must be in permanent standards.
What can we learn from the recent business scandals?
Tyco and Enron show the temptations that are powerful in fast growth when sound ethical standards are discarded as "outmoded." People who are imaginative and creative know their value to their firm—a few decisions can save or earn millions of dollars. As a result, they can think of themselves as beyond price, and their success can lead to moral carelessness. But I don't see any correlation between bad behavior and high executive pay.
The theological limit to high executive compensation, however, is that in a democratic republic the greatest danger is envy. If one class of citizens receives benefits that are out of touch with others, it generates passions that are dangerous to the republic. For this reason, corporate compensation should be reined in. It may be morally acceptable to do this, but at the same time, it is bound to raise bad feelings in a democratic populace.
The collapse of Enron and others is seen as a natural correction in the market. Should there be other safeguards?
The market itself does not provide enough safeguards. One task of government is to ease the impact of market corrections. Recent business failures should serve as an occasion to consider systemic changes that may be needed—in particular, a reexamination of the laws and regulations that tie the funding of employee health care and pensions to their employers. I'm open to suggestions about structural changes—for example, shifting toward medical and personalized pension accounts. It is outrageous that if a person dies at age 61, all Social Security funds revert to the state. This fund should be inheritable.
What should influence executive decisions beyond shareholder value?
Business leaders need to think about the politics of their work—the politics of human rights and republican self-government. They may not want to pay more than the local wage level, but they can provide other benefits—schools, housing, infrastructure, small businesses, and the health care they engender. They may need to take a short-term loss on profit margins.
How can pastors help businesspersons in their congregations?
The complaint I hear again and again is that very few pastors seem to understand or have sympathy for the calling of business. Few preachers take pains to understand, reinforce, and encourage business as a Christian calling.
Business leaders, like athletes, know what it means to be out of control. They know about rivals and those who seek to betray them. They have problems with their families, and they are visited by plenty of suffering, loss, and defeat. Pastors could learn about these challenges by reading more business biographies to see how so many business leaders have failed.
Preachers seem more comfortable in the premodern economy with premodern images and therefore give very little guidance regarding the unique opportunities, restraints, and temptations of businesspersons' calling. A preacher who is able to use business metaphors would touch many hearts.
How does a business calling fulfill God's will?
For some, whether the product has any moral/theological significance is very important—they won't be happy unless they can attach moral satisfaction to what they are doing.
Others aren't concerned with this, but rather with doing a good job and making a good income in a decent way. We need to remind ourselves that Jesus worked in a humble occupation as a carpenter. Some people have awful jobs but provide needed though modest service.
God is in the details, and the more perfectly we do our work—the more intensely we seek to live up to our vocation—the more God is honored. If we see the dimensions of what we are doing, we will do it better. Whatever I'm doing, I'm helping our national economy, and that will inspire those in the developing world. The best charity we can give the poor is to show the poor how to create wealth.
The vision of capitalism is to lift the poor of all nations out of poverty, and until all are lifted, this task is not done. We inspire people more by helping them see the nobility of what they are doing.
Related Elsewhere
Also appearing on our site today:
The Profit of God | Finding the Christian path in business.
Michael Novak's Business as a Calling is available at Amazon.com.
Christianity Today sister publication Books & Culture recently examined the lessons of the Enron scandal.
Previous Christianity Today articles on ethics in business include:
The Wages of Secularism | New laws won't prevent another Enron. (June 4, 2002)
Morals for the Marketplace | A treasury of ethical capital for men and women in the world of business. (Feb. 3, 1997)
Holding Corporate America Accountable | Christians press for greater responsibility from businesses. (October 28, 1996)
For more articles, see Christianity Today'sMoney and Business archive.
In a Washington Post piece last summer, Prison Fellowship founder (and Christianity Todaycolumnist) Charles Colson responded to the paper's editorial assertion that "it is naive to suppose that business can be regulated by some kind of national honor code." Colson also wrote on the need for more than just new laws in his regular CT column.
In August, Christian Science Monitor wrote on faith-based groups, like the Business Leadership and Spirituality Network and the Mockler Center for Faith and Ethics in the Workplace, who are working to close the gap between personal beliefs and corporate behavior
Have something to add about this? See something we missed? Share your feedback here.
Our digital archives are a work in progress. Let us know if corrections need to be made.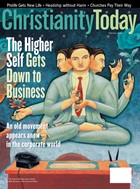 This article is from the February 2003 issue.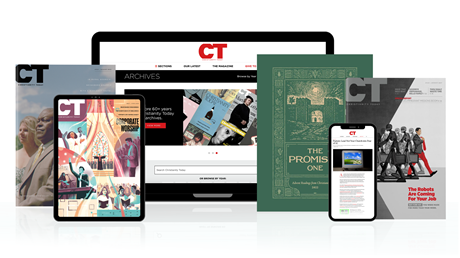 Subscribe to Christianity Today and get access to this article plus 65+ years of archives.
Home delivery of CT magazine
Complete access to articles on ChristianityToday.com
Over 120 years of magazine archives plus full access to all of CT's online archives
Subscribe Now
PLUS: Bad Company Corrupts
PLUS: Bad Company Corrupts