For years David Petty taught courses on aging, led pre-retirement seminars, and coordinated the gerontology program at Stephen F. Austin State University. And now, he is personally experiencing the joys, challenges, and lessons of retirement and growing older.
Petty, author of Aging Gracefully: Keeping the Joy in the Journey (Broadman and Holman, 2003), says that among the important lessons of aging is learning to have the right attitude about God's plans for us.
What made you want to be a gerontologist when you grew up?
The older people I had been around were important to me. I wanted to see what I could find in a professional, academic way that would relate to them. One of the most influential persons in my life was my maternal grandfather. I was named after him. We always spent a lot of time together.
How has society changed in how we treat the elderly?
Things are largely negative toward older people, but they didn't start out that way. We started out revering the elderly in our society. Some other cultures still do even now. You went to [older] people, you talked to them, you sat at their feet, you asked them questions, and you drank in what they shared with you. Now, we sort of put them out to pasture.
Terms like "old fuddy duddy" for men and "old busybody" for women are fairly commonly used nowadays. There is just this idea that as a person becomes older and leaves the work force, they're useless. It is as if they have nothing more to offer. That's really unfortunate.
You point out in this book that aging takes place "between the ears." What are some of the ways we change in how we think about life as we grow older?
The biggest factor [in aging] is our attitudes. That drives how we are thinking about wherever we are in life. Whether it's in terms of our age, our physical condition, or contemplating retirement, if we believe that we are here because God has created us and has a plan for us then we're going to be looking forward to where we are right now and whatever is ahead for us.
It's okay to retire from a professional position. It is not okay to think of retiring from God's work. That's an eternal kind of a thing that he has for us.
Changing attitudes about work and finally retiring has to be one of the most difficult phases to pass through.
It is. The number one thing for most people to do is to plan for something to replace your work. You must continue to be active rather than to go straight to the rocking chair. You're going to find that developing a sedentary lifestyle is going to exacerbate the aging process.
What kinds of things do you mean as a replacement of work?
The obvious things would be traveling, gardening, golfing, and fishing. But when you realize that it's 2,340 hours that you spend annually in the work force, you can't do any of those things that long. So you need [to find] a good combination of things. Another thing that is wonderful is volunteer missions, both here and abroad.
You talk in this book about four areas—physiological, psychological, sociological, and spiritual. You come at this subject not just having studied it but also has someone who is living it and taking the journey of getting older. What lessons have you learned through all of this?
The first three dimensions that I address are the ones that I spent most of the time with in my course when I was teaching it. The spiritual dimension that I offer at the end of the book is, in my opinion, the most important. It undergirds the other parts of who we are.
As we age, we pretty much stay the same person that we've always been even though we are changing. We are a total person. Life is a journey and a pilgrimage, hopefully with God. And we are becoming, we are changing, but we are becoming who he wants us to become. So we should have joy in that journey all along.
Have there been any surprises for you as you get older?
I didn't know exactly what to expect when I retired—even though I was supposed to be "an expert." But I did try to practice the things that I was preaching in my seminars.
The exciting thing for my wife and me was that God continues to use our spiritual gifts in retirement. He gifted us as teachers and since retiring we've had many opportunities to continue to teach.
Besides those who are aging, the book's other obvious audience is those with parents who are going through this process. What should they be aware of?
If we live long enough, we will become dependent again, as we were as infants. It's going to happen. But most people die before that happens. Those who love elderly people or who care for them need to be sensitive to help them maintain independence as long as they possibly can, instead of thrusting them into a dependent situation and allowing them no more voice in their life.
They really need to honor them and see them through until the end of their lives. That's what God asks us to do.
In both your research and your personal experience, what are you learning about facing death?
Like aging, it is inevitable and irresistible. We ought to meet it head on. We ought not to deny it or be reluctant to talk about it. That would be unhealthy in my opinion.
To meet death head on would be to talk about it and particularly talk about it with others who are significant in your life. Tell them about your plans, tell them about your hopes and expectations. You should also ask them, "When that time comes, how can I make it easy for you?" That's doing a great service to your next of kin, in my opinion. I've had some of those conversations [with my sons]. And I suspect that there are more to come.
Related Elsewhere
Visit DickStaub.com for audio and video of his radio program (4-7 p.m. PST), media reviews, and news on "where belief meets real life."
Recent Dick Staub Interviews include:
Carmen Renee Berry's Unabashedly Consumerist Handbook to Ecclesiology | The author of The Unauthorized Guide to Choosing a Church helps seekers find their best congregational fit. (July 22, 2003)
Are Darwinists Immoral? | Benjamin Wiker says Darwinism isn't science per se: it's just a reiteration of a 2,300-year-old philosophy (July 1, 2003)
J. Budziszewski Knows That You Know What You Know | Even though you may not know it yourself. (June 24, 2003)
How Dan Allender Broke on Through (to the Other Side) | A former drug dealer who evangelized before he was a Christian talks about his efforts to bring healing from sexual abuse (June 10, 2003)
Paul Elie on 'the Holy Ghost School' | The author of The Life You Save May Be Your Own talks about the personal journeys of Flannery O'Connor, Thomas Merton, Dorothy Day, and Walker Percy and what we learn from them today (June 3, 2003)
Why We Are Drawn to The Matrix | Chris Seay, coauthor of The Gospel Reloaded, says the first movie was about finding belief and the second looks at walking that path. (May 27, 2003)
Remembering Francis of Assisi, the Crazy Genius | CT managing editor Mark Galli finds someone who lived the Sermon on the Mount. (May 20, 2003)
John Ortberg's Freak Show | Churchgoers' attempts to be average are killing them, says the Willow Creek pastor. (May 13, 2003)
Winning People, Not Arguments | John Stackhouse discusses the evangelistic need for humble apologetics (May 6, 2003)
Francis Schaeffer's Grandson Goes to War | Frank Schaeffer talks about how his views of his country, culture, and prayer changed as his son joined the Marines (Apr. 29, 2003)
Alistair Begg on The Beatles | The author and pastor talks about the Fab Four's cry for "Help" and why no one answered it (Apr. 22, 2003)
Robert Seiple on the War in Iraq | The founder of The Institute for Global Engagement says America suffers from an inconsistency between national values and national interests (Apr. 15, 2003)
Marcia Ford on Christian Misfits | The author of Memoir of a Misfit describes her eccentric family and her faith journey. (Apr. 8, 2003)
The Dick Staub Interview
Dick Staub was host of a eponymous daily radio show on Seattle's KGNW and is the author of Too Christian, Too Pagan and The Culturally Savvy Christian. He currently runs The Kindlings, an effort to rekindle the creative, intellectual, and spiritual legacy of Christians in culture. His interviews appeared weekly on our site from 2002 to 2004.
Previous The Dick Staub Interview Columns: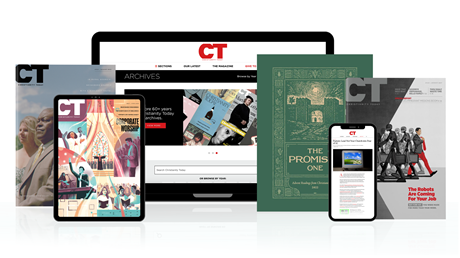 Subscribe to Christianity Today and get access to this article plus 65+ years of archives.
Home delivery of CT magazine
Complete access to articles on ChristianityToday.com
Over 120 years of magazine archives plus full access to all of CT's online archives
Subscribe Now
A Gerontologist Gets Older
A Gerontologist Gets Older