Some aid organizations, facing attacks and threats from resurgent Taliban and Al Qaeda forces, are retreating from portions of the country.
Mercy Corps, a Portland, Oregon-based relief and development agency, disclosed in April that one of its Afghan staff members had been shot to death in November. Mercy Corps is pulling workers out of the Taliban's heartland in southern Afghanistan. Doctors Without Borders, Save the Children, and other organizations are also pulling out of especially dangerous areas.
An escalating guerrilla war threatens President Hamid Karzai's U.S.-backed government. Mercy Corps managers say Taliban and Al Qaeda forces are targeting Western aid workers.
"They've extended this conflict that they have with the coalition and with the Karzai government to include international organizations, which is a new and disturbing twist," said Jim White, Mercy Corps' South Asia regional director. "We're having to substantially downsize."
The loss of the Afghan staffer is the fifth death of a foreign employee in Mercy Corps' 24-year history. The organization has never lost a U.S. staff member abroad.
The Mercy Corps staffer was a veterinarian who was gunned down on his motorcycle November 8 after leaving a village where he had treated some sheep. On March 27, a Taliban soldier shot and killed another aid worker, Ricardo Munguia, an International Red Cross water engineer from El Salvador. Taliban gunmen had told the 39-year-old's Afghan coworkers they would be killed if they continued working as "slaves" of Karzai and the United States.
Rebels have threatened Doctors Without Borders' Afghan staff near Pakistan. The organization evacuated its 10 non-Afghan workers from the border area and from Kandahar. It also removed its Afghan workers.
Mercy Corps has pulled workers back to Kabul from rural areas. They had been helping villagers rebuild wells, schools, and houses. The organization, which had 23 non-Afghan workers in Kandahar last summer, is down to 5. The organization's Afghan work force has dropped from 500 to about 150 in southern Afghanistan.
A veteran ministry leader in Kabul told Christianity Today that the security situation in Afghanistan is complex. "It is true that there is more lawlessness and violence, especially in areas that are chiefly Pashtun," the leader said. "But in general, more freedom has come to all these areas since the Taliban's fall. I lived and worked here when people were living in constant fear and tremendous oppression, especially women. Now one sees schools opening for girls in many areas, more freedom of expression. One can hear music again, listen to the radio, and watch television."
Mercy Corps and other relief organizations are urging the Bush administration to expand the international security force, which stands at 4,500 troops, but patrols remain confined to Kabul.
Related Elsewhere
Previous Christianity Today coverage of Afghanistan includes:
Letter from Kabul | Religious freedom still in jeopardy under new Afghan government. (April 21, 2003)
Return to Kabul | Shelter Now's Georg Taubmann talks about ministry and security in the former Taliban state. (Jan. 17, 2003)
Afghanistan Before September 11 | A Christian relief worker talks about the terror inside the war-ravaged country and his prayers for change. (Sept. 10, 2002)
Double Jeopardy | Former Taliban hostages Dayna Curry and Heather Mercer talk about the risks they took, the imprisonment they suffered, and their hopes to return to 'the hardest place on Earth.' (June 28, 2002)
From Afghanistan Aid Workers to Hostages of the Taliban | Excerpts from Prisoners of Hope, the book by Dayna Curry and Heather Mercer with Stacy Mattingly. (June 28, 2002)
'Their Faith and Courage Has Strengthened Me' | Heather Mercer and Dayna Curry speak about Martin and Gracia Burnham. (June 28, 2002)
Moonscape with Tents | Christian relief groups step up to help destitute Afghans in remote camps. (March 3, 2002)
The Agony of the Families | As aid workers in Afghanistan went from defendants under draconian law to hostages in a war, their loved ones at home also underwent a trial. (Feb. 4, 2002)
Entrapment Suspected | Shelter Now leader believes workers were pawns in Taliban scheme. (January 18, 2002)
Heather Mercer and Dayna Curry Go Home to Waco | Church will send short-term mission to Afghanistan in the spring. (Dec. 11, 2001)
Aid Workers Urge Foreign Political Intervention in Afghanistan | Ethnic tensions and frequent violence threaten stabilization in the country. (November 26, 2001)
Agencies Scramble to Help | International relief organizations quickly work to aid Afghanistan refugees. (November 14, 2001)
Free at Last! | All 24 Shelter Now aid workers are going home. (Nov. 15, 2001)
Dayna Curry Will Celebrate Her 30th Birthday in a Taliban Prison | With trial indefinitely postponed, the future is murky for Shelter Now hostages. (Nov. 2, 2001)
Caught in the Crossfire | Family, churches press for release of American missionaries in Kabul. (Oct. 31, 2001)
Article continues below
In Perspective: The Friendliest Murderous Militants in the World | The Soviet Union, United States, and others helped create Afghanistan's ruling Taliban. Will the world's most Islamic state backfire? (August 30, 2001)
Aid Workers Held Captive | Taliban alleges housing group's staff engaged in evangelism. (August 30, 2001)
Diplomats Receive Visas Into Afghanistan, but Will Only Meet with Officials | Over a week after raid on Shelter Germany, future for workers still unclear. (Aug. 13, 2001)
For more articles on Afghanistan, see Christianity Today's World Report and Yahoo! full coverage.
Special Report: Afghanistan features ongoing PBS' Online NewsHour coverage of the situation in Afghanistan.
Have something to add about this? See something we missed? Share your feedback here.
Our digital archives are a work in progress. Let us know if corrections need to be made.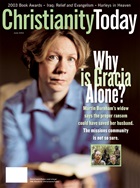 This article is from the June 2003 issue.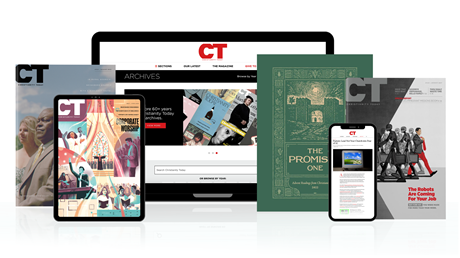 Annual & Monthly subscriptions available.
Print & Digital Issues of CT magazine
Complete access to every article on ChristianityToday.com
Unlimited access to 65+ years of CT's online archives
Member-only special issues
Subscribe
Threatened Aid Groups Retreat
Threatened Aid Groups Retreat