Lisa Martens knew bombs could start raining when she stood outside the Al Wathba water treatment center in Baghdad last Friday. She was there to plant a tree and pray for peace. The Canadian citizen, 25, came to Iraq last month as a volunteer with Christian Peacemaker Teams (CPT), an organization that trains volunteers to promote human rights and nonviolent solutions in crisis situations.
"Millions of people around the world are against this war. Being here is about making the statement that I believe it can be averted even now," said Martens by phone from the Al Dar Hotel in Baghdad. "It is frightening to be here when the bombing could start. I want to live to be at least 100—but not by being apathetic."
CPT enters areas of conflict, observes and reports atrocities, and stands with civilians whose lives are in peril. It is cooperating with a secular group, Voices in the Wilderness, in placing citizens in Iraq as witnesses for peace.
CPT leaders such as Gene Stoltzfus, director of CPT in Chicago, insist that Martens and other CPT volunteers are not "human shields" because they dislike being thought of as military pawns. Human shields from a variety of anti-war groups are in Iraq hoping to lessen the likelihood of attacks on Iraqi facilities such as hospitals and water purification plants. Claire Evans, delegation coordinator, says the organization prefers the language of peacemaking.
"Sometimes, we know that the presence of internationals can provide some safety to people threatened by violence, and that is another reason we want to be among them," Evans said. "Our role is to accompany, document, tell the stories, unmask the violence, and advocate for peaceful solutions to the conflict. We are motivated by a faith that sees us and the people of Iraq as sisters and brothers, children of the same heavenly parent. Please don't call us "'human shields.'"
Human rights activists and others accuse Iraqi dictator Saddam Hussein of forcing some Westerners to be human shields during the Gulf War after Iraq invaded Kuwait over a decade ago. The Bush administration says Iraq's use of human shields constitutes a war crime.
Some human shields fled Iraq earlier this month after government officials kept them from going to hospitals and similar facilities and instead attempted to deploy them around power stations, oil refineries, and other likely military targets.
But CPT workers are staying in the country. Since October, CPT staffers have been in Iraq making crafts with hospital patients, visiting business owners, and giving awareness-raising tours to clergy from around the world. Last month the group held a week-long prayer vigil in front of the United Nations weapons inspectors' headquarters carrying placards that read, "Inspections yes! Invasion no!"
Jane Pritchard was in Iraq for two weeks last month as a reservist. The 53-year-old Canadian doctor says staff will go to hospitals and "life-supporting facilities" if a war starts, in order to deflect attacks from them.
"I wouldn't say that the group is not afraid of being taken hostage," says Pritchard. "Our policy is to not pay ransoms. As long as [delegates] may be protective and helpful to the Iraqi people, they will stay."
Stoltzfus admits that staffers and volunteers will be in harm's way if war begins. They have already suffered a loss in their ranks. In January, reservist George Weber, 73, from Chesley, Ontario, died in a car crash while traveling from Basrah to Baghdad. There were six full-time CPT delegates in Baghdad as of Monday, after a nine-person delegation returned. Another group of nine or ten trained volunteers is planning to go on March 18, depending on circumstances.
The international group, which has 30 full-time members and more than 110 trained volunteers, was founded in 1986 by Mennonites and the Church of the Brethren in Toronto. CPT now includes Quaker, Presbyterian, and Baptist peace groups from the United States and Canada. Members and volunteers do not mediate or broker peace but seek to be impartial go-betweens or bridges between tense parties—a job that sometimes means stepping between soldiers or law enforcement and civilians, which some have done on the West Bank.
CPT workers are seeking nonviolent solutions to conflicts in seven regions. Since 1993 Cliff Kindy, from North Manchester, Indiana, has addressed conflicts in Colombia, Mexico, and between Canadian police, military, and native communities. He says the situation in Iraq challenges CPT's tactics of building relationships with and between combatants on the ground.
"You can't step between an Iraqi and a bomber or touch the United Nations trade sanctions," Kindy says. "We can only draw attention to the toll the sanctions have taken on women and children and what a war will do to the vulnerable."
Kindy says he has heard no anti-Western sentiments from Iraqis in Baghdad. Kindy says nine Christian churches are within walking distance of the Al Dar Hotel, where he is staying. Most, he says, are holding round-the-clock vigils praying for peace and fasting. About 600,000 Christians live in the country of 22 million people. Iraq has five Presbyterian churches, with 3,000 members.
Scott Kerr, a CPT staffer in Baghdad, described the mood there. "In the streets, people live under a cloud of fear," Kerr said. "We feel it and are living it, too. People wash windows and are getting married and playing with infants, all with the hope that somehow there will finally be peace."
Related Elsewhere
Previous CT articles on Christian Peacemaker Teams include:
Risking Life for Peace | Caught between rebels, paramilitaries, and crop-dusters, peacemaking Christians put their lives on the line in violent Colombia. (September 7, 2001)
Hebron's Peacemakers Find No Shalom in Olive Branches | Christian Peacemaker Teams, a social-justice group working overseas, is testing the boundaries of nonviolent intervention in its mission to Hebron. (Sept. 16, 1996)
Recent articles include:
Human shields urge global action against Iraq war—Reuters (March 12, 2003)
SA human shields ready for risky mission—The Star, South Africa (March 12, 2003)
How much do human shields understand?—Seattle Post-Intelligencer (March 11, 2003)
Human shields get out—Sydney Morning Herald (March 10, 2003)
Canadian activist plans to stay in Iraq as human shields leave—Canadian Press (March 9, 2003)
US sneers at Iraq human shields—Agence France-Presse (March 4, 2003)
Iraq human shields' safety not assured: U.S. general—Associated Press (Feb. 26, 2003)
'Human shields' take stand in Baghdad—The Washington Post (Feb. 24, 2003)
Previous Christianity Today articles and commentary on the possible war with Iraq include:
Weapons of the Spirit | Regardless of their positions on Iraq, Christians have much they can do. (Feb. 25, 2003)
Just War in Iraq | Sometimes going to war is the charitable thing to do. (Dec. 10, 2002)
Bully Culprit | Can a pre-emptive strike against the tyrant of Baghdad be justified? (Sept. 30, 2001)
Christian Leaders Respond to Bush's National Security Strategy | The White House outlines foreign policy in a changing world. (September 25, 2002)
Is Attacking Iraq Moral? | Christian leaders disagree, too. (September 4, 2002)
Recently, Christianity Today Associate News Editor Stan Guthrie reported on the plight of Iraqi Christians.
A downloadable Bible study on the implications of a war with Iraq is available at CurrentIssuesBibleStudy.com. These unique Bible studies use articles from current issues of Christianity Today to prompt thought-provoking discussions in adult Sunday school classes or small groups.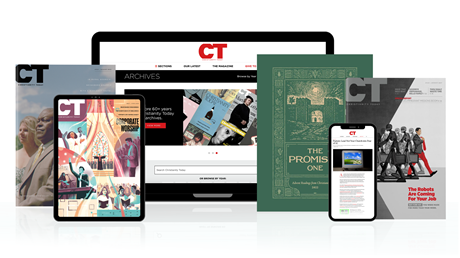 Subscribe to Christianity Today and get access to this article plus 65+ years of archives.
Home delivery of CT magazine
Complete access to articles on ChristianityToday.com
Over 120 years of magazine archives plus full access to all of CT's online archives
Subscribe Now
Standing for Peace on the Eve of War
Standing for Peace on the Eve of War