Thick black smoke hangs over Baghdad. It wafts into homes through windows left open to guard against shattering amid the frequent bombings.
Dominican priest Yousif Touma lives in Iraq's sprawling capital. An active distributor of Scripture to the country's Christian minority, Touma said many children are wailing in fear with their huddled families.
"We are afraid that the war will be long," Touma said. "We are not afraid for our property. We are afraid for our lives."
With bombs pounding mostly military targets in Baghdad 15 hours a day, and a humanitarian disaster looming in the rest of the country, Iraqi Christians and international relief agency officials fear that bottled-up aid may be too little, too late for thousands. More than 500,000 Iraqi children were malnourished even before the war, partly due to United Nations sanctions against the regime for its weapons programs.
"Many people will be in need because our country is weak after 13 years of sanctions," Touma told Christianity Today. "We want Christians to pray and make sure that nongovernmental organizations can bring supplies all over the country."
On the ground
So far, battlefield obstacles have hampered relief efforts. The United States Agency for International Development assembled a rapid-response team, pre-positioned food and supplies, and worked with private humanitarian groups on a coordinated response.
In March the agency released 600,000 tons of wheat, enough to feed Iraq's 22 million people for six weeks. The problem is getting it to hungry people. USAID estimates that the country's current annual grain production of 2 million metric tons is less than half of what is required to meet minimum nutritional needs.
For now, few Christian relief organizations are in Iraq. However, many coordinate their work through the Middle East Council of Churches, based in Beirut. The MECC has 16 distribution centers across Iraq, each with two or three employees. The MECC is monitoring Iraq's borders with Jordan, Iran, and Syria, bracing for a flood of 600,000 refugees. The United Nations World Food Program is preparing to feed 900,000 refugees for a month.
Few refugees so far
Few refugees have crossed the border so far. After the Gulf War in 1991, many refugees returned to Iraq, only to find their homes looted. Tor Valla, a water engineer with Norwegian Church Aid, thinks that may be why relatively few have left their homes in the war's opening days.
Steve Matthews, an emergency relief communications manager for World Vision, said the Gulf War of 1990-91 also saw an initial trickle of refugees that quickly became a flood. An estimated 2.3 million Kurdish Iraqis fled to Turkey and Iran after that conflict.
World Relief, World Vision, Church World Service, and Food for the Hungry are among the agencies working at two camps in Jordan, one set up for Iraqi refugees, the other for Third-Country Nationals (TCNs) who are starting to flee Iraq for their home countries. Jordan aims to repatriate as many as possible, and relief agencies are planning for 60,000 TCNs.
The United Nations does not grant TCNs refugee status, and thus will not help them through its usual refugee programs.
Founded during the Gulf War, a coalition of 10 Jordanian churches and agencies, the Jordanian Evangelical Community for Relief and Development, took the initiative to organize a TCN camp in the desert town of Ruweished, about 200 miles east of Amman, the capital. Thirty volunteers with the coalition are providing $8,000 worth of food daily to inhabitants.
Eight international agencies are serving the Jordanian coalition, mainly in support roles. This contrasts with the Gulf War, when large agencies took the lead in humanitarian efforts.
Len Rodgers, president of Venture International, calls it unprecedented that so many Western agencies are working with such a broad group of evangelical groups in Jordan. "We're trying by our actions to show the love of Christ to Muslim people," Rodgers told CT.
The TCN camp consists of a series of tents in a windswept area given to extreme temperatures. Food for the Hungry plans to feed 5,000 people a day.
Valla wants to return to Baghdad as soon as possible. "Until now, the humanitarian consequences of war have been minimized. In Baghdad, the water supplies and electricity work, but I want to get back in because we have to repair the consequences of the war."
Related Elsewhere
For more coverage on the current conflict, commentary and thought on just war, or Christian debate, see our CTWar in Iraq archive. For relevant articles on the war from news agencies around the globe, see CT's updated war links page.
A downloadable Bible study on the implications of war with Iraq is available at CurrentIssuesBibleStudy.com. These unique Bible studies use articles from current issues of Christianity Today to prompt thought-provoking discussions in adult Sunday school classes or small groups.
Recent Christianity Today articles and commentary on the war with Iraq include:
Article continues below
What's next?
As Baghdad Falls, Agencies Brace for Flood of Work | Aid and mine removal teams could move into Iraq within days. (April 11, 2003)
Mixing Iraq Aid and the Gospel Stirs Debate | Critics say proselytizing can reflect negatively on other relief groups and governments. (April 4, 2003)
Evangelicals Plan to Minister to Iraqis' Needs—Physical and Spiritual | Evangelism efforts will join relief work, say Southern Baptist Convention and Samaritan's Purse. (March 27, 2003)
Relief Agencies Prepare to Help Iraqi Refugees | Meanwhile Christians in Baghdad fear the worst. (March 26, 2003)
Speaking Out: Where Do We Go From Here? | Now that the bombs are falling, we'll need to repair Iraq—and our nation's moral standing. (March 21, 2003)
CT Classic: Weeping over Baghdad | Desert Storm cost Iraq thousands of lives. At its conclusion, a Christianity Today editorial called for the church to deal with the living souls that remained. (March 21, 2003)
Keeping Their Heads Down | Vital but dwindling Christians face many pressures. (Nov. 8, 2002)
The debate over whether war is justified:
Apocalypse Again and Again | The Bible doesn't tell us when to go to war but how to live in a war-ridden world. (April 16, 2003)
The Dick Staub Interview: Robert Seiple on the War in Iraq | The founder of The Institute for Global Engagement says America suffers from an inconsistency between national values and national interests. (April 15, 2003)
CT Classic: The Ethics of Desert Storm | What Christianity Today said during the U.S.'s first war with Iraq. (March 25, 2003)
War Isn't Being Waged From the Pulpit | Most clergy avoid blanket statements on war. (March 24, 2003)
What George Bush's Favorite Devotional Writer Says About War | "War is the most damnably bad thing," wrote Oswald Chambers. (March 24, 2003)
Weblog: Clergy Respond to Bush's Ultimatum to Saddam | Given denominational leaders' earlier comments opposing any U.S. military action in Iraq, it's not surprising that most clergy members still oppose it. (March 18, 2003)
Standing for Peace on the Eve of War | Christian group seeks nonviolent solution in Iraq. (March 12, 2003)
Just War in Iraq | Sometimes going to war is the charitable thing to do. (Dec. 10, 2002)
Bully Culprit | Can a pre-emptive strike against the tyrant of Baghdad be justified? (Sept. 30, 2001)
Is Attacking Iraq Moral? | Christian leaders disagree, too. (September 4, 2002)
A nation at war:
Books & Culture's Book of the Week: Why We Are in Iraq | Michael Kelly, R.I.P. (April 7, 2003)
Article continues below
Faith and Fear on the Truman | How one Navy chaplain helps men and women face combat. (April 1, 2003)
Weblog: Freed Kenyans Thank God For Iraq Rescue | Plus: Franklin Graham defends Iraq ministry, and other stories from online sources around the world. (March 31, 2003)
CT Classic: War Cry | As 1991's Gulf War began, a Christianity Today editorial said the church's best weapon was tearful prayer. (March 24, 2003)
A Nation at War—And on its Knees | American Christians pray for peace, justice, and wisdom. (March 21, 2003)
Peacemakers Seek to Show War from Point of View of Iraqi Civilians | Six Christian Peacemaker Team members remain in Iraq as bombs drop. (March 21, 2003)
War Could Reduce Holy Land's Christian Presence | Palestinian bishop fears current hostilities could continue a trend that sees Christians forced out of the area altogether. (March 21, 2003)
Weblog: Will War Breed Hate Crimes Against Muslims, Christians, or Both? | Plus: PCUSA court criticizes leader but dismisses charges, and other stories from online sources around the world. (March 20, 2003)
Weapons of the Spirit | Regardless of their positions on Iraq, Christians have much they can do. (Feb. 25, 2003)
Have something to add about this? See something we missed? Share your feedback here.
Our digital archives are a work in progress. Let us know if corrections need to be made.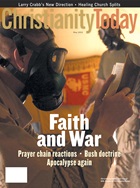 This article is from the May 2003 issue.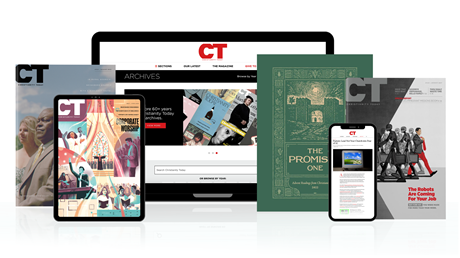 Annual & Monthly subscriptions available.
Print & Digital Issues of CT magazine
Complete access to every article on ChristianityToday.com
Unlimited access to 65+ years of CT's online archives
Member-only special issues
Subscribe
Before the Refugee Dam Breaks
Before the Refugee Dam Breaks