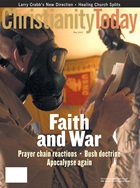 This article is from the May 2003 issue. Subscribers can read all of CT's digital archives.
In late 1999 and early 2000, 21 Christians in and around the village of al-Kosheh were murdered during Muslim rioting. Ninety-five Muslims (and one Copt, who has since died) were eventually brought up on charges of murder and destroying 65 homes, kiosks, and shops (CT, Feb. 7, 2000, p. 31).
But on February 27, the Criminal Court of Sohag exonerated all but two of the defendants in a retrial. One Muslim defendant was sentenced to 15 years in prison for killing a Muslim, and another to three and a half years for manslaughter and assault. A year earlier, in February 2001, the Criminal Court of Sohag sentenced only four of the defendants—not for murder, but for carrying weapons and participating in the riots.
Bishop Anba Wissa, head of the Coptic Orthodox Church in the state of El-Minya, fears the worst for the future: "If the perpetrators of the murders are allowed to walk free, it will be seen as a green light to kill Christians."
An estimated 5,000 people took part in the riots at al-Kosheh, a village that lies about 270 miles south of Cairo and is 65 percent Christian. All but one of the murdered Christians was Coptic. One in fifteen Egyptians consider themselves members of the Coptic Orthodox Church, Egypt's largest church.
The Sohag judge said the crime was brutal but that the evidence to convict was insufficient. Mamdouh Nakhla, one of the lawyers defending the Christians of al-Kosheh, accused police of "withholding vital evidence."
Likewise Bishop Anba Marcos of Shubra al-Kheima, one of the two bishops who investigated the killings just days afterward, blames the Sohag police for failing to provide the judge with sufficient evidence. "If policemen are not able to do a proper investigation, they should be fired."
Relations ...
1
Light Verdict Stuns Egypt's Christians
Light Verdict Stuns Egypt's Christians