Paul gave the unruly church in Corinth the lofty title "ambassadors of reconciliation," and then added this remarkable phrase: "as though God were making his appeal through us" (2 Cor. 5:20). I shake my head at the sheer audacity of God entrusting such a task to a species known for making divisions between rich and poor, dark-colored and light, beautiful and ugly, male and female, strong and weak. To this species, the message of reconciliation proclaims that none of those divisions matter. What matters is that God has reconciled the world to himself.
Taking God's assignment seriously means that I look at the world upside down, as God does. Instead of seeking out people who stroke my ego, I find those whose egos need stroking; instead of important people with resources who can do me favors, I find people with few resources; instead of the strong, I look for the weak; instead of the healthy, the sick. Is not this how God reconciles the world to himself? Jesus came for the sinners and not the righteous, for the sick and not the healthy.
I cannot help noticing the tenderness with which Jesus treated people with wounds caused by moral failure. A Samaritan woman with five failed marriages, a dishonest tax collector, an adulteress, a prostitute, a disciple who denied him—all these received from Jesus forgiveness and reinstatement, not the judgment they deserved. Jesus saw in people not what they had been but what they could be, not their past but their future.
We followers of Jesus sometimes do the opposite. A film made in 2002, The Magdalene Sisters, told the sad story of the "maggies" of Ireland. They got that nickname from Mary Magdalene, a revealing story in itself. The gospels mention only one fact of Mary Magdalene's past, that Jesus had driven seven demons from her. Nevertheless, a tradition grew that Mary Magdalene must have been the same woman as the prostitute who washed Jesus' feet with her hair. Hence when a strict order of nuns agreed to take in young women who had become pregnant out of wedlock, they labeled the fallen girls "maggies."
The maggies came to public attention in the 1990s when the order sold its convent, bringing to light the existence of the graves of 133 maggies who had spent their lives working as virtual slaves in the convent laundry. The media soon scouted out a dozen such "Magdalen laundries" across Ireland—the last one closed in 1996—and soon relatives and survivors were spilling accounts of the slave-labor conditions inside. Thousands of young women spent time in the laundries, some put away just for being "temptresses," forced to work unpaid and in silence as a form of atonement for their sins. The nuns took away illegitimate children born to these women to be raised in other religious institutions.
A public outcry erupted, and eventually campaigners raised money for a memorial, a bench in St. Stephen's Green, a park in downtown Dublin. I determined to visit the memorial on a trip to Ireland. It was a typical gray day in Dublin, with a sharp September wind and the threat of rain in the air. I asked a policeman and a park guide about the memorial to the maggies, and they both looked at me quizzically. "Dunno that one. Sorry."
One by one, my wife and I examined the bronze statues and impressive fountains, mostly honoring fighters for Irish independence. Only by accident did we stumble across a modest bench beside a magnolia tree. A gay couple was sitting on it, but behind their backs we could see brass-colored lettering. We asked if they would mind moving aside for a moment so we could read the inscription. The plaque reads, "To the women who worked in the Magdalen laundry institutions and to the children born to some members of those communities—reflect here upon their lives."
Walking away from the humble memorial, I found myself reflecting not simply on their lives but also on the sharp contrast between how Jesus treated moral failures and how we his followers often do. Jesus appointed the Samaritan woman as his first missionary. He defended the woman who anointed him with expensive perfume: "wherever the gospel is preached throughout the world, what she has done will also be told, in memory of her." And Mary Magdalene, she of the seven demons, he honored as the very first witness of the Resurrection—a testimony at first discounted by his more prestigious followers. Where we shame, he elevates.
The goal of ministry, wrote Henri Nouwen, "is continually to recognize the Lord's voice, his face, and his touch in every person we meet." As though God were making his appeal through them, as well as through us.
Related Elsewhere
Other articles include:
Restoring Mary Magdalene's Reputation | Scholars are trying to set the record straight about the saint, who traditionally is seen as a floozy. (The Baltimore Sun)
Previous Yancey columns for Christianity Today include:
Perestroika of the Spirit | In Russia, the vocabulary of faith needs interpreters. (March 5, 2003)
Article continues below
Jesus' Sword | Longing for peace in tumultuous times. (Jan. 7, 2002)
Guilt Good and Bad | The early warning signs. (Nov. 11, 2002)
God's Funeral | What will keep faith from nearly disappearing in America? (Sept. 3, 2002)
Sheepish | Feeling autonomous and proud? Then ponder the lives of sheep. (July 2, 2002)
Servant in Chief | Jimmy Carter's journey from the White House to building houses.(May 28, 2002)
Why Do They Hate Us? | How to turn the Baywatch syndrome into the Jesus syndrome. (March 27, 2002)
Honest Church Marketing | We enhance our 'image' by offering the world a realistic picture of faith. (October 24, 2001)
Compassion Confusion | We should serve the needy even when it has bad political consequences. (August 28, 2001)
Fixing Our Weakest Link | Evangelicals should be more "needful of the minds of others." (July 13, 2001)
Replenishing the Inner Pastor | Churches should take greater interest in their shepherds' spiritual health. (May 14, 2001)
Beyond Flesh and Blood | I used to disdain biblical talk of "invisible spirits." No more. (Mar. 27, 2001)
God at Large | A look around the globe reveals a God as big as we want him to be. (Jan. 31, 2001)
Humility's Many Faces | Everyone I've looked up to has shared one trait. (Dec. 4, 2000)
Getting a Life | The most fully alive persons are those who give their lives away. (Oct. 16, 2000)
Yancey's Where is God When it Hurts, Special Edition and Soul Survivor: How My Faith Survived the Church are available on Christianbook.com.
Have something to add about this? See something we missed? Share your feedback here.
Philip Yancey
Philip Yancey is editor at large of Christianity Today and cochair of the editorial board for Books and Culture. Yancey's most recent book is What Good Is God?: In Search of a Faith That Matters. His other books include Prayer (2006), Rumors of Another World (2003), Reaching for the Invisible God (2000), The Bible Jesus Read (1999), What's So Amazing About Grace? (1998), The Jesus I Never Knew (1995), Where is God When It Hurts (1990), and many others. His Christianity Today column ran from 1985 to 2009.
Previous Philip Yancey Columns:
Our digital archives are a work in progress. Let us know if corrections need to be made.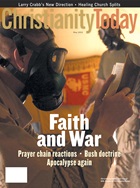 This article is from the May 2003 issue.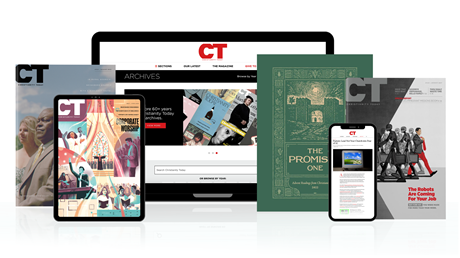 Subscribe to Christianity Today and get access to this article plus 65+ years of archives.
Home delivery of CT magazine
Complete access to articles on ChristianityToday.com
Over 120 years of magazine archives plus full access to all of CT's online archives
Subscribe Now
God of the Maggies
God of the Maggies