WE MADE an odd couple. When we first met, I was a punk in my mid-20s with bushy Art Garfunkel hair. Dr. Brand was a dignified, silver-haired surgeon characterized by proper British reserve. We went on to write three books together, and I now view the ten years I worked with him as an important chrysalis stage of my faith.
Wounded by the church, plagued by doubts, I had neither the confidence nor the ability to write about my own faith. Yet I could write with utter confidence and integrity about Dr. Brand's faith, and through that process his words and thoughts became mine too. As I helped him find his voice, he helped me find my faith.
In the movie Manhattan, Woody Allen tells a woman, "You're God's answer to Job." He explains that when Job complained about how awful the world was, God could say, "But I can still make one of these." Paul Brand served that role for me. As I struggled with the injustices of this world and the imponderables of theology, I could look to him as a shining example of what God had in mind with the human experiment.
Our conversations knew no limits. Dr. Brand quoted long passages from Shakespeare, exegeted Greek and Hebrew phrases from the Bible, discussed thrilling new discoveries about DNA, pointed out with childlike excitement birds and plants in India or the bayous of Louisiana where he practiced medicine. He had known and consulted with some of the great figures of the last century: Albert Schweitzer, Mother Teresa, Mahatma Gandhi. He had received prestigious medical awards and been appointed Commander of the Order of the British Empire by Queen Elizabeth II.
Dr. Brand said he felt guilty because he merely answered my questions and a few years later a book would emerge. I responded that all I did was ask questions, research, and write up the answers, whereas he had spent a lifetime serving leprosy patients, some of the lowliest people on the planet.
The conversations that stand out sharpest to me now are those in which he told of his patients, "nobodies," many of them from the Untouchable caste. When he began his pioneering work, he was the only orthopedic surgeon in the world working among 15 million victims of leprosy. He and his wife, Margaret, also a physician, performed several dozen surgical procedures on some of these patients, transforming rigid claws into usable hands through tendon transfers, remaking feet, preventing blindness, transplanting eyebrows, and fashioning new noses.
He told me of his patients' family histories, the rejection they had experienced as the disease manifested itself, the trial-and-error treatments they underwent as doctor and patient experimented together. Almost always his eyes would moisten and he would wipe away tears as he recalled their suffering. To him these people were not nobodies. They were made in the image of God, and he devoted his life to restoring that image, badly marred by disease.
I often felt like James Boswell, who tailed the great man Samuel Johnson and loyally recorded every morsel of wisdom that fell from his lips. Brand's daughter Pauline once thanked me for bringing some order to "the happy jumble of my father's life and thoughts." Little did she know the role her father played in bringing some order to the unhappy jumble of my own life. As I compare the person I was in 1975, on our first meeting, and the person I am now, I realize that seismic changes have occurred within me, with Dr. Brand responsible for many of those tremors.
Deprived of my own father in infancy, I received as an adult from Dr. Brand much that I had missed. He helped set my course in outlook, spirit, and ideals. I look at the natural world, and environmental issues, largely through his eyes. From him I also have gained assurance that the Christian life I had heard in theory can actually work out in practice. He proved it is possible to achieve success without forfeiting humility, to serve others sacrificially and yet emerge with joy and contentment.
I last saw Dr. Brand on June 29, as he lay in a coma after a fall. Bleeding had destroyed much of his brain, and he never regained consciousness. His body curled toward a fetal position and his eyes had lost their brightness. Even so, his one good hand sought out my hands, his fingers running up and down them as if examining them. A week later, he died.
Simone Weil said imaginary evil, such as that portrayed in books, television shows, and movies, "is romantic and varied; real evil is gloomy, monotonous, barren, boring. Imaginary good is boring; real good is always new, marvelous, intoxicating." I saw real good in Paul Brand, and it was indeed marvelous and intoxicating. You need only meet one saint to believe, to silence the noisy arguments of the world.
Related Elsewhere
Other CT articles about Paul Brand include:
Noted Surgeon and Author Paul Brand Dies at Age 89 | Connected his pioneering work with leprosy and his missionary faith. (July 10, 2003)
Article continues below
Paul Brand: 'Humility, gratitude, and adventure.' (Aug. 11, 2003)
God's Astounding Laws of Nature | "I like to think of God as developing his skills," said Dr. Paul Brand. (posted July 10, 2003)
CT articles by Paul Brand include:
God's Astounding Laws of Nature | "I like to think of God as developing his skills," said Dr. Paul Brand. (posted July 10, 2003, originally printed Dec. 1, 1978)
A Surgeon's View of Divine Healing | Do doctors waste their time by doing slowly and painstakingly what could have been done in the twinkling of an eye? (posted July 10, 2003, originally printed Nov. 25, 1983)
Blood, Part 1: The Miracle of Cleansing | We moderns are repelled by the thought of blood cleansing, but biologically and spiritually the precious liquid does exactly that. (posted July 10, 2003, originally printed Feb. 18, 1983)
Blood, Part 2: The Miracle of Life | A well-known surgeon talks about that miraculous red river within us as an emblem of life. (posted July 10, 2003, originally printed March 4, 1983)
Blood, Part 3: Life in the Blood | If Jesus had been born in the twentieth century, would he have chosen the image of transfusion for his forgiveness, love, and healing? (posted July 10, 2003, originally printed March 18, 1983)
The Scars of Easter | He knows the wounds of humanity. His hands prove it. (posted July 10, 2003, originally printed April 5, 1985)
A Handful of Mud | Soil is life. Can we preserve it for future generations? (posted July 10, 2003, originally printed April 16, 1985)
Previous Yancey columns for Christianity Today include:
Going It Alone | We should take heed when much of the world says it distrusts us. (July 2, 2003)
God of the Maggies | In broken sinners, Jesus saw not their past but their future. (April 25, 2003)
Perestroika of the Spirit | In Russia, the vocabulary of faith needs interpreters. (March 5, 2003)
Jesus' Sword | Longing for peace in tumultuous times. (Jan. 7, 2002)
Guilt Good and Bad | The early warning signs. (Nov. 11, 2002)
God's Funeral | What will keep faith from nearly disappearing in America? (Sept. 3, 2002)
Sheepish | Feeling autonomous and proud? Then ponder the lives of sheep. (July 2, 2002)
Servant in Chief | Jimmy Carter's journey from the White House to building houses.(May 28, 2002)
Why Do They Hate Us? | How to turn the Baywatch syndrome into the Jesus syndrome. (March 27, 2002)
Honest Church Marketing | We enhance our 'image' by offering the world a realistic picture of faith. (October 24, 2001)
Compassion Confusion | We should serve the needy even when it has bad political consequences. (August 28, 2001)
Fixing Our Weakest Link | Evangelicals should be more "needful of the minds of others." (July 13, 2001)
Replenishing the Inner Pastor | Churches should take greater interest in their shepherds' spiritual health. (May 14, 2001)
Yancey's Where is God When it Hurts, Special Edition, Soul Survivor: How My Faith Survived the Church, and his latest book, Rumors of Another World, are available on Christianbook.com.
Have something to add about this? See something we missed? Share your feedback here.
Philip Yancey
Philip Yancey is editor at large of Christianity Today and cochair of the editorial board for Books and Culture. Yancey's most recent book is What Good Is God?: In Search of a Faith That Matters. His other books include Prayer (2006), Rumors of Another World (2003), Reaching for the Invisible God (2000), The Bible Jesus Read (1999), What's So Amazing About Grace? (1998), The Jesus I Never Knew (1995), Where is God When It Hurts (1990), and many others. His Christianity Today column ran from 1985 to 2009.
Previous Philip Yancey Columns:
Our digital archives are a work in progress. Let us know if corrections need to be made.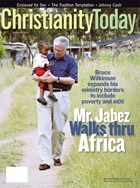 This article is from the November 2003 issue.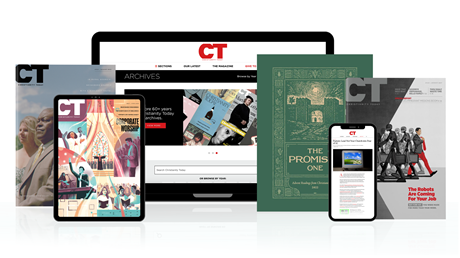 Annual & Monthly subscriptions available.
Print & Digital Issues of CT magazine
Complete access to every article on ChristianityToday.com
Unlimited access to 65+ years of CT's online archives
Member-only special issues
Subscribe
The Leprosy Doctor
The Leprosy Doctor