Are some people lost "just a little bit" in the same way that others are saved "only as through fire"?
—Eduardo Bracier, Salou, Spain
When the Bible uses salvation (Gk. soteria) in a spiritual sense, it describes the broad range of God's activity in the process of rescuing people from sin and restoring them to a right relationship with himself.
A believer has been saved from the guilt of sin (justification, Eph. 2:8), is being saved from the power of sin (sanctification, 1 Cor. 1:18), and will be saved from the judgment and presence of sin (glorification, Acts 15:11). Regeneration is the miraculous work of the Holy Spirit in which a spiritually dead person is made alive in Christ (Ezek. 11:19-20; Titus 3:5).
Usually people use the term saved to refer to regeneration and justification. If this is what they mean, it is not accurate to speak of it as happening or not happening in differing degrees. To be a Christian means you have traded in your "rubbish" of self-righteousness for the perfect righteousness of Christ (Phil. 3:8-9). You have ceased striving and now rest in the finished work of Christ—no longer depending on accomplishments, religious pedigree, or good works for God's approval, but only what Christ has accomplished for you (Eph. 2:8-9).
Thus you understand, with Paul, that "it is no longer I who live, but Christ who lives in me. And the life I now live in the flesh I live by faith in the Son of God, who loved me and gave himself for me" (Gal. 2:20, ESV). You believe that when Jesus said, "It is finished," it really was. Because of this, "there is therefore now no condemnation for those who are in Christ Jesus" (Rom. 8:1).
Conversely, if you have not been saved in this way, you are "condemned already, because you have not believed in the name of the only Son of God" (John 3:18). You remain "dead in your transgressions and sins" (Eph. 2:1). In this regard, there are no degrees of being saved or lost—dead or alive. Either you are or you aren't. "Whoever has the Son has life; whoever does not have the Son of God does not have life" (1 John 5:12).
The Bible does recognize that from an experiential, ethical standpoint, there are degrees or gradations of sin according to knowledge (Luke 12:47-48; Matt. 10:15; John 19:11), intent (Num. 15:30-31), amount, kind, and effect. All sinful behavior, however, is the expression of universal human depravity. We sin because we are sinners. This is why we read in James 2:10 that "whoever keeps the whole law and yet stumbles at just one point is guilty of breaking it all."
Within the broader salvation process, the Bible does recognize degrees of sanctification as well as the good works and rewards it can produce. It is the tragic lack of true good works and rewards in the sanctification process that is in view regarding those saved "but only as through fire" in 1 Corinthians 3:15. Here the "fire" of God's judgment at the return of Christ will reveal the quality of a believer's works, and some will have little to show for their salvation.
Additionally, the idea of the righteous being saved "with difficulty" in 1 Peter 4:18 (NAS) refers to the difficulty of salvation in light of the God-ordained suffering and persecution that believers endure all through this age. In spite of this difficulty, however, Peter also recognizes that God's power is sufficient to guarantee a believer's perseverance in salvation (1 Peter 1:4-5).
We also recognize that on the way to salvation, there is often a gradual process as people gain greater understanding of the gospel. Jesus recognizes this process in the wise scribe of Mark 12. We don't know this scribe's end, but Jesus tells him that he is "not far from the kingdom of God" ().
Although we may recognize degrees of understanding as the gospel takes root in a person's life—even saying things like "this person is really close to being saved"—until God has brought about this transformation through repentance and faith in Christ, people remain as lost as they can be. Yes, a person may experience more or less of the full reality of salvation in degrees of sanctification. Yes, a person may experience more or less of the consequences of sin in being lost. But the objective states of being saved or lost are definite and absolute, as eternity will show.
Erik Thoennes is associate professor of theology at Talbot School of Theology, Biola University, and a pastor at Grace Evangelical Free Church in La Mirada, California.
Related Elsewhere:
Earlier Good Question columns include:
Is Jesus Incarnate Forever?
What does Genesis mean by man being made in the image of God?
Christ's kingdom and paradise
Is every believer guaranteed at least one spiritual gift?
What role does baptism play in faith and salvation?
How is it that not all prayers for the salvation of others are answered?
If God is in us, shouldn't it be easier to love one another?
What do we gain from a bodily resurrection?
What is the difference between the brain and the soul?
Article continues below
How can I reconcile my belief in the inerrancy of Scripture with comments in Bible translations that state that a particular verse is not 'in better manuscripts'?
Is there a biblical principle behind the punishment of those who break the law?
Is it unscriptural for a Christian to be cremated?
Won't heaven's joy be spoiled by our awareness of unsaved loved ones in hell?
Where exactly do "Oneness" Pentecostals stand in relation to orthodoxy?
Do a man and a woman become married after having sex or after exchanging vows?
How Do You Know That You Have Truly Forgiven Someone?
Who Are We to Judge?
Should We File Lawsuits?
Can We Expect God to Forgive Unbelievers Who 'Don't Know What They're Doing'?
Is the Stock Market Good Stewardship?
Is Satan Omnipresent?
Is Suicide Unforgivable?
Was Slavery God's Will?
A Little Wine for the Soul?
Should We All Speak in Tongues?
Did Jesus Really Descend to Hell?
Take, Eat—But How Often?
Is Christmas Pagan?
Are Christians Required to Tithe?
Is Revelation Prophecy or History?
You're Divorced—Can You Remarry?
If Grace Is Irresistible, Why Evangelize?
Does the 'Bible Code' Really Exist?
What's the Unforgivable Sin?
What Bible Version Did Jesus Read?
Did God Die on the Cross?
Have something to add about this? See something we missed? Share your feedback here.
Our digital archives are a work in progress. Let us know if corrections need to be made.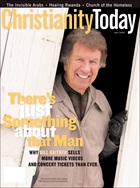 This article is from the April 2004 issue.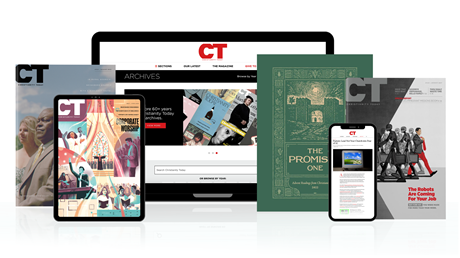 Subscribe to Christianity Today and get access to this article plus 65+ years of archives.
Home delivery of CT magazine
Complete access to articles on ChristianityToday.com
Over 120 years of magazine archives plus full access to all of CT's online archives
Subscribe Now
You Are or You Aren't
You Are or You Aren't