I feel cheated. Cheated by those who say that they love me and are trying to help me. Yet, if things were left up to them, I would still be in a prison of my own making—enslaved by homosexuality and without hope.
Like many other Christians, I have struggled for years with same-sex attraction. By God's grace I know freedom from a way of life that still holds too many others captive. Yet many within the so-called affirming church would deny us that freedom. They say homosexuality is God's plan for our lives, even though the Bible clearly says that homosexual behavior is a sin. It is not my intention to prove it; many conservative theologians have already done so. Instead, let me highlight, on a practical level, the negative effects of affirming this sin.
Does God gain some mysterious personal benefit by prohibiting homosexual practice? My exposure to homosexuality convinces me of a far more basic rationale for the biblical prohibition: Homosexuality is bad for me.
First, there is the all-too-common problem of sexually transmitted diseases. As I pondered the recent deaths from aids of
a member of my extended family and his domestic partner, I couldn't help an involuntary shudder over the obvious implications. When I entered college, I had already decided that I would withhold no homosexual pleasure from myself. God, in his great mercy, acted before I could carry out my plan. Had Jesus not changed my life one fall Sunday in 1971, I would have likely become another STD statistic by now.
But the area where the affirming church cheats people the most is not health. It is relationships. You don't hear the affirming church discuss the lasting damage this sin inflicts on homosexuals and their loved ones.
Twenty-five years ago, God blessed me with the gift of being attracted to the wonderful woman who is now my wife. Because of fear and lack of faith, I hid my struggle from her for 23 of those years. I am told by many of my ex-gay friends that I am "lucky." While I had two boyfriends in my teen years, God, in his grace—not to mention my fear of discovery—kept me from engaging in explicit homosexual activity. My experience was limited to simple physical affection and the indulgence in homosexual pornography.
But I don't feel lucky. I wanted to believe the message of the affirming church—that I was born this way, that I couldn't be happy without accepting my homosexuality, and that I couldn't change. I had the occasional fall to gay porn bought at an "adult" shop on business trips. Then I discovered online pornography. Suddenly, I could indulge myself whenever I wanted. Unlike many of the "straight" porn sites that charge fees, many gay sites operate at no charge. I was quickly hooked.
I spent several years in bondage to lust. Over and over, I would quit, shamed beyond measure. But the message that I should embrace my identity as a "gay Christian" continued to entice me, and I would return to my self-made prison. My sin separated me from God, and I lost the joy of my salvation. My conscience didn't side with the affirming church.
After so many years of stimulation, my senses became dulled. I no longer could get the rush I needed so badly. Encouraged by the message of the affirming church, I was "embracing" my homosexuality. But as I fell deeper into sin, my marriage grew increasingly boring, and my wife's love seemed more and more distant.
The affirming church had a bigger lie for me: I had been "guilted" into a heterosexual marriage by a church that lied to me about my orientation. I listened to the lie and decided to call a gay friend for sex.
But as I sat there, receiver in hand, listening to the dial tone, I realized that I was about to throw my whole life away. It didn't feel like freedom; it felt like I was about to be further enslaved. I simply could not complete the call; I decided to get help.
An article by a fellow struggler, "No Easy Victory" (CT, March 2002), gave me the courage to come clean to my wife. By confessing my sin to God, my wife, and a few others within my local church, I began the journey to true freedom. In the end, I was set free thanks to a combination of accountability and an internet course called Door of Hope at www.settingcaptivesfree.com.
I unlearned the lies that the affirming church propagates. I admit my responsibility for believing them, and for my actions based on them. But the damage continues to reverberate.
I'm still in the process of rebuilding my relationship with my wife. She lost her trust in me, and why not? When she finds me at the computer, she wonders if I have again become ensnared by porn. To alleviate her concerns, I have made my computer use an open book to her and my accountability partner.
My wife lives with embarrassment that is not of her making, and never knows how friends will react if they find out about my past. She must deal with the damage I have done to her self-image. After all, what does a woman think about herself when her husband has desires for men? You never hear this question raised by the affirming church.
Free to Overcome Temptation
But the Lord has brought us healing. Even though we still have our ups and downs, our commitment to each other has grown in ways that I could not have imagined before all of this. Most of all, each of us has grown in our relationship with Christ.
It's not easy to escape the slave ship of homosexuality. But according to Exodus International communications director Randy Thomas, there are tens of thousands of people who would identify as ex-gay, and several times more who have never identified as gay in the first place, having moved beyond their same-sex attractions entirely.
My pastor likens affirming Christians to the doctor who examines her patient and discovers life-threatening, but treatable, cancer. However, knowing that the patient cannot bear the thought of the painful treatment, she sends the man home with the "good news" that there is nothing wrong with him. Instead, the good doctor tells her patient that the symptoms of cancer are something "quite natural" that he should "accept."
In the same way, I've had Christians tell me that homosexuality is "natural," that I was "born this way," and I should "accept" the way I am. They have said that my marriage was a mistake; I should divorce my wife and affirm my gay identity. But I have heard countless stories of men and women who came out from affirming churches because they realized that they were not being who God wants them to be.
Believers can act like the false physician, telling people tempted by homosexuality that same-sex orientation is part of their identity and that they should accept it. Or, we can act as judge, jury, and executioner, driving them away from the Savior who loves them. Either way, we risk the same result: spiritual death.
Or we can respond like Jesus would, with grace and truth: "Come unto me, all who are weary and heavy-laden, and I will give you rest." Those words called to me, weary and heavy-laden with sin, several years ago. Shouldn't all Christians bear that message of freedom and hope?
The author has decided to remain anonymous in order to honor his wife's request.
Related Elsewhere:
Also posted today is
My Path to Lesbianism | It was hatred of women that drove me there, and Christ in community that led me out.
Exodus International assists people who desire to leave a homosexual lifestyle.
Setting Captives Free offers help and online courses for sexual impurity of any kind.
Article continues below
Other Christianity Today articles on homosexuality and sexuality include:
Thirteen Bad Arguments for Same-Sex Marriage | Why the rhetoric doesn't stand up under scrutiny. (Aug. 26, 2004)
Why Gay Marriage Would Be Harmful | Institutionalizing homosexual marriage would be bad for marriage, bad for children, and bad for society. (Feb. 19, 2004)
'Get Mine, Get Yours' | Sexual swagger and slang do not mask a generation's loneliness. (May 07, 2003)
Stretch Pants, Beer, and Other Controversies | A New Testament professor discerns the relative from the timeless in biblical texts on slaves, women, and homosexuals. (July 08, 2002)
No Easy Victory | A plea from a Christian husband and father who, day by day, resists his homosexual desires. (March 08, 2002)
Ex-Gay Sheds the Mocking Quote Marks | The retiring head of Exodus says gay transformation ministries are more respected and effective than ever. (January 7, 2002)
Walking in the Truth | Winning arguments at church conventions is not enough without compassion for homosexuals. (Sept. 4, 2000)
Building a Bridge | A gay journalist and evangelical pastor correct their mutual misperceptions. (July 13, 2000)
The Jerry We Never Knew | He hangs out with liberal pundits and gay activists. Is this the same Jerry Falwell who founded the Moral Majority? (May 2, 2000)
Sex and Saints | A new vocabulary for an oversexualized culture. (Apr. 3, 2000)
Building outreach and friendship with the homosexual community | What Jerry Falwell really said at the Anti-Violence Forum. (Nov. 5, 1999)
Just Saying 'No' Is Not Enough | How should Christians address homosexuality? (Oct. 4, 1999)
Have something to add about this? See something we missed? Share your feedback here.
Our digital archives are a work in progress. Let us know if corrections need to be made.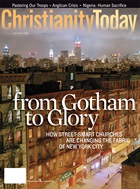 This article is from the December 2004 issue.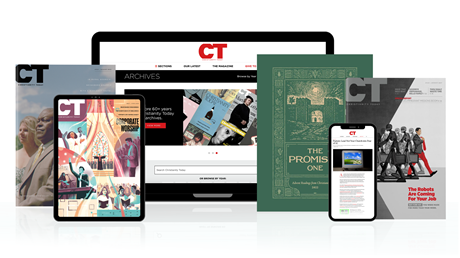 Annual & Monthly subscriptions available.
Print & Digital Issues of CT magazine
Complete access to every article on ChristianityToday.com
Unlimited access to 65+ years of CT's online archives
Member-only special issues
Subscribe
Cheated by the Affirming Church
Cheated by the Affirming Church