The cover of the May 1998 issue of Good News magazine, a renewal publication for United Methodists, showed the S.S. Titanic sinking in the icy Atlantic Ocean. The massive stern pointed upward while two lifeboats paddled away into the dark. The cover copy said: Will homosexuality sink the United Methodist Church? At the time, that question seemed like an improbable shock tactic.
Maxie Dunnam said he does not believe Methodist history must repeat itself. He hopes the denomination may remain united.
But six years later in Pittsburgh, the improbable became possible for the 11-million-member global United Methodist Church—the second-largest Protestant denomination in the United States. "I believe the time has come when we must begin to explore an amicable and just separation that will free us both from our cycle of pain and conflict," said William Hinson, president of the 650,000-member Confessing Movement, on the ninth day of a 10-day gathering of United Methodist leaders in May.
Hinson's comment sent a shock wave through United Methodism. It was the first time since 1972 that an influential Methodist leader had called publicly for a breakup. (At that time, United Methodists officially declared homosexuality and the Bible were incompatible.)
Hinson, a retired pastor from Alabama, said he was speaking only for himself. But within hours his comments moved on The Associated Press wire, and what started as an early morning statement by a nonvoting observer to the General Conference brought the body seemingly to the brink of separation by early afternoon.
Deep and wide
Church historians are well aware that unresolved disputes among Methodists have led to denominational fracture. The Methodist Episcopal Church, divided over slave ownership, split in 1844, some 17 years before the Civil War. Ninety-five years later in 1939, three Methodist groups reunited. Later in 1968, the Methodist Church and the Evangelical United Brethren Church combined to form the United Methodist Church.
In the months leading up to the General Conference, the left-right rift over homosexuality among United Methodists grew wider. The March acquittal of openly gay pastor Karen Dammann was a major contributing factor. A church jury in Washington State acquitted the 47-year-old pastor on charges that she was in violation of the denomination's laws regarding homosexual practice.
The jury said the Methodist Book of Discipline was unclear in stating, "Homosexual practice is incompatible with church teaching." The jury doubted whether those words were intended to be a formal declaration of the church and should be regarded as church law. Pro-gay Methodists hailed the verdict as a victory for gay rights. Evangelicals across the country were angered and without recourse since according to church law an acquittal is not subject to appeal.
But in its review of the case, the Judicial Council, the denomination's top court, made two rulings that cheered conservatives. The council ruled that the Book of Discipline ban on homosexual practice is church law, though they said they had no right to overturn the jury's verdict. They also clearly stated that no Methodist bishop may appoint anyone who has been found by a church jury to be a "self-avowed, practicing homosexual." Dammann has been on family leave from pastoral ministry since March. In mid-May she renewed her leave of absence, so she will not return to church ministry in the short term.
Conservatives gained further ground when the General Conference voted to include in the Book of Discipline the wording: "The United Methodist Church does not condone the practice of homosexuality."
Away from the conference floor, influential leaders from both sides held conversations about the church's future. One night around 10 P.M., representatives from the left and right sat down to talk informally. For nearly two hours, 20 top leaders shared their perspectives and experiences. The results of the meeting were quite the opposite of what they initially intended. Instead of discovering common ground, evangelicals said, they realized how far apart the two sides are.
"I think if we're honest, we know that we're not going to sit down after another decade of dialogue and come to a mutually acceptable understanding," James V. Heidinger, president and publisher of Good News, told CT. "They know where we are coming from. We know where they are coming from. There is not agreement."
He said, "Perhaps it's time that the church at least consider: is a better way amicable, loving division, where each side has the opportunity to minister with a sense of integrity—according to their own convictions?"
Hinson, who also attended the dialogue session, said he feels the denominational divide goes much deeper than the issue of homosexuality. "Our whole perspectives are different. For them, keeping pace with the culture is very important. They say the church is behind the culture," he said. "We don't give a fig about keeping up with culture. Many times we're over against the culture. Our concern is being faithful to the biblical message. So, we don't even speak the same language."
Hinson believes that many pro-gay Methodists feel disenfranchised and are "begging for space to do their own thing." He said, "They would like to be autonomous and ordain homosexuals and go for their dream. Nobody likes stepping on somebody else's dream."
Timing not right
As word began to spread of Hinson's public call for separation, a nervous energy gripped conference delegates. A confidential working draft of a resolution leaked out, stirring some on both sides to react negatively. A press conference was called. Five bishops expressed shock and dismay that a split-up resolution might be brought to the floor.
Top evangelicals reworked the resolution but it never made it to the floor. It would have called for an official task force to evaluate the creation of two successor denominations that would allow clergy to keep their pensions and churches to keep their properties. Evangelicals asked Eddie Fox, director of evangelism for the World Methodist Council, to bring the resolution to the floor, but Fox balked. "I love this church," he said. "I have not left this church, and this church has not left me. It is a very serious matter for me to break that covenant."
Conference delegate Maxie Dunnam, chancellor of Asbury Theological Seminary—an independent school with Methodist roots—said his name was also discussed as a potential candidate to bring the resolution officially to the General Conference. But in the end, evangelical leaders decided the timing was not right.
During the conference's final session, delegates expressed a new commitment to unity. Nearly 1,000 delegates stood, held hands, and sang, "Blest be the Tie that Binds." Scott Field, board chair of Good News, said the reaction was understandable. "When the institution is threatened, everyone dives to the middle."
Field believes conversations about separation will continue. "I think there is tremendous resonance [for separation talks] among folks in local churches." As senior pastor of Wheatland Salem United Methodist Church in suburban Chicago, Field said he has received calls from across the country from constituents who believe the General Conference did not deal effectively with the Dammann case. They fear another four years of church lawsuits.
Heidinger and Patricia Miller, executive director of the Confessing Movement, said that since the conclusion of the General Conference, they also have each received phone calls and e-mails from constituents across the United States supporting Hinson and saying that such a discussion about a denominational divide is long overdue.
As a result, Field said Good News and other conservative groups will likely spearhead national dialogue sessions and focus groups, including representatives from all perspectives, in an effort to find common ground between pro-gay groups, conservatives, and moderates within the denomination.
Yet both Field and Heidinger agreed that institutional separation is all but inevitable. No official action regarding the appointment of a task force to examine separation will take place before the next General Conference in 2008, Field said. However, many congregations may not be able to wait until then, he added, and will "find ways to make their influence known." Evangelicals believe that up to 75 percent of United Methodists are theologically moderate to conservative.
Dunnam said he does not believe Methodist history must repeat itself. He hopes the denomination may remain united—but he said this hope is in the hands of the church leadership—namely, the Council of Bishops. "I do believe that if the Council of Bishops would together simply commit themselves to upholding who we say we are—that the issue could be handled," Dunnam said.
Dunnam and Miller believe the actions of the liberal Western Jurisdiction, of which Washington State is a part, will ultimately determine the course of the dialogue on separation. "If there continues to be the disobedience in the future that has occurred in the past," Miller said, "this will continue to become a more prevalent discussion."
Kathleen K. Rutledge is a writer based in Lexington, Kentucky.
Related Elsewhere:
Also posted today is No-Fault Division? a Christianity Today editorial on amicable denominational splits and Methodists Divided on Split reactions from Church leaders.
Other Christianity Today articles about the United Methodist General Convention include:
Methodists Back Away from Breakup | Evangelicals shelve call for 'amicable separation.' (May 07, 2004)
United Methodist Conservatives Seek 'Amicable' Split | Despite gains, evangelicals say Methodist divisions over homosexuality are 'irreconcilable.' (May 06, 2004)
Methodists Strengthen Stand Against Homosexual Practice | Lesbian pastor may not be reappointed. (May 05, 2004)
Christianity Today articles about United Methodist church trials include:
Article continues below
Lesbian Is Eligible for Reappointment, Bishop Says | Differing interpretations of Methodist court ruling prolong denomination's fight. (May 06, 2004)
Weblog: Methodist Council Says Homosexuality Is 'Incompatible' with Christian Teaching (May 03, 2004)
Flouting Church Law | Two gay controversies likely to dominate United Methodist General Conference this week. (May 2004)
A Methodist Mob Mugging | There are real victims in the farce that was the Methodist church trial of a lesbian minister. (March 25, 2004)
Weblog: Methodist Court Acquits Homosexual Minister (March 22, 2004)
Weblog: Methodist Trial Opens With Arrests, Comparison to Crucifixion (March 18, 2004)
Weblog: In the United Methodist Church, a Trial Comes After the Court's Decision (Dec. 18, 2001)
Christian History Corner: Heresy, Salvation, and Jack the Ripper | Why heresy trials will have to do, until something better comes along. (Feb. 28, 2003)
Other Christianity Today articles about mainline churches and evangelicalism includes:
Turning the Mainline Around | New sociological studies show that evangelicals may well succeed at renewing wayward Protestantism. (July 25, 2003)
'Confessing' Christians Stick It Out | Some conservatives, however, give up on reforming their denominations. (November 27, 2001)
Will Presbyterians Embrace 'Confessing Movement'? | Conservatives threaten to withhold money if national leadership doesn't agree with affirmations. (May 9, 2001)
Mainstreaming the Mainline | Methodist evangelicals pull a once 'incurably liberal' denomination back toward the orthodox center. (August 18, 2000)
The United Methodist Church web site has more information about the denomination, as well as a section on the General Conference 2004.
For articles on related denominational disputes, see Christianity Today's church life, and sexuality and gender archives.
Have something to add about this? See something we missed? Share your feedback here.
Our digital archives are a work in progress. Let us know if corrections need to be made.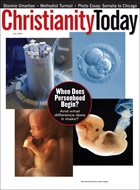 This article is from the July 2004 issue.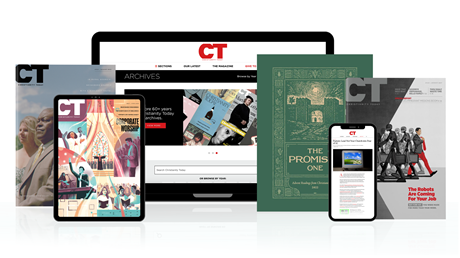 Subscribe to Christianity Today and get access to this article plus 65+ years of archives.
Home delivery of CT magazine
Complete access to articles on ChristianityToday.com
Over 120 years of magazine archives plus full access to all of CT's online archives
Subscribe Now
Pondering a Divorce
Pondering a Divorce