Weblog got caught up in the intricacies of the tax code this morning. Commentary will return tomorrow.
Roy Moore speaks to Senate:
Bill on judges gets a hearing | Roy Moore took his cause to Congress Tuesday, telling a Senate panel that questions about when the government can properly recognize God should be off-limits to federal judges (The Birmingham News, Ala.)
Moore tells Senate he's right | Former Alabama Supreme Court Chief Justice Roy Moore told Senate lawmakers Tuesday that he did not break the law by refusing to remove a Ten Commandments monument from the Alabama Judicial Building (Montgomery Advertiser, Ala.)
Moore asks Senate to limit courts' authority on religion | Roy Moore, the former Alabama Supreme Court chief justice who lost his job for defying a federal court order to remove a Ten Commandments monument from his courthouse, told a Senate panel yesterday that judges are squelching religious freedom and should be stopped (The Washington Times)
Billy Graham Center catches fire:
Graham Center roof burns | Torches used to fix the roof of Wheaton College's landmark Billy Graham Center may have sparked a blaze that endangered lives and priceless artifacts on Tuesday (Daily Herald, Chicago suburbs)
Fire erupts at Billy Graham Center | 200 evacuated, 1 hurt in blaze at Wheaton College (Chicago Tribune)
Fire damages auditorium at Billy Graham Center | The Billy Graham Center at Wheaton College suffered substantial water and smoke damage from a Tuesday evening fire that lit the skies over the Christian evangelical institution (Chicago Sun-Times)
Also: Graham Center a key part of landscape (Daily Herald, Chicago suburbs)
Grahams:
Billy Graham released from N.C. hospital | Evangelist Billy Graham was released from a hospital Monday following surgery for a broken pelvis he suffered in a fall, officials said (Associated Press)
Q & A with Anne Graham Lotz | "I have one particular unanswered prayer." (The Dallas Morning News)
Bishops bet on NBA finals:
Catholic archbishops make 'friendly wager' on NBA finals | The cardinal-archbishops of Los Angeles and Detroit have put a little something on the NBA Finals between the Lakers and the Pistons (Press release)
Cardinals of Los Angeles, Detroit dioceses bet on NBA Finals | Following the governors and senators of their respective states, the cardinals of Detroit's and Los Angeles' Roman Catholic archdioceses bet each other Friday that their team would win the NBA Finals (Associated Press)
Religion & politics:
Democrats strike back on faith issue | Group launches initiative to stress religious roots of policies as polls show party faces a 'church gap' (The Christian Science Monitor)
The sacred and the profane | Such eagerness to politicize religion (Ann McFeatters, Pittsburgh Post-Gazette)
Crusade | The Bush campaign is assembling a mighty army of religious warriors (Michelle Cottle, The New Republic, alt. site)
U.S. considers forgiving poor nations' debts | The Bush administration is considering throwing its weight behind a British-backed plan that would eliminate the debt owed by some of the world's poorest countries to international lending institutions, according to people familiar with the matter (The Washington Post)
Black Baptists to seek unified voice in Nashville | The four major black Baptist organizations want to send a unified message to politicians: There are Christian viewpoints other than the evangelical, conservative perspective reflected recently in presidential policy (The Tennessean, Nashville)
Evangelist warns against Mideast ethnic cleaning | Evangelist and sociologist Tony Campolo, speaking to United Methodist leaders in Birmingham on Monday, warned that too many Christians have become "evangelical Zionists" who favor ethnic cleansing of Palestinians in the Middle East (The Birmingham News, Ala.)
Group of 1,000 Christian supporters in Israel | The group, which includes 600 tourists from Singapore, 300 from Sweden and 150 from Russia, was organized by the Jerusalem-based Swedish Christian 'Word of Life' organization (The Jerusalem Post)
Bishop lashes Martin for abortion stand | The Roman Catholic bishop of Calgary is publicly rebuking Prime Minister Paul Martin for what he calls scandalous "moral incoherence" on abortion, an issue that has quickly become the hottest subject on the election campaign trail (The Globe and Mail, Toronto)
Bishop's ad to encourage voters | The Bishop for Birmingham has taken the unusual step of advertising in the local press to encourage people to vote (BBC)
Ronald Reagan:
Pope lauds Reagan's commitment to freedom | Pope John Paul II sent a message Tuesday to Nancy Reagan, expressing "deep gratitude" for her late husband's commitment to the cause of freedom in the world (Associated Press)
Former Pleasant Hills pastor is comforting the Reagans | For many local people, the sight of a white-haired Presbyterian pastor comforting Nancy Reagan as she laid her head on her husband's casket was somehow familiar (Pittsburgh Post-Gazette)
Religious freedom:
Runes and rights | Utah State Prison inmate Phillip Leishman wants his runes back. And, no matter what prison officials think of his religion, his argument should be heard (Editorial, The Salt Lake Tribune)
Agency ponders policy after blocking baptism | Park authority accused of discrimination (The Washington Post)
Christian group sues mayor, Kelly | Group claims duo trampling 1st Amendment rights (Newsday)
Too Catholic for Munich's airwaves? | The decision to award a Catholic radio station one of Munich's coveted FM frequencies has caused outcry among critics who say the programming is too fundamentalist (Deutche Welle, Germany)
Ala. School chief qualifications—Conservative Christian:
Next schools chief: conservative | Alabama's next state superintendent of public schools should be a conservative and a Christian, according to the state Board of Education's list of qualifications for the job. But board members say that's a mistake (The Birmingham News, Ala.)
Board members don't have "conservative Christian" rule for search | A recommendation that the candidate be "conservative and Christian" came up in 1995 on a laundry list of proposed qualifications and has reappeared in the current search, but board members said that's a mistake (Times Daily, Gadsden, Ala.)
Cross controversies:
Protesters rally for county seal cross | More than 700 people packed the Los Angeles County Board of Supervisors meeting Tuesday to chastise lawmakers for voting to erase a small cross from the county's official seal (Los Angeles Times)
Cross in Mojave desert preserve barred | 9th Circuit agrees 'war memorial' violates separation of church and state (The Washington Post)
War & terrorism:
For God and country | The military chaplain corps suffers its first casualty (Editorial, The Wall Street Journal)
American prayers, on D-Day and today | While the graphic images from Iraq's Abu Ghraib prison have fixated so many, I continue to be drawn to a different picture from our current war. It is a photograph of several U.S. soldiers in Fallujah kneeling in a huddle to pray for a fallen fellow soldier (James P. Moore Jr., The Washington Post)
Vatican to release WWII POW information | The Vatican is releasing more than 2 million files on prisoners of war and other missing persons from its secret archives, part of efforts to emphasize the humanitarian aspects of the World War II papacy of Pope Pius XII, officials announced Tuesday (Associated Press)
Spirituality:
Coming of age, and back to her faith | At 30, Dara Kessler decided to have her bat mitzvah, the feminine coming-of-age ritual that she had missed the first time around (The New York Times)
Mourning rooms | When Juilliard students gathered to grieve for Sarah Fox, they met not in a chapel but in a classroom. It is not the only unlikely place of solace in the city (The New York Times)
Faith, divined | What do believers have in common? 16 reasons, finds a study on religion (The Washington Post)
What's a creed good for? | Why, aside from The Da Vinci Code's hyperactive plotting, has his story of creed-as-Catholic-conspiracy appealed to millions of Christians, and churchgoing Roman Catholics no less than others? Surely the culture's anticreedal atmosphere is a major part of the answer (Peter Steinfels, The New York Times)
Television:
Buffy is here to stay | What Whedon wrought (Jonah Goldberg, National Review Online)
'Buffy' book shines a light on the TV drama's spirituality | 'What Would Buffy Do?' joins the trend of exploring religion through pop culture. It's become a hit among the show's devotees (Los Angeles Times)
Godsend | For network television, "Joan of Arcadia" is almost shockingly intelligent (Lee Siegel, The New Republic)
Books:
Christians preach Bible-inspired diets | A batch of Bible-based eating plansare flooding bookstores and health food stores (Associated Press)
Russian evolution: Religious icons after the 'golden age' | "Tradition in Transition: Russian Icons in the Age of the Romanovs" argues that the art form didn't die in 1700, as scholars often maintain — it evolved (The Washington Post)
Mary, quite contrary | Jeremy Lott reviews Lesley Hazleton's Mary: A Flesh-and-Blood Biography of the Virgin Mother (The Washington Post)
ABC doctor chronicles his faith journey | Timothy Johnson began reflecting on his faith as he approached his 65th birthday a few years ago. He thought back to his years in the seminary and what he has learned in the four decades since. The result is written in Johnson's new book, "Finding God in the Questions" (The Sacramento Bee, Ca.)
Orthodox leader in court:
Church feud staggers on to a conclusion | In surprise, patriarch seeks 'forgiveness' (Kathimerini, Athens)
Ecumenical Patriarch defends himself | The spiritual leader of the world's Orthodox Christians appeared before a criminal court Monday, defending himself against charges he broke the law by dismissing a Bulgarian priest (Associated Press)
Prince Charles & marriage:
Britons divided over Charles' marriage | Marriage is a sensitive issue because Parker Bowles is divorced and her former husband is still alive. Charles, who divorced Princess Diana before her death in 1997, would be the supreme governor of the Church of England if he took the throne, and some Anglicans remain opposed to remarriage of divorcees (Associated Press)
The folly of this three-in-a-bed relationship | Effecting a divorce between church, monarchy and state is of more importance than whether Prince Charles should remarry (Mary Riddell, The Observer, London)
People:
Evangelist plays uniter role | K.A. Paul, the Christian evangelist who serves as crisis counselor to some of the world's most infamous dictators and shepherd for millions of followers worldwide, was taking me on a tour of his office in Huffman, a mostly white working-class neighborhood just east of Lake Houston (Houston Chronicle)
Brain swelling killed Grand Rapids bishop, ME says | An autopsy has found that Roman Catholic Bishop Kevin Britt died of a rare disorder in which the brain swells in response to an infection (Associated Press)
Church life:
O.C.'s 1st black church is still reaching out | House of worship takes pride in its historical role as a spiritual resource (Los Angeles Times)
'Loving thy neighbor'-hood | How should church leaders reconcile the tension between church facility growth in their neighborhood and the neighbors' concerns about that growth? Religious leaders respond (Daily Pilot, Newport Beach, Ca.)
Protest as moderator installed | Free Presbyterians staged a protest ahead of a ceremony to install the new Presbyterian moderator in Northern Ireland (BBC)
Methodist merger makes room for growing Korean congregation | Two small, aging congregations near Irondale, Grace United Methodist Church and Overton Road United Methodist Church, will each close this month and work together to launch a new church in the same area (The Birmingham News, Ala.)
Making new history at Trinity Church | Next month, serious scaffolding goes up inside the church (The Boston Globe)
Priest won't be assigned to parishes | Archbishop is lauded for seeking views of parishioners (The Indianapolis Star)
Sexual ethics:
BT puts block on child porn sites | The decision by Britain's largest high-speed internet provider will lead to the first mass censorship of the web attempted in a Western democracy (The Observer, London)
Spreading the Pope's message of sexuality and a willing spirit | A rising number of "theology of the body" events indicate a growing interest in trying to reconcile sexual practices with Catholicism (The New York Times)
Priest in kid porn inquiry | A priest has been quizzed by detectives investigating a child porn ring (Daily Record, Scotland)
More articles:
"Is Bush the Anti-Christ?" sign goes missing from building | "If I can't find that sign, I'm going to paint it up there,'' says Joe Redner (Tampa Tribune, Fla.)
African churches hold summit on AIDS | Protestant church leaders from across Africa are holding a four-day summit in Kenya on how they can help fight the HIV/AIDS pandemic (Voice of America)
Victims of riots: Their pains, woes and regrets | Since 1953 when the first religious riot rocked Kano, northern cities and Nigeria as a whole have not been the same again. These crises have also produced a numerous ophans and voiceless children who have become forgotten victims of social dislocation (Andrew Ahiante, This Day, Nigeria)
Yes, minister | Alanis Morissette can officiate at a friend's wedding. So can I. (Mark Oppenheimer, The Wall Street Journal)
Charities look to benefit from a new twist on life insurance | Elderly, wealthy donors have allowed insurance companies, hedge funds and other investors to insure their lives in exchange for a promise that part the death benefits will flow to the donors' favorite charities (The New York Times)
Religion in brief | Lutheran Church-Missouri Synod issues guidelines for its pastors' participation in civic events, archaeologists search for Polish Torah, Pope stymied in Ukraine (The Washington Post)
New special permit law approved | The finance department will now process the application for a special event permit (Daily Pilot, Newport Beach, Ca.)
Related Elsewhere:
Suggest links and stories by sending e-mail to weblog@christianitytoday.com
Check out Books & Culture's weekly weblog, Content & Context.
See our past Weblog updates:
June 8 | 7
June 4 | 3 | 2 | 1
May 28 | 26 | 25 | 24
May 21 | 20 | 19 | 18 | 17
May 14b | 14a | 13 | 12 | 11 | 10
May 7 | 6 | 5 | 4 | 3
and more, back to November 1999
Weblog
Launched in 1999, Christianity Today's Weblog was not just one of the first religion-oriented weblogs, but one of the first published by a media organization. (Hence its rather bland title.) Mostly compiled by then-online editor Ted Olsen, Weblog rounded up religion news and opinion pieces from publications around the world. As Christianity Today's website grew, it launched other blogs. Olsen took on management responsibilities, and the Weblog feature as such was mothballed. But CT's efforts to round up important news and opinion from around the web continues, especially on our Gleanings feature.
Ted Olsen is Christianity Today's executive editor. He wrote the magazine's Weblog—a collection of news and opinion articles from mainstream news sources around the world—from 1999 to 2006. In 2004, the magazine launched Weblog in Print, which looks for unexpected connections and trends in articles appearing in the mainstream press. The column was later renamed "Tidings" and ran until 2007.
Previous Weblog Columns: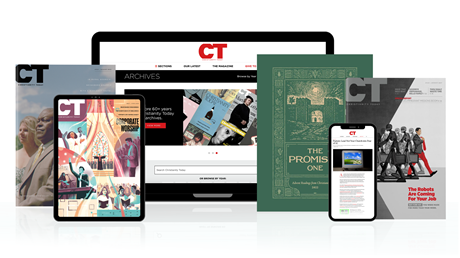 Annual & Monthly subscriptions available.
Print & Digital Issues of CT magazine
Complete access to every article on ChristianityToday.com
Unlimited access to 65+ years of CT's online archives
Member-only special issues
Subscribe
Roy Moore Makes His Case to the U.S. Senate
Roy Moore Makes His Case to the U.S. Senate