Everybody was talking about Tehelka. The weekly newspaper launched its first issue while I was in India, and thereafter I rarely started an interview without being asked whether I had seen it. The reason? The cover story was an 11-page muckrake titled "George Bush Has a Big Conversion Agenda for India."
The "exclusive and exhaustive Tehelka investigation into a disturbing phenomenon" focuses on plans for Christian evangelism, especially the AD2000 attempt to target unreached people groups. It hardly took exhaustive investigation to learn that Christians around the world are concerned about evangelizing India. What was novel in Tehelka's findings was its belief that this was part of George Bush's plan to impose an American world order. "Conversions in India, as they are happening today, are … about a sinister and subversive strategy, hatched in the U.S., backed by the Bush administration over the years."
In India, such tales gain traction for good reason. "The Hindu propaganda that the Indian church is American-funded is true," says an Indian social scientist. An evangelist, Lalchuangliana, told me, "Our help comes not from the Lord, but from Colorado Springs." The Indian church is small and poor, American Christians have money, and some Indian Christians have become expert at bringing the two together. There is nothing inherently wrong with this: needs are great. Problems, however, do arise. Here are some ways for American Christians to help:
Watch those websites.
Information posted on American websites gets read in India, often without any sense of context. Inflated claims about evangelistic success arouse fear and astonishment in India. (Several Indian leaders told me that if all the claims about evangelism over the years had been true, India would have been won for Christ two or three times already.) "Don't publish glorious statistics," says Sajan George, of the Global Council for Indian Christians. "They only hurt you and us. Who really knows how many have come to the Lord?"
Comments about India and its faiths can be read as insulting and inflammatory. For example, the website of the U.S. Center for World Mission quoted missiologist Ralph Winter to the effect that the Hindu world was "the most perverted, most monstrous, most implacable, demonic-invaded part of this planet." Responding to an Indian outcry, the center pulled the offending article from its website.
Joseph D'Souza, chairman of the All India Christian Council, wrote in a letter directed at AD2000 director Luis Bush that "we will not use language behind the back of a non-Christian about him and his culture and his location that we will not use face to face when we are witnessing to him and sharing the message and love of Christ."
Know what you're supporting.
"There are definitely a lot of needs in India," says Charles Prabhakar, an accountant who handles audits for hundreds of Christian organizations. "But certain leaders are exploiting donors. Sometimes poor Americans are giving to rich Indians." He suggests both financial audits and activity audits.
Some leaders live a lavish lifestyle, he says, far above their peers. Others project an impressive image in the U.S. or Europe but actually have very little ministry activity in India.
Indian leaders told me that Americans are naïve in believing reports of large-scale successes or, on the other hand, persecution. "Don't just give because of sensational news," IMA general secretary K. Rajendran says.
Insist on Christian solidarity.
The Indian church is highly fragmented. Trust is low, and many ministries operate as independent family dynasties. One senior Indian leader urges American donors to insist on Christian solidarity. "I wish it were a condition of support that they belong to some group—EFI, IMA, AICC—to which they are accountable. Being part of the larger community is biblical. If they object, giving reasons for why they can't belong to any of those groups, ask them if they can form a community that does fit their ethos. If they can't, that is something to know about."
He suggests the same approach regarding ministry reports sent from India. "Can they get the reports countersigned by some leader in their district? That would make them accountable to someone for what they say."
Related Elsewhere:
This sidebar article is accompanied by another sidebar and a main article:
India Undaunted | Escalating repression can't seem to dampen the church's growth.
The Immense Commission | Most postal areas still don't have any Christian workers living in them.
Other articles on India include:
Blockbuster Evangelism | Millions have been converted after seeing films about Jesus, and Hindu radicals are responding with violence. (Nov. 26, 2003)
Hindu Leaders Crack Down on Conversions | Potential converts must ask permission (Oct. 13, 2003)
Weblog: Bogus Claims of Abuse Leveled Against Martyred Missionary (June 13, 2003)
Power in Punjab | Christians see churches—and opposition—grow among Sikhs. (June 18, 2003)
Article continues below
Fending off Hindutva | Indian Christians blast Nazi-like survey, "draconian" conversion law. (May 16, 2003)
Gujarat Religious Survey Troubles Indian Christians | Government of Indian state says it has been gathering statistics on the minority at the behest of federal officials. (March 14, 2003)
Machete Attack on American Alarms Local Christians | Hindu militants threaten to expel evangelists, stop conversions. (Feb. 18, 2003)
Indian Christians 'Living in Terror,' Rights Groups Report | Accusations against priest lead to intense conversion pressure in Rajasthan. (Nov. 6, 2002)
Indian State Bans Conversion | Christians say Tamil Nadu ordinance threatens relief work. (October 11, 2002)
Hounded, Beaten, Shot | What you can do to help persecuted Christians in India. (June 11, 2002)
Critics Assail Dialogue with Hindu Radicals | But some Christians see talks as an opportunity to build bridges in times of persecution. Critics Assail Dialogue with Hindu Radicals. (May 14, 2002)
New Curriculum 'Tampering' with History, Indian Churches Protest | Christian leaders allege that a current education proposal promotes Hindu nationalism. (Dec. 12, 2001)
Law Could Curb Foreign Donations To Churches, Indian Christians | Worry Stringent legislation is aimed at cutting off terrorist funding, but could hurt non-government organizations. (Nov. 9, 2001)
Christians Encouraged as 50,000 Dalits Leave Hinduism | Low-caste Hindus see conversion as their only escape from oppression. (October 11, 2001)
India's First Dalit Archbishop Holds 'No Grudge' Over Predecessor's Attack | Once "untouchable" Dalits make up bulk of country's Christians. (May, 11, 2001)
Plans to Resolve India's Interfaith Tensions Face Delays and Accusations | Did India's National Commission for Minorities plan a meeting to discredit Christians? (July 20, 2000)
Foes Claim BJP is Using Arms Training to Win Crucial Election in India | Fears mount that reason for camps is to galvanize support for temple construction. (June 29, 2001)
Bomb Explosion During Mass Stirs Fear, Public Outcry in Bangladesh | Suspects linked to rash of attacks. (June 25, 2001)
Christians Say Sikh Book Threatens Centuries of Harmony Between Faiths | Author arrested on three counts, including "derogatory language." (June 11, 2001)
India Election Results Rattle Ruling Nationalists | Hindu BJP "getting irrelevant day by day" say rivals. (June 13, 2001)
Militants Blamed for Death of Three Missionaries in India | 5,000 attend funeral, Catholic schools close in mourning. (June 7, 2001)
Article continues below
Churches Adopt Entire Villages in Devastated Gujarat to Help the Homeless | Charities aim to meet basic needs after January's western India earthquake (June 7, 2001)
Communist-Backed Orthodox Priest Loses Election for Kerala Assembly | Nooranal's electoral campaign annoyed some Christians with support of Communists (June 7, 2001)
Despite Tensions, Indian Churches Agree to Talks With Hindu Groups | Mainline churches will join talks, but other Christians say "partisan" meeting is dangerous. (Apr. 11, 2001)
India Relief Abuses Rampant | Radical Hindus hijack supplies in quake intervention. (Mar. 20, 2001)
In Orissa, You Must Ask the Government If You Want to Change Religion | Christian church leaders say they're trying to ignore the controversial law, but police aren't doing the same. (Mar. 12, 2001)
Churches Angry that Indian Census Ignores 14 Million Christian Dalits | Only Hindu, Sikh, and Buddhist members of "untouchable" caste being counted. (Mar. 2, 2001)
India's Christians Face Continued Threats | We must preach what we believe in spite of Hindu pressure, says Operation Mobilization India leader. (Feb. 15, 2001)
Have something to add about this? See something we missed? Share your feedback here.
Our digital archives are a work in progress. Let us know if corrections need to be made.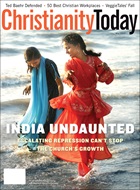 This article is from the May 2004 issue.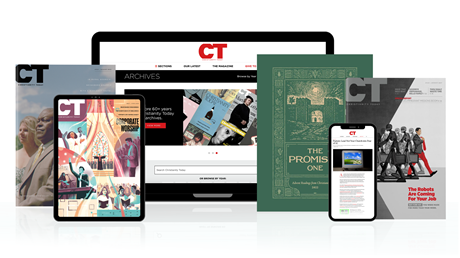 Annual & Monthly subscriptions available.
Print & Digital Issues of CT magazine
Complete access to every article on ChristianityToday.com
Unlimited access to 65+ years of CT's online archives
Member-only special issues
Subscribe
Watch Those Web Postings
Watch Those Web Postings