Recently my son's teacher said something that shook me to the core of my being. Michael is 10 years old and has a rare genetic chromosomal disorder called 18Q-minus.
After my husband and I moved to France three years ago with our four children to work in missions, we were surprised to find that France does not have many schools for disabled children. The society in general isn't friendly to the disabled. In our area of Paris alone, there are 300 special-needs children on a waiting list for a place in a school. For three years, we have searched for a school for Michael, but to no avail. Fortunately, we have a teacher who comes to the house twice a week to work with him.
As she was leaving our house after a therapy session, she advised us to apply to a couple of schools that are specifically for children with Down syndrome, even though Michael does not have Down. Then she made the shocking statement. "Schools for Down children are starting to take children with other syndromes since Down is becoming so rare," she said. "Now that tests can tell so early in pregnancy that a baby has Down, fewer people are choosing to have them."
Michael has benefited greatly from incredible advances in medical technology. He was born with a cleft lip and palate, and feet that required extensive surgery. I am grateful for the doctors and technologies that have met his needs. But as disabled children are becoming more rare, I wonder if medical technologies are robbing affluent societies of an underappreciated wealth.
In the days following this teacher's remark, I tried to imagine a society devoid of people with disabilities. What if any and all babies with special needs were to be eliminated? What would a society look like if everyone were "normal," if we never had to make provisions and exceptions for people who are deaf, blind, mute, or lame?
I didn't have to look any farther than my own family to start finding answers. My children are among the most unselfish people I have ever known. Brian, 19, Melissa, 17, and Rachel, 13, have made sacrifices, too many and too big to count, for their disabled sibling. One would think that this would have made them bitter and discontented. Amazingly, it has done exactly the opposite. They are thankful, giving, and tolerant to difficult and unlovely people.
Could it be that the special-needs, "imperfect" people have that balancing effect on society as a whole? How would love and compassion develop among people who were only surrounded by the lovely and intelligent? My children treasure nothing more than a smile or kiss, sometimes just eye contact, from their little brother. My nephew, who is a year younger than Michael, loves to help at his school with the class of students with special needs—or as he puts it, "the class like Michael." I see my husband kiss our son's often expressionless, crooked little face, and my heart nearly bursts with a love and joy that I can hardly contain.
As I pondered this potential "perfect" society, one verse from the Bible kept coming to my mind: "Do nothing out of selfish ambition or vain conceit" (Phil. 2:3). Parenting a child with special needs makes living out this verse a little easier.
This child becomes the focus of most of his parents' time and energy. An enormous amount of money may have to be spent on therapists, doctors, hospitals, and equipment. He limits what dreams his parents can pursue. They grieve throughout his lifetime. They not only grieve the child they "lost" at his birth, but grieve as they see him struggle with tasks that normally come easy, grieve when he realizes that he is not like other children, and often when he is in physical or emotional pain. They have little room left for selfish ambition.
What about vain conceit? That is likely to die, too. It's often embarrassing to have a child who cries out in public for no reason, looks different, and acts different. He won't be at the top of his class, won't be the best athlete, and will probably never be voted Most Beautiful or Most Likely to Succeed.
I wonder, if our advanced technologies successfully eliminate the weak and needy, will future scholars, theologians, politicians, and poets ponder: "Why has our society become less loving, so selfish, so intolerant, so uncommitted to anything outside of individual gain? Why are we so full of selfish ambition and vain conceit?" Is this "perfect" society a place where any of us would want to live?
Angela Beise parents her four children with her husband, Jim, in Paris, where they serve as missionaries with the Mission Society.
Related Elsewhere:
A ready-to-download Bible Study on this article is available at ChristianBibleStudies.com. These unique Bible studies use articles from current issues of Christianity Today and other magazines to prompt thought-provoking discussions in adult Sunday school classes or small groups.
Aborting the Disabled discusses the trend in aborting children prenatally diagnosed with Down syndrome and other genetic abnormalities, along with efforts to fight it.
More articles about euthanasia, bioethics, stem cells, abortion, and other issues is available on our Life Ethics page.
Have something to add about this? See something we missed? Share your feedback here.
Our digital archives are a work in progress. Let us know if corrections need to be made.
This article is from the July 2005 issue.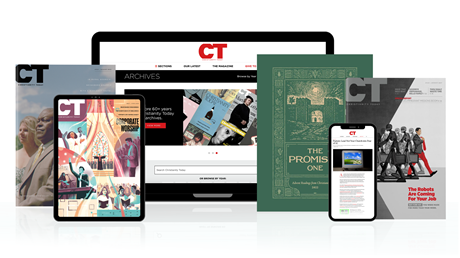 Annual & Monthly subscriptions available.
Print & Digital Issues of CT magazine
Complete access to every article on ChristianityToday.com
Unlimited access to 65+ years of CT's online archives
Member-only special issues
Subscribe
A More Perfect Society
A More Perfect Society