Can I forgive those who have betrayed me if they are not repentant?
—Debbie Robinson, Washington, D.C.
If we wait for those who have hurt us to repent first, we will almost certainly wait for a long, long time. We also give ourselves a justification to stay bitter the rest of our lives.
This cannot be right. Even non-Christian organizations are emerging to show the value of forgiveness; their premise is that the greatest benefit of forgiveness accrues not to the one who is forgiven, but to the one who forgives.
One of Jesus' main teachings was that we love our enemies, pray for them, and do good to those who have hurt us. It is curious how some of us read the Gospels over and again and miss this. We may get the theology, but not the graciousness that Jesus taught and exemplified.
How much repentance do you suppose there was at the Cross while Jesus hung there? There was not only an utter absence of repentance, but also total contempt. Jesus' reply: "Father, forgive them, because they do not know what they are doing" (Luke 23:34).
Had Jesus adopted the position that he should wait until they repent, he would have shown himself to be as lost as those for whom he was dying. Furthermore, he did not shout at them, "I forgive you." He prayed, Father you forgive them.
Chances are high that those who hurt us don't even think they have done anything wrong. Nine out of ten people I have to forgive don't think they have done anything wrong to me (which suggests that I, too, have probably hurt people without knowing).
When I was minister of Westminster Chapel in London, the people who had betrayed me didn't think they had done one thing wrong. You could have hooked them up to a lie detector, and they would have passed with flying colors. My old friend, Josif Tson, whom the Communist government of Romania imprisoned and beat for his faith, came to me with the sobering words: "R.T., you must totally forgive them; unless you totally forgive them, you will be in chains."
I never went to them and told them I forgave them (this would have insulted them). It happened in my heart. Once you forgive in your heart, it ceases to be an issue whether they repent or not. The blessing I got personally from this has been incalculable.
When Jesus asked his disciples to love each other as he loved them (John 13:34), he knew Peter would deny him, then added to all of them: "Do not let your hearts be troubled. Trust in God; trust also in me" (John 14:1). Many of us forget that he was still talking to the ones he knew would desert him in a few hours.
When he showed up after his resurrection behind their closed doors, he did not say to them, "How could you do this to me?" He merely said, "Peace be with you! As the Father has sent me, I am sending you" (John 20:21). He affirmed them as if nothing had happened; he let them save face.
I have answered the question "Must I forgive them?" Let me now answer the question "How am I able to forgive them?" The answer: because God has forgiven you. Are you perfect? If you say, "I haven't done what they did," I answer yes, I believe you, but you have done other things that in God's sight are likely to be just as grievous.
Not only that; you have the Holy Spirit. The fruit of the Spirit is love (Gal. 5:22). You therefore can do it. In my case, I thought I couldn't. But I did. And it was the best thing I ever did. But it wasn't easy.
The signs to know you have totally forgiven can be summarized this way: (1) You do not tell anybody what they did to you (this would be trying to punish the one who hurt you); (2) you do not try to intimidate them; (3) you do not let them feel guilty; (4) you let them save face; (5) you accept the matter of total forgiveness as a "life sentence"—you have to keep doing it, indefinitely; (6) you pray that they will be blessed and let off the hook.
When you do these things, you have fulfilled what Jesus had in mind for you. You will never be sorry. The blessing of the Holy Spirit on you will compound and multiply to exceed your greatest expectation. Finally, the greater (or deeper) the hurt, the greater the blessing that will be yours.
R.T. Kendall, formerly minister of Westminster Chapel, London, now retired, is author of Total Forgiveness (Charisma House, 2002).
Related Elsewhere:
Verses referenced in this column are available on this BibleGateway page.
R.T. Kendall's book, Total Forgiveness, is available from Christianbook.com and other book retailers.
Other CT articles on forgiveness include:
CT Classic: Forgiveness—The Power to Change the Past | To forgive is to set a prisoner free and discover that the prisoner was you. (Dec. 20, 2002)
Keys to Forgiving | How do you know that you have truly forgiven someone? (Dec. 3, 2001)
The Forgiveness Factor | Social scientists like Robert Enright are discovering the healing power of a Christian virtue. (Jan. 10, 2000)
Article continues below
Earlier Good Question columns include:
Are all sins weighed equally, or is one more important than another?
Why is the church against euthanasia in instances where people are in terrible pain?
What harm is there in achieving a higher state of consciousness through meditation?
Will we be vegetarians in the new heaven and earth as Adam and Eve were before the Fall?
Why doesn't God cure everyone who prays fervently for healing?
Does God need our help, love, and praise?
Are some people lost "just a little bit" in the same way that others are saved "only as through fire"?
Is Jesus Incarnate Forever?
What does Genesis mean by man being made in the image of God?
What's the difference between Christ's kingdom and paradise?
Is every believer guaranteed at least one spiritual gift?
What role does baptism play in faith and salvation?
How is it that not all prayers for the salvation of others are answered?
If God is in us, shouldn't it be easier to love one another?
What do we gain from a bodily resurrection?
What is the difference between the brain and the soul?
How can I reconcile my belief in the inerrancy of Scripture with comments in Bible translations that state that a particular verse is not 'in better manuscripts'?
Is there a biblical principle behind the punishment of those who break the law?
Is it unscriptural for a Christian to be cremated?
Won't heaven's joy be spoiled by our awareness of unsaved loved ones in hell?
Where exactly do "Oneness" Pentecostals stand in relation to orthodoxy?
Do a man and a woman become married after having sex or after exchanging vows?
How Do You Know That You Have Truly Forgiven Someone?
Who Are We to Judge?
Should We File Lawsuits?
Can We Expect God to Forgive Unbelievers Who 'Don't Know What They're Doing'?
Is the Stock Market Good Stewardship?
Is Satan Omnipresent?
Is Suicide Unforgivable?
Was Slavery God's Will?
A Little Wine for the Soul?
Should We All Speak in Tongues?
Did Jesus Really Descend to Hell?
Take, Eat—But How Often?
Is Christmas Pagan?
Are Christians Required to Tithe?
Is Revelation Prophecy or History?
You're Divorced—Can You Remarry?
If Grace Is Irresistible, Why Evangelize?
Have something to add about this? See something we missed? Share your feedback here.
Our digital archives are a work in progress. Let us know if corrections need to be made.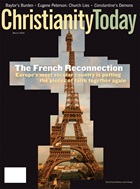 This article is from the March 2005 issue.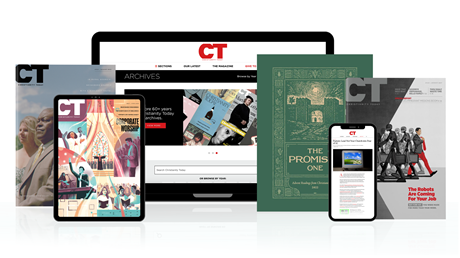 Subscribe to Christianity Today and get access to this article plus 65+ years of archives.
Home delivery of CT magazine
Complete access to articles on ChristianityToday.com
Over 120 years of magazine archives plus full access to all of CT's online archives
Subscribe Now
Forgiving the Unrepentant
Forgiving the Unrepentant