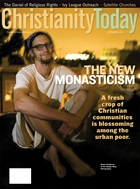 This article is from the September 2005 issue. Subscribers can read all of CT's digital archives.
Compared with the immaculately preserved buildings to its south and the enormous library to its northwest, Dartmouth's Rollins Chapel has fallen on hard times over the last 50 years. The chapel's gloomy interior hosts few events, mostly chamber music performances, Jewish holiday observances, and graduation baccalaureate. About 40 years ago, the chapel's stained-glass windows—suspected to depict Christian scenes—were boarded up, and haven't been seen since.
Nevertheless, the faith is alive and well—if still small—at Dartmouth. More than 100 students actively participate in the Navigators, a discipleship training ministry. One of their leaders won election as student body president in April. I spoke with many students who embraced Jesus Christ after arriving at Dartmouth. Many others told me how their faith has been strengthened by the loving community of believers there. Recent graduates have gone on to combat HIV/AIDS in the Sudan, serve orphans in Honduras, and build clinics in remote Kenyan villages.
Their stories mirror others from around the Ivy League—a conference of top American universities, comprising Brown, Columbia, Cornell, Dartmouth, Harvard, Penn, Princeton, and Yale. Despite occasional anti-Christian hostility, vibrant faith communities are growing by reaching the nation's next wave of leaders with the gospel.
Out with Faith, In with Enlightenment
The Ivy League has always attracted America's best and brightest. Three centuries ago, that meant rising generations of clergy. Harvard's Puritan founders intended "to advance learning and perpetuate it to posterity, dreading to leave an illiterate ministry to the churches." Yale was started in 1701 by Puritans who thought Harvard was going ...
1
The Holy and the Ivy