Today's Top Five
1. Deadly riots continue in Nigeria
Mobs of Christian youths, armed with clubs, machetes, and gas cans, beat several Muslims to death in the southern Nigerian city of Onitsha and set fire to two mosques. The rioting, which began yesterday and continued today, has left at least 20 people dead, Reuters reports. At least 39 people were taken to the hospital. A Red Cross official told Reuters, "Thousands of people who have been displaced from their homes are now sheltered at the police and army barracks." The violence comes as Muslim attacks, largely tied to outrage over the Muhammad caricatures, have left at least 50 people dead in Nigeria's northern cities. The attacks come a day after a dark statement from Church of Nigeria Archbishop Peter Akinola, in which he told "our Muslim brothers that they do not have the monopoly of violence in this nation" and that groups such as the Christian Association of Nigeria (which he leads) "may no longer be able to contain our restive youths should this ugly trend continue." It will be interested to see whether that message is seen as prescient or provocative, insightful or inciting.
2. Supreme Court to consider partial birth abortion ban
In 2000, the Supreme Court ruled 5-4 against Nebraska's partial-birth abortion ban. When a federal version of the ban was written in 2003, lawmakers specifically addressed the Court's concerns in that case. However, three federal appeals courts have struck down the 2003 law, saying that it does not have ample protections for the mother's health (the issue at the heart of the 2000 decision). Yesterday, the Supreme Court said it will hear the case, Gonzales v . Carhart (05-380), in its next term, which starts in October.
3. Supreme Court unanimously favors religious freedom in tea case
Gonzales v. O Centro Espirita Beneficiente Uniao Do Vegetal (04-1084) wasn't just about whether the U.S. could prohibit a Brazilian sect from using a hallucinogenic herbal tea. It was seen as a major religious liberty test case, and groups including the Christian Legal Society and the National Association of Evangelicals filed friend-of-the-court briefs on behalf of the sect and the law it invoked: The Religious Freedom Restoration Act of 2003. "The government's argument echoes the classic rejoinder of bureaucrats throughout history: If I make an exception for you, I'll have to make one for everybody, so no exceptions," Chief Justice John Roberts wrote. "But RFRA operates by mandating consideration, under the compelling interest test, of exceptions to 'rule[s] of general applicability.'" The government didn't prove its "compelling interest" in putting drug laws above religious freedom, Roberts said. Religious liberty organizations are jubilant, but the story seems to be overshadowed by the abortion news.
4. A second gay bishop for the Episcopal Church?
It's by no means certain that the new bishop for the Episcopal diocese of California will be someone who openly has sex outside of biblical marriage. But consider this: Two of the five candidates are currently in same-sex partnerships, Chicago's Bonnie Perry and Seattle's Robert Taylor. And then consider that the diocese doesn't really cover all of California: Its territory is more or less the San Francisco Bay area. And it's one of the most liberal dioceses in the Episcopal Church.
5. Private equity firm buys Thomas Nelson
Thomas Nelson, publishers of business books, political books, gardening books, humor books, and also some Christian books, was a publicly traded company. No more. A private equity firm bought it yesterday for $473 million. Every few years, it seems, there's a run on Christian publishing companies, and the season has come around again. Last week, Simon & Schuster bought Howard Publishing, and two weeks ago, Time Warner announced that it was selling Warner Faith, along with the rest of its book lines, to Lagardère, the French media-and-weapons company.
Quote of the day:
"We are seeking individuals who are converting religions—including those who are joining a religion for the first time."
—from the participation FAQ for the upcoming television show Conversion, from the producers of God or the Girl, an A&E reality series which showed candidates for Roman Catholic priesthood being tempted with love and lust. The producers, Idea Factory, insist that Conversion is "not a reality show—it is a documentary series. We will document your journey through your conversion."
More articles
Cartoon controversy | Persecution | Church and state | Tea case | Partial-birth abortion ban | Life ethics | Plan B | Sexual ethics | Politics | Global warming | Evolution | World Council of Churches meeting | Church life | Pastor admits to church shooting | Crime | RadioShack CEO | Business and money | Entertainment | History | Spirituality | Other stories of interest
Wednesday: Death toll rises in Nigerian violence | Several local newspapers reported between 30 and 35 dead in Onitsha violence (Associated Press)


Violent clashes between Egypt's Muslims and Christians leave eight injured | Violent clashes in Egypt between Muslims and Coptic Christians on Monday left eight Egyptians injured in the village of Al Ayat, south of Cairo. Egyptian security sources reported that the violence erupted over the construction of a community center by the area's Christian minority amidst Muslim claims that it would be converted into a church (Al Bawaba, Jordan)


Pak Christian singer forced to recite Kalima | Prominent Pakistani singer of Christian origin, A Nayyar was recently robbed and beaten and then forced to recite the Kalima, and if that isnt surprising enough, well, it happened very near the Punjab Chief Ministers house, if report are to go by (ANI, India)


In Vietnam, Christianity gains quietly | Roman Catholicism takes hold, especially among the young and urban. (The Christian Science Monitor)


State's prayer feud takes national stage | Bill would bar judges from having a say in how lawmakers pray (The Indianapolis Star)


School tax credit plan welcomed | Ontario Tories promise balance (The Hamilton Spectator)


Supreme Court to hear partial-birth abortion ban case:
Vote due on South Dakota Bill banning nearly all abortions | Abortion foes are hopeful that a likely court fight over the ban, if it becomes law, could lead to the overturning of Roe v. Wade (The New York Times)


Spitzer backs the 'morning after' pill law | Gubernatorial candidate supports bill allowing contraceptive to be dispensed without prescription (Associated Press)


Catholics ready to fight 'Plan B' | The General Assembly's Public Health Committee is drafting a bill that would require all Connecticut hospitals, including Roman Catholic hospitals, to provide emergency contraception to rape victims (New Haven Register, Ct.)


Also: Contraception bill draws opposition from church | Some state lawmakers are on a collision course with Connecticut Roman Catholics over the so-called "morning after pill." (Associated Press)


Marital blitz | This November, anti–gay-marriage bills will be back on ballots with a vengeance. But this time around, the gay and lesbian activist network is ready to play hardball (The American Prospect)


Bush plan suggests shift on global warming | Energy proposals advocate steps that would curb greenhouse gases (The Baltimore Sun)


Some evangelicals call for climate change action | They cite Christian duty to care for the earth (San Jose Mercury News, Ca.)


World Council of Churches meeting:
Orthodox ties to Catholics seen as vital | Growing divide with liberals may prompt Orthodox churches to consider a tactical alliance with Roman Catholicism to defend traditional Christian values, Bishop Hilarion Alfeyev said in an interview on the sidelines of the global assembly here of the mostly Protestant World Council of Churches (Reuters)


Megachurches 'shallow in theology' | So says WCC General Secretary Samuel Kobia (Herald Sun, Melbourne, Australia)


Pastor admits to church shooting:
Pastor put on leave after being implicated in church shooting | Sheriff's investigators requested that the district attorney's office charge Reynolds with filing a false police report in connection with the Jan. 19 shooting (The Lompoc Record, Ca.)


Earlier: Church pastor admits to shooting | A Lompoc church pastor loses both his paid job and his volunteer position after a shooting in January (KSBY, Ca.)


Earlier: Police Have Suspect in Church Shooting | A pastor at a local church is under investigation for a shooting that took place there. Pastor Richard Reynolds, of Saint Mary's Episcopal Church in Lompoc, is on disability leave with the L.A. diocese. It's alleged he shot his 22-calibur gun inside the church last month (KEYT, Santa Barbara, Ca., video)


RadioShack CEO quits | No. 2 exec named interim chief (Ft. Worth Star-Ledger, Tex.)


Pastor can't verify RadioShack CEO's account on diploma | The pastor who RadioShack Chief Executive Dave Edmondson said supervised him as he completed his college degree through correspondence courses said Tuesday that he does not remember Edmondson working toward his diploma (Ft. Worth Star-Ledger, Tex.)


School trains students for careers in ministry (Ft. Worth Star-Ledger, Tex.)


Thomas Nelson sold to private investors | Buyout of Nashville-based book publisher worth $473 million (The Tennessean)


Thomas Nelson to become private company | Thomas Nelson Inc., among the world's largest producers of Christian books, study guides and other materials, said Tuesday it agreed to be taken private in a $473 million buyout deal with a group of investors (Associated Press)


Also: Private equity firm buying Thomas Nelson | InterMedia Partners is led by Leo Hindery Jr., the former chairman of The YES Network, a sports TV channel that broadcasts New York Yankees and New Jersey Nets games as well as other sports in the Northeast (Nashville Business Journal)


Record crowds at DFW Christian convention | Dallas Christian Broadcasters and Ministers are front and center at the National Religious Broadcasters (NRB) Convention which ends a very successful five-day run in Grapevine this week (WFAA, Dallas)


Your beliefs and your dollar don't mix | Sure, you can invest in funds that cater to your conscience. But you won't make much money, unless you're a Muslim (Timothy Middleton, MSN Money)


Has the race to faith passed you by? | Forget speedy 'born again' lightning. There are small steps that move you toward inner peace (Chicago Tribune)


Bird flu impels Christians to turn religiously vegetarian | The bird flu scare is impelling Christians to religiously observe the 50-day Lent, a period of frugality beginning Feb 27 leading up to Easter, by becoming pure vegetarians, according to several members of the community (IANS, India)


Religious imagery more than skin-deep | Religious imagery within the tattoo world has endured through such trends as mermaids on World War II sailors and tribal designs on rock stars. And as body art continues to gain popularity, an increasing number of people are inking their bodies with such sacred images as crucifixes, angels and praying hands (The Clarion-Ledger, Jackson, Miss.)


Related Elsewhere:
Suggest links and stories by sending e-mail to weblog@christianitytoday.com
See our past Weblog updates:
February 21
February 17 | 16 | 15 | 14 | 13
February 10 | 9 | 7
February 3 | 2 | 1
January 25 | 20 | 19 | 18 | 17
January 13b | 13a | 10
January 6 | 5 | 4
December 28 | 21 | 16 | 14 | 12
Weblog
Launched in 1999, Christianity Today's Weblog was not just one of the first religion-oriented weblogs, but one of the first published by a media organization. (Hence its rather bland title.) Mostly compiled by then-online editor Ted Olsen, Weblog rounded up religion news and opinion pieces from publications around the world. As Christianity Today's website grew, it launched other blogs. Olsen took on management responsibilities, and the Weblog feature as such was mothballed. But CT's efforts to round up important news and opinion from around the web continues, especially on our Gleanings feature.
Ted Olsen is Christianity Today's executive editor. He wrote the magazine's Weblog—a collection of news and opinion articles from mainstream news sources around the world—from 1999 to 2006. In 2004, the magazine launched Weblog in Print, which looks for unexpected connections and trends in articles appearing in the mainstream press. The column was later renamed "Tidings" and ran until 2007.
Previous Weblog Columns: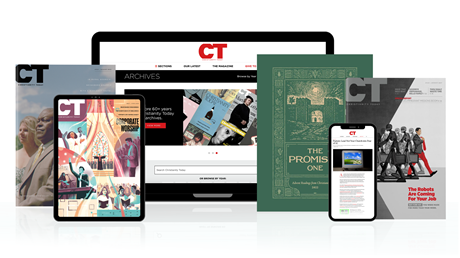 Annual & Monthly subscriptions available.
Print & Digital Issues of CT magazine
Complete access to every article on ChristianityToday.com
Unlimited access to 65+ years of CT's online archives
Member-only special issues
Subscribe
Nigeria's Christians Retaliate
Nigeria's Christians Retaliate