Whenever a priest or a deacon in the Episcopal Church is removed from ministry, the cleric's diocese sends official notification to every active bishop. In the years since the church's controversial General Convention of 2003—a convention that, among other things, consented to the ordination of a partnered gay bishop—most notices contain a disclaimer: "This action was taken for causes that do not affect moral character." This is code language. It usually means that the priest or deacon has left for reasons of conscience.
The departures are painful to me. Many of these clergy are beloved friends, not names on a form but fellow disciples, conscientious followers of Jesus. Why do I not join them?
This question is also pondered by all theologically conservative Christians who remain in liberal denominations. I know I'm not alone, though I ask the question from a unique situation.
I am a bishop of the Episcopal Church, ordained to the priesthood in 1971 and to the episcopate in 2000. On the theological spectrum of the church, I fall clearly on the conservative side—with a catholic love for historic faith and order, an evangelical zeal for the gospel, and a commitment to the authority of Scripture.
The Episcopal Church, my spiritual home since Christian conversion as a college sophomore, has (I believe) seriously erred. We have rejected clear biblical teaching, refused to listen to the pleas of Anglicans around the world, and shattered dialogue with many of our ecumenical partners.
A recent Christianity Today editorial—"Intelligent Church Redesign"—argues that it is "a sad but necessary reality that some denominational splits are justified," and uses the Episcopal Church's crisis as the chief cautionary tale.
Yet I stay, not simply by default, nor as a matter of blind institutional loyalty. I have decided to stay and to throw my lot in with people with whom I am often in profound disagreement.
Broken And Divided Church
The editorial dismisses John 17 as a basis for such a decision and says, in effect, that it does not pertain to our present situation. But Jesus' prayer at the Last Supper does not simply provide a rationale for unity: It also includes an implied warning. Jesus prays "that they may all be one … that the world may believe that thou hast sent me" (v. 21; KJV). In other words, Jesus invites the world outside the Christian community to make a decision about him on the basis of our unity. The world is watching us, Jesus says. How we deal with one another in the midst of crisis has eternal implications—not simply for ourselves, but also for those who do not yet know him.
Nor are our divisions as clear-cut as they may seem. It is not the case, in the Episcopal Church or in any other, that you've got believers on one side and heretics (or apostates) on the other. I know many in my church who love Jesus, confess him as Lord and Savior, believe the articles of the Christian faith as summarized in the Apostles' and Nicene Creeds, and seek to follow Jesus in costly ways—and who affirm the decisions of the 2003 General Convention. As a matter of principle, when people claim to be disciples of Jesus, I will treat them as brothers and sisters in Christ, Bishop Gene Robinson among them. He is not only a colleague; I count him as a friend and fellow pilgrim. I will commit myself to him and to them, even when I am convinced that they are wrong. I will seek to manifest a godly forbearance and ask that they do the same toward me.
I am not naïve. The divisions in the Episcopal Church are deep, and the issues do not lend themselves to compromise. Either same-sex relationships can be hallowed by God, or they can't. At the present moment, to put it in political terms, I am on the "losing" side. The ecclesiastical machinery of the Episcopal Church is firmly in the hands of those who affirm the 2003 convention's actions. Indeed, I do not expect to live long enough to see the church change direction. In this, I take comfort from the example of Athanasius, bishop of Alexandria during the contentious fourth century.
The divisions in his day were as profound as those in ours. As a young deacon, Athanasius had attended the Council in Nicaea in a.d. 325, and he affirmed its decisions regarding the person and work of Jesus Christ. In the decades that followed, however, the church moved from the Orthodox to the Arian position. (The Arians rejected the divinity of Jesus and placed him in a kind of "semidivine" status.) It seemed at times that Athanasius stood alone: Athanasius contra mundum. When he died, he was still on the losing side. Yet it was his faithfulness that, after his death, turned the tide, and in 381 the Council of Constantinople reaffirmed the decisions of Nicaea. While I do not compare myself to Athanasius, nor our crisis to that of the fourth century, I do cling to his witness and pray that I can serve a divided church with the same faithfulness.
My friend Jeffrey Steenson, bishop of the Rio Grande (New Mexico and a slice of west Texas), notes in his recent diocesan convention address that Augustine of Hippo, responding to the Donatist schism, articulated three important principles:
1. The true identity of the church as Christ's body is in no way diminished by the imperfections of its human members.
2. As long as we live in this present age, we must accept that it is God's will that saints and sinners are mixed together in the church.
3. Breaking communion and separating ourselves from the church is ultimately more damaging than the heretical ideas and practices that may have occasioned these actions.
Bishop Steenson then points out that Augustine cited two parables of Jesus—the wheat and the tares (Matt. 13:24-30) and the net (Matt. 13:47-50)—as a reminder that it is not our vocation to stand in the Lord's place as the sifter at the harvest or the sorter at the close of the age. "Let the separation be waited for until the end of time, faithfully, patiently, bravely," said Augustine.
Why do I not join those who have left or are leaving? Why do I stay? Serving a broken and divided church is a hard calling, and I do not minimize the difficulty of the task or the inevitable disappointments that I will encounter on the journey. But the Lord, for his good purpose, has (I humbly believe) thrown into one church Christians of radically different and sometimes theologically incompatible perspectives. Is it possible that in the midst of this painful discontinuity, he may do a work that none of us can foresee? It is in that hope and in remembering that he is Lord of the church and in charge of the big picture that I follow Jesus in the Episcopal Church.
The Rt. Rev. Edward S. Little II is bishop of Northern Indiana and author of Ears to Hear: Recognizing and Responding to God's Call (Morehouse Publishing, 2003).
Related Elsewhere:
Christianity Today's full coverage of the turmoil in the Anglican Communion is available online.
A recent Christianity Today editorial suggested sometimes church splits are necessary.
Intelligent Church Redesign | It's a sad but necessary reality that some denominational splits are justified. (Dec. 7 2005)
An earlier CT editorial made a similar point.
No-Fault Division? | It may be time for mainline churches to consider an amicable divorce. (July 1, 2004)
CT has also reported extensively on similar issues in the American Baptist Church, the UCC, the United Methodist Church, the Evangelical Lutheran Church in America, and the Presbyterian Church (USA).
CT Executive Editor Timothy George recently discussed evangelical ecumenism in Is Christ Divided?
For more articles on related denominational disputes, see Christianity Today's Church Life, and Sexuality and Gender archives.
Have something to add about this? See something we missed? Share your feedback here.
Our digital archives are a work in progress. Let us know if corrections need to be made.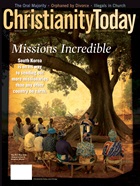 This article is from the March 2006 issue.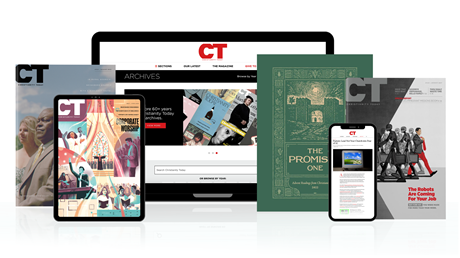 Annual & Monthly subscriptions available.
Print & Digital Issues of CT magazine
Complete access to every article on ChristianityToday.com
Unlimited access to 65+ years of CT's online archives
Member-only special issues
Subscribe
Living with Tares
Living with Tares