1. Were Baptist church attacks really "just a joke"?
You've probably already heard that police arrested three college students for the arsons of nine Baptist churches in Alabama. And you've probably heard that they did it just "as a joke" without any religious or racial motives. You may have heard Alabama Gov. Bob Riley say, "We don't think there is any kind of organized conspiracy against religion or against the Baptists. … The faith-based community can rest a little easier."
That's very good news. But is it really true? Details in some Birmingham News reports raise some questions:
Friends said [suspects Russell DeBusk] and Ben Moseley were Satanists, which DeBusk told friends was "not about worshipping the devil, but about the pursuit of knowledge," according to [DeBusk's college roommate, Jeremy] Burgess. …
Burgess said he and DeBusk discussed religion loosely, debating whether pets go to heaven and what heaven looks like. "He told me I was one of the more intelligent Christians he's talked to," Burgess said. "Coming from a Satanist, I didn't know quite how to interpret that."
Ian Cunningham, a sophomore who lived in the same dorm as DeBusk, recalled returning from the campus chapel recently to snide remarks about being saved from DeBusk and Moseley. "He would constantly mock me," Cunningham said of DeBusk.
Another News article looks at suspect Matthew Cloyd:
After he got a speeding ticket—85 mph in a 70 zone—his Web site musings grew cryptically violent. In a posting to Moseley last summer as the two planned a road trip, he wrote, "Let us defy the very morals of society instilled upon us by our parents, our relatives and of course Jesus."
The only other paper, it seems, to have picked up on this theme is USA Today:
Burgess said DeBusk told him last summer that he had found a new religious interest.
"He wasn't raised as a Christian, and he had never found any kind of religion to settle down with," Burgess said. "He thought he'd found something that worked for him. It's not worshipping the devil. It's nothing ritualistic. It's about the pursuit of knowledge. He explained to me that there can be Satanic Christians. It gave him the peacefulness and serenity of Buddhism. It was a real peaceful thing."
Burgess said DeBusk invited him on a "demon-hunting" trip last summer.
"Nothing happened," Burgess said. "Some friends of ours and the two of us were in the middle of the woods, playing guitar. They had some beer. There were no rituals, no weird séance.
"There was nothing that would lead me to believe he would burn down a church," Burgess said. "Russ was always very respectful of my religion. We discussed it openly, the way many people discuss politics."
There is no smoking match here to indicate that religion was the motive behind the arsons, but it's pretty surprising how accepting almost all media outlets seem to be about the claim that religion wasn't the motive. Some paranoid activists will certainly try to use this as evidence of a "War on Christians." The story doesn't yet warrant anything like that. But Weblog wonders: What if these had been students at a Baptist college who had targeted theaters? Might religion be a bigger part of media coverage then? Or what if abortion clinics had been burned while other medical facilities had been untouched? Might reporters be asking more questions? Would we be so accepting of assurances that "this was just a joke that got out of hand"?
2. Church of England's divestment called off
Remember that story last month about the Church of England's decision to divest "from companies profiting from the illegal occupation" of Palestinian territory? It didn't get much play here (where the divestment story is more about the Presbyterian Church USA), but it was big news in the U.K. and Israel. Anyway: Never mind. The church's Ethical Investment Advisory Group unanimously rejected the Synod's vote, saying it "could find no compelling evidence that Caterpillar is or has been complicit in human rights abuses."
3. Church wall collapses in Uganda, leaving 26 dead and about 100 injured
An evangelical church in Kampala, Uganda's capital city, was still under construction. But to hold services during construction, the church had set up a wood-and-tin building inside the unfinished brick building. Amid heavy rains during Wednesday night services, some of the brick walls collapsed, killing and trapping worshipers (photos). The death toll varies in media accounts, but Kampala's New Vision paper, which has the most recent report, says 26 died. Also worth noting in the New Vision account: "Survivors blamed the incident on rival pastors, saying they cast an evil spell on the church." The Ugandan government suspects poor construction.
4. Christian ministry will donate to atheist group in exchange for church attendance
The Wall Street Journal's front-page report Thursday on atheist Hemant Mehta's eBay auction, where he sold willingness to attend church services, is getting a fair bit of attention. The $504 winner was Jim Henderson of the evangelistic ministry Off the Map. But "I'm not trying to convert you," Henderson told Mehta when they met. Instead, he was hiring Mehta to visit and write about 10 to 15 church services. "You're going there almost like a critic," Henderson said. "If you happen to get converted, that's off the clock." The $504 went to Mehta's Secular Student Alliance. The Journal goes into some detail about Henderson's motives, but you'll probably also want to read a brief article on Henderson from our sister publication, Building Church Leaders. The article describes Henderson's approach as shifting evangelism "from sales to service."
"In evangelism, you want to give people something rather than ask them for something," Henderson said. "But what do people want? Attention. People want attention. So I give them that. I call those times 'free attention giveaways.'" Henderson's attention giveaway is now seeing quite a return on investment.
5. Lefty group overplays its hand
A group calling itself the Campaign to Defend the Constitution (DefCon)—made up of former NARAL Pro-Choice America head Kate Michelman, Nation writer Max Blumenthal, and other prominent liberals—took out a page in The New York Times yesterday criticizing Ralph Reed, James Dobson, and Louis Sheldon for being "base hypocrites knee-deep in the Jack Abramoff scandal." The group claims that Dobson appeared "on radio commercials paid for by Jack Abramoff's Indian casino clients. These casinos gave millions to Jack Abramoff to limit competition." The group is also running television ads along the same lines in Colorado Springs and elsewhere.
"What we're really emphasizing is that it's hypocritical for a moral leader like James Dobson to be producing these ads when the money, whether he knew it or not, came from gambling interests," campaign spokeswoman Sarah Belanger told The Denver Post.
As it turns out, it's the Campaign to Defend the Constitution that has a gambling problem. It's holding horrible cards, and Focus has rightly called its bluff. On its site, Focus explains that it "did oppose gambling expansion in Alabama and Louisiana in the years indicated, but our involvement came in response to requests from our trusted allies—in Louisiana, then state legislator Tony Perkins (now president of the Family Research Council) and Gene Mills, executive director of the Louisiana Family Forum; and, in Alabama, Gary Palmer of the Alabama Policy Institute. It is important to note, again, that we funded these efforts ourselves; we received no money from Mr. Abramoff or any other lobbying interest." There are other refutations as well. (Focus on the Family's Friday broadcast is about the ads, but Weblog hasn't listened to it yet.)
So what's the Campaign holding in its hand? "There is no proof and I doubt there will ever be any proof that Dobson consciously colluded with Abramoff." That's from Max Blumenthal himself, one of the DefCon guys behind the ads.
So why run the ads? "The purpose of the ads is to educate people about the critical importance of separation of church and state," said Duke University professor Erwin Chemerinsky, another DefCon board member. Separation of church and state? The ad complains that Dobson, Sheldon, and Reed "must have been betting they wouldn't get caught taking their thirty pieces of silver and selling out the millions who believed in them." If your definition of separation of church and state extends to include that, it's just a meaningless phrase that means "something I don't like." Lima beans violate the separation of church and state!
Here's the biggest reason why DefCon's move is completely idiotic: Focus on the Family was already being criticized on this story—from its Right flank. World magazine has been running a series of articles asking "what did he know and when did he know it" on Dobson-Reed-Abramoff connections. A liberal group like DefCon only stands to benefit from World criticizing Focus on the Family (and kudos to World for not letting that political consideration stand in the way of its reporting). What could have been a time of introspection in religious conservative circles is now certainly a time or circling the wagons. DefCon has now made sure that any further questions about Abramoff memos will be seen as a liberal attack on religious conservatives. DefCon isn't going to get any Dobson supporter upset about "selling out." Instead, they'll be outraged over this dishonest attack—and that will only cause them to support Reed, Dobson, and Sheldon all the more.
In other words, Defcon went all-in on these ads and lost, and Dobson took the pot.
Quote of the day:
"The student will demonstrate an understanding of biological evolution and the diversity of life by using data from a variety of scientific sources to investigate and critically analyze aspects of evolutionary theory."
A high school biology educational standard passed by the South Carolina Board of Education's Education Oversight Committee but rejected Wednesday by the full board. Critics said that that asking students to "critically analyze" evolutionary theory is "a ploy to confuse the issue of evolution so that ultimately evolution won't be taught." Supporters said critical analysis of any theory is what separates science from dogma. The standard will instead read, "The student will demonstrate an understanding of biological evolution and the diversity of life."
More articles
Alabama church fires | Arson suspects | Uganda church collapse | Church life | Grahams in New Orleans | Missions & ministry | Gay clergy | Scotland says Catholic schools must hire atheists | Evolution | Australia textbook | Education | Politics | Abramoff scandal | Christians and Islam | Faith-based initiative | Abortion | Life ethics | Money & business | Entertainment and media | Abuse | Miracles | Other stories of interest
3 students held in arsons at churches | Suspected of setting nine fires, the Alabama men started the spree as a 'joke,' investigators say (Los Angeles Times)


3 students charged in Ala. church fires | Undergraduates from 2 Birmingham colleges arrested in nationally publicized crimes (Inside Higher Ed)


Billy Graham's son takes the pulpit, his own way | "Don't back down" could be his second-favorite phrase after "Jesus saves" (USA Today)


Billy Graham, son tour St. Bernard, 9th Ward | N.O. needs 'moral, spiritual strength' (The Times-Picayune, New Orleans)


Graham speechless after New Orleans tour | Evangelist Billy Graham, whose ministry has taken him to some of the world's least-developed countries, said Thursday that the scope of devastation he saw as he toured hurricane-ravaged New Orleans this week left him speechless (Associated Press)


Scotland says Catholic schools must hire atheists:
Atheist wins discrimination case | A teacher who lost out on promotion at a Roman Catholic school because he was an atheist has won his claim for religious discrimination (The Herald, Glasgow)


Atheist teacher wins job tribunal | David McNab, a maths teacher at St. Paul's Roman Catholic High School in Glasgow was told he needed Catholic church approval to apply for the post (BBC)


Teacher rejected for post because he is not Catholic gets £2,000 | Denominational schools have been warned not to reserve key posts for Catholic teachers after a landmark legal ruling (The Scotsman)


Cardinal backs Quran lessons in public schools | Vatican agrees with Italian group's proposal for Muslim students (Reuters)


Unlikely alliance takes on school conflict | As public schools cope with conflicts over homosexuality, they can now get some tips from an unlikely pair: conservative Christians and gay advocates (Associated Press)


Also: 1st consensus guidelines offered for schools on sexual orientation | First Amendment framework suggested to help educators, parents, students find 'common ground' (First Amendment Center)


The Wilberforce Republican | Sam Brownback is redefining the Christian right (The Economist)


Do Christian conservatives have a lock on America's politics? | Concerns abound over whether the country is headed toward a theocracy and whether the doctrines and messages of other religions will be confused with those of Christian conservatives, or overlooked altogether, as a result of their dominant voice (Herald News, New Jersey)


Also: Challenging 'Christocracy' | Rabbi James Rudin's book sounds an alarm about the religious right and politics (Sarasota Herald-Tribune, Fla.)


Non-believer's intervention is divine | God has abandoned Mr Blair (Editorial, The Telegraph, London)


Also: God: I've lost faith in Blair | All the signs are that the Almighty is unhappy about efforts to implicate Him in the attack on Iraq (Terry Jones, The Guardian, London)


When would Jesus bolt? | Meet Randy Brinson, the advance guard of evangelicals leaving the GOP (Amy Sullivan, Washington Monthly)


Of 'Father Bud,' Cardinal Mahony and a '96 sanctuary | In the United States, it's been the tradition to regard the church or temple as a sanctuary for all but violent felons, a criminal class that does not usually include undocumented workers (Logan Jenkins, San Diego Union-Tribune)


Left/right extremes drive Iowa political landscape | Passions on the right-hand side of the spectrum in Iowa are


running strong, just as they are on the left. (David Yepsen, Des Moines Register, Ia.)


Group targets Focus founder | Television, print ads accuse Dobson of ties to lobbyist Abramoff (Rocky Mountain News, Denver)


Liberal group targets Dobson | Focus on Family chief denies Abramoff ties (The Denver Post)


Negative perception of Islam increasing | Poll numbers in U.S. higher than in 2001 (The Washington Post)


Religious crisis: 'Attackers of Xtians are terrorists' | Leaders of both the Christian and Islamic religious faiths in the country yesterday described the recent religious killings that broke out in some parts of the country, as a terrorist act and an action by misguided elements (This Day, Lagos, Nigeria)


Christian numbers on decline in the Middle East | The number of Christians who live in the area where their religion began is in decline. Join Neal Conan and guests for a discussion about why Christians are leaving the Middle East and what that means for the future of their faith and the politics from the lands they leave behind (Talk of the Nation, NPR)


Bush orders DHS to create center for faith-based aid | President Bush ordered the Department of Homeland Security yesterday to create a center for faith-based and community initiatives within 45 days to eliminate regulatory, contracting and programmatic barriers to providing federal funds to religious groups to deliver social services, the White House announced last night (The Washington Post)


Bush orders faith-based office | A day before returning to the ravaged Gulf Coast region, President Bush created an office for faith-based initiatives within the Department of Homeland Security to improve disaster recovery efforts (The Washington Times)


Religious charities get more federal money | In the budget year that ended Sept. 30, religious charities received $2.15 billion in federal grants to administer a range of social service programs for the needy (Associated Press)


Bush wants foundations to okay faith groups | President Bush on Thursday urged corporate foundations not to exclude religious organizations from money they distribute to help America's needy (Associated Press)


Illinois' portion of federal faith dollars increases | The government gave $127.4 million to groups in Illinois last year, a 13 percent increase over 2004, according to the White House (Chicago Tribune)


Heavenly Hollywood | The 168 Hour Film Festival gives a new generation of Christian filmmakers a big screen to play with (Pasadena Weekly, Ca.)


The God factor | Sun-Times religion reporter Cathleen Falsani finds God in unlikely places (Wednesday Journal, Oak Park, Ill.)


German rock under fire for God song | Europe's Mohammed cartoon controversy has claimed a German rock band as its latest victim. Germany's top music awards show cancelled a performance of the church-critical song "God is a Popstar," by the band Oomph! (Deutsche Welle, Germany)


'Godcasts' spread word on 'Net | Churches use technology for outreach (Tennessean, Nashville)


Lourdes moots "miracle lite" for sudden healings | The Roman Catholic pilgrimage shrine at Lourdes may introduce a kind of "miracle lite" category for sudden unexplained recoveries because modern medicine increasingly refuses to declare any disease incurable (Reuters)


Lourdes introduces miracle-lite | Exasperated at the refusal of modern medicine to declare any disease incurable, the Roman Catholic pilgrimage shrine at Lourdes plans to introduce a kind of "miracle lite" category for sudden unexplained recoveries (The Scotsman)


Lourdes finds cure for lack of miracles: a less strict definition | Miracles, like much else in the Catholic church, aren't what they used to be (The Guardian, London)


Very little 'versus' yet in Roberts' high court | Unanimous decisions were those on such normally contentious issues as abortion protests, religious liberty, the death penalty and antitrust law (Los Angeles Times)


French kings drawn into Da Vinci clash | Copyright claimant wilts in the witness box as the books are subjected to a line-by-line comparison (The Times, London)


Pope asks kidnappers to free boy | Pope Benedict XVI has pleaded for the immediate release of a 17-month-old epileptic Italian boy kidnapped from his home near Parma last Thursday (BBC)


Related Elsewhere:
Suggest links and stories by sending e-mail to weblog@christianitytoday.com
See our past Weblog updates:
March 8
March 3 | 2 | 1
February 24 | 23 | 22 | 21
February 17 | 16 | 15 | 14 | 13
February 10 | 9 | 7
February 3 | 2 | 1
January 25 | 20 | 19 | 18 | 17
January 13b | 13a | 10
Weblog
Launched in 1999, Christianity Today's Weblog was not just one of the first religion-oriented weblogs, but one of the first published by a media organization. (Hence its rather bland title.) Mostly compiled by then-online editor Ted Olsen, Weblog rounded up religion news and opinion pieces from publications around the world. As Christianity Today's website grew, it launched other blogs. Olsen took on management responsibilities, and the Weblog feature as such was mothballed. But CT's efforts to round up important news and opinion from around the web continues, especially on our Gleanings feature.
Ted Olsen is Christianity Today's executive editor. He wrote the magazine's Weblog—a collection of news and opinion articles from mainstream news sources around the world—from 1999 to 2006. In 2004, the magazine launched Weblog in Print, which looks for unexpected connections and trends in articles appearing in the mainstream press. The column was later renamed "Tidings" and ran until 2007.
Previous Weblog Columns: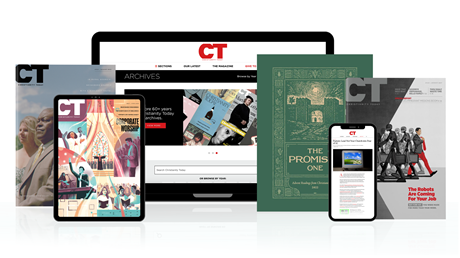 Annual & Monthly subscriptions available.
Print & Digital Issues of CT magazine
Complete access to every article on ChristianityToday.com
Unlimited access to 65+ years of CT's online archives
Member-only special issues
Subscribe
'No Religious Motive' for 'Satanist' Arson Suspects
'No Religious Motive' for 'Satanist' Arson Suspects