I've got a few mementoes on my office shelves—family photos, a piece of hand-made pottery I bought on a missions trip to Spain, a personalized mug from my alma mater, the University of Virginia.
And a tennis ball.
But it's no ordinary tennis ball. It's signed by the guy who was my Sports Hero during my teen years—Sweden's Bjorn Borg, one of the greatest ever to play the game.
I was really into tennis when Borg was dominating the game. In 1976, while I was playing tournaments all over southeastern Virginia, Borg was playing all over the world, and winning just about everything—including the first of five consecutive Wimbledon singles titles, still a record. Borg won 61 tournaments before he stunned the world by retiring in 1982. He was just 26.
Borg was the type of sports hero I not only admired, but tried to emulate. He hit huge, looping topspin groundstrokes; so did I. He used a two-handed backhand; so did I. He was never terribly comfortable at the net; neither was I.
And Borg, ever the gentleman, never lost his temper or threw his racket; and neither … OK, OK. The comparisons stop there; I've got the broken rackets to prove it.
I not only wanted to play like Bjorn Borg. I wanted to be Bjorn Borg. I wanted to fall to my knees, victorious, on the worn grass of Wimbledon's Centre Court, just like Borg always did after winning the final point. I framed the "Bjorn Again" cover of Sports Illustrated, and imagined myself in his shoes, in that photo: "Moring Again!"
So imagine my surprise and disappointment when I read a recent story that Borg plans to auction off his five Wimbledon trophies and two rackets to achieve "financial security," according to a statement from Borg, who has been beleaguered by several failed business ventures.
But a day later, Borg denied that he was selling the trophies and rackets for financial reasons, calling such stories "ridiculous." His explanation:
"I have won so much and so many trophies," Borg said. "I can't keep track of everything. I thought the trophies and rackets might be something that someone might want to have.
"Wimbledon is the biggest thing you can win as a player, but I have got so many films and other things I can use to jog my memory. But if no one wants the trophies and the rackets, I will just take them back."
I ain't buying it. For me, what was initially sadness—that Borg had to part with these prized possessions because of financial woes—has now turned to disbelief. If Borg doesn't need the money, I can't believe he—or anyone—would even consider such a thing. I'm sure he does have plenty of things "to jog his memory." But to sell his Wimbledon trophies—the most treasured hardware in tennis?
What is he thinking??
Sure, I know the passage about storing up our treasures in heaven, and not on earth "where they can be eaten by moths and get rusty, and where thieves break in and steal" (Matt. 6:19, NLT). Fair enough, and I suppose it's possible Borg has the right idea—that in the Big Picture, his Wimbledon trophies are just going to "get rusty."
But Scripture also indicates that it's good to keep those things that remind us of our victories. See, for example, Samuel's Ebenezer (1 Sam. 7:12) and Joshua's 12 stones (Josh. 4:1-9)—or even the empty cross, a reminder of the greatest victory of all time.
A few phrases in the Joshua passage are telling. The stones are to "serve as a sign among you. In the future, when your children ask you, 'What do these stones mean?' tell them." "These stones are to be a memorial … forever." "And they are there to this day."
And they are there to this day. Are you listening, Bjorn?
I'm not saying Borg's Wimbledon trophies are as eternally significant as Joshua's 12 stones. But there's certainly some great value to that hard-earned hardware, which indeed should "be a memorial … forever"—and not to the highest bidder.
Here's hoping Borg will reconsider and hang on to those prizes—and be Bjorn again.
Related Elsewhere:
Earlier Play Ball columns include:
Steroids 'R' Us | It's not just Barry Bonds's heart that is desperately wicked. (Mar. 9, 2006)
Heavy Medal | At the Olympics, if you don't medal, you certainly must be a loser. By Mark Moring (Feb. 23, 2006)
Opening Ceremony Blues | The Olympics is symbolic, but not of world peace. By Mark Galli (Feb. 16, 2006)
Punches, Smashes, and Bombs | Boxing gives us a window into the violence inherent in all sports. By Mark Galli (Nov. 11, 2006)
Should We Ban Boxing? | The usual arguments against the "sweet science" cut many ways. By Mark Galli (Oct. 28, 2005)
Something Noble and Good | Professional sports is often boring, but real sports is not. By Mark Galli (May 13, 2005)
The Lovely Paradox of NFL Draft Day | It's an event of biblical proportions—and wisdom. By Mark Galli (April 29, 2005)
Negotiating Sunday Sports | This culture war was lost long ago. Now what? By Mark Galli (April 15, 2005)
Article continues below
The Prodigal Sports Fan | There is hope for the idolater. By Mark Galli (April 08, 2005)
The Thirst of the 24/7 Fan | Understanding the idolatry in sports. By Mark Galli (March 01, 2005)
March Madnesses | The layers of insanity know no end—thank God. By Mark Galli (March. 18, 2005)
Spectating as a Spiritual Discipline | For those who have eyes to watch, let them watch something more than highlight films. By Mark Galli (March 11, 2005)
The Grace of Sports | If Christ can't be found in sports, he can't be found the modern world. By Mark Galli (March 4, 2005)
Baseball Isn't Entertainment | The sooner we stop thinking sports are about the spectators, the more enjoyable the games will be. By Mark Galli (Feb. 25, 2005)
Rooting for T.O. | Why Terrell Owens irritates most of us most of the time. By Mark Galli (Feb. 11, 2005)
Play Ball
From 2005 to 2007, "Play Ball" examined the relationship of sports and faith: sports is important precisely because it is a form of play, that is, a manifestation of the Sabbath. Contributors included Mark Galli, Collin Hansen, Mark Moring, and others.
Previous Play Ball Columns: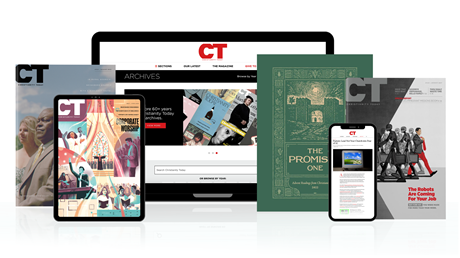 Subscribe to Christianity Today and get access to this article plus 65+ years of archives.
Home delivery of CT magazine
Complete access to articles on ChristianityToday.com
Over 120 years of magazine archives plus full access to all of CT's online archives
Subscribe Now
Bjorn Again?
Bjorn Again?