Even clearing out all the old Da Vinci Code response books couldn't make room for the almost daily deluge of titles warning about the Religious Right's supposed takeover of America. Listing all the titles and authors would take the rest of this editorial space.
Fortunately, we needn't discuss each book specifically, because a single basic argument unites almost all of them: "A group of religious utopians, with the sympathy and support of tens of millions of Americans, are slowly dismantling democratic institutions to establish a religious tyranny, the springboard to an American fascism" (Chris Hedges, American Fascists). "Religious fanatics who run the country … are close to realizing their vision of heaven on earth: an American theocracy" (Robin Meyers, Why the Christian Right Is Wrong). "We must resist before the fundamentalists do what they have promised [and] turn the world's oldest democracy into a theocracy ruled entirely by 'righteous men'" (Mel White, Religion Gone Bad).
Some writers in this magazine have sounded their own alarm that Christian conservatives might be "lured by theocracy," and at least one occasional CT contributor is among the most prominent book authors warning that "the Religious Right hankers for the kind of homogeneous theocracy that the Puritans tried to establish in 17th-century Massachusetts: to impose their vision of a moral order on all of society."
Oddly, the title of that book is Thy Kingdom Come—a reference to Jesus' teaching that his disciples should pray for what can rightly be described as a theocracy.
Theocracy is surely one of the most explosive labels in contemporary American rhetoric. But for the first 18 centuries or so of its use, it was not primarily a reference to 17th-century Massachusetts, 16th-century Geneva, or other human-governed societies. Precisely the opposite: The Jewish historian Josephus coined the word in the first century as "a strained expression" to describe the Jews' rule by God, in contrast to monarchies, oligarchies, and republics (Against Apion).
Writers in the 1800s created a second meaning, usually pejorative, to describe rule by religious leaders. That's no surprise given the Enlightenment's rejection of an active God and its desire to make religion purely a private and personal affair. It's this definition, rather than the proper historical meaning, that so many of today's writers draw upon.
Regrettably, evangelical Protestantism has too frequently accepted the Enlightenment separation of "spiritual" matters from "political" ones. While there is a central truth in the evangelical declaration, "Jesus is Lord of my life," the final phrase actually weakens the statement. The biblical declaration at the core of the gospel is simply, "Jesus is Lord." As theologian N. T. Wright says:
It's quite clear what Paul is talking about: that he comes into town announcing that Jesus is Lord as a royal herald. He is saying that the crucified Jesus is the Lord of the world. And this is not, "Here is a way of salvation. You might like to apply it to yourself." … This is really an imperial summons: "On your knees!"
Paul, it's worth noting, did not go on to call for the Romans to be overthrown and replaced with good Christians. On the contrary, while he declared that Caesar is not Lord, Paul also acknowledged that God had given Caesar a mandate to bring order and justice until Jesus' lordship is made complete.
There are all sorts of ways that Christians have recently compromised this gospel truth, and many anti-theocracy books are right to highlight anecdotes that suggest that some Christians are confused about the place of Christianity in a pluralistic democracy.
We don't long for a state ruled by Christian fiat any more than these alarmists do.
That's because we believe we already live in a theocracy, though not fully realized, ruled by God himself. But—to calm the rising anxiety of some—it's not a theocracy (or kingdom) of coercion. The all-powerful King asks his people to kneel. He does not force them. Those who refuse may do so and will answer to the King himself, not to us.
But let's get a grip: Neither evangelicals, the Religious Right, nor any sizable Christian movement is in any position to seize the reins of government. It is far more likely that evangelicals will respond to recent criticism by retreating from political life and emphasizing personal piety. There are already indications of this in several of the "insider" books criticizing the Religious Right. Likewise, a popular song on Christian radio stations right now declares, "You ask me what I think of the war. … My only position is kneeling."
Indeed. But kneeling before the King does not preclude our duty to promote justice in a world in which God's sovereignty is not yet fully manifested. The kingdom of God has been breaking through since the Resurrection. One day it will be here in fullness, but it is already here. The question is not what would happen if we lived in a theocracy. For those who have eyes to see, we already do. Hallelujah.
Related Elsewhere:
First Things has an overview of some of the recent books on theocracy in America.
Philip Yancey wrote a column on comparative theocracy.
Weblog also has something to think about.
More Christianity Today editorials on Politics include:
God's Will in the Public Square | Democratic Senator Barack Obama gets it mostly right. A Christianity Today editorial (September 1, 2006)
Worship as Higher Politics | Political priorities for citizens of the kingdom. A Christianity Today editorial (June 23, 2005)
How Serious Are Democrats? | Making abortion rare will take more than words. A Christianity Today editorial (March 16, 2005)
Same Song, Second Term | It is a unique political moment for Christian conservatives—or is it? A Christianity Today editorial (Jan. 10, 2005)
For Whom Would Jesus Vote? | Single-issue politics is neither necessary nor wise. A Christianity Today editorial (Oct. 27, 2004)
Have something to add about this? See something we missed? Share your feedback here.
Our digital archives are a work in progress. Let us know if corrections need to be made.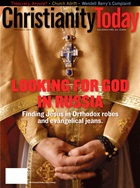 This article is from the November 2006 issue.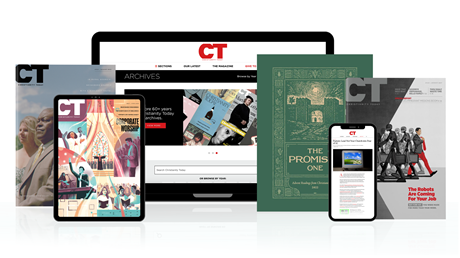 Subscribe to Christianity Today and get access to this article plus 65+ years of archives.
Home delivery of CT magazine
Complete access to articles on ChristianityToday.com
Over 120 years of magazine archives plus full access to all of CT's online archives
Subscribe Now
Theocracy, Anyone?
Theocracy, Anyone?