true
Remastering is a word we're hearing more and more in the music industry over the last 10 years, ever since digital recording techniques overtook traditional tape recording. For those unfamiliar with the term, the basic concept stems from improving yesterday's albums with today's technology: crisper instrumentation with a broader dynamic range. It's the musical equivalent of a facelift, bringing analog albums into a digital age.
One of the first examples of remastering happened through Led Zeppelin in 1990 with the release of their aptly titled Remasters box set, compiling the band's best-loved selections with a cleaner sound. It's a process that has continually been refined over the 17 years since, attempting to spruce up best-selling acts with fresh coats of sonic paint—from the progressive rock of Yes and Genesis to the piano pop of Elton John and Billy Joel, and seemingly everyone in between, including AC/DC, Pink Floyd, and Madonna.
Aggressive marketing campaigns for remasters reel in mounds of media attention, not to mention cash. When it comes to best-selling artists, remastered albums are almost as big a deal as an all-new album. But it's also the new source of music controversy: some diehard fans don't like people tampering with their favorite albums.
You can't really blame record labels for trying, right? When done right, technological advancements can improve the audio quality enough for a fan to buy the same album again (and again and again). But some diehard purists will insist that the production tweaks are too much of a change. And let's face it—the average listener probably doesn't even notice the difference.
One thing that's clear from the debate is that not all remasters are created equal. Some albums benefit from the process better than others, depending largely on how they were originally recorded. It holds true even today with the newly remastered catalog of legendary CCM artist Amy Grant.
Only So Much Can Be Done
The Christian market has previously offered a handful of remasters through greatest hits collections for older artists. But the industry's first extensive reissue campaign fittingly comes from one of the scene's pioneering pop crossovers. Outside of celebrating thirty years in the business, the move comes in the wake of a record label switch from Grant's long time home at Myrrh/Word to EMI's Sparrow Records.
Whatever the reasons for the switch, Sparrow couldn't have picked a better artist to springboard the remastering concept in Christian music—not just because of Grant's celebrity status, but also because she has a full rich catalog of 17 albums, all recorded with varying levels of technology.
It's clear from Grant's 1978 self-titled debut that it was made on a shoe-string budget and that recording techniques were much more limited at the time. Christian music was still developing as an industry, after all, so it's understandable why the production values weren't quite on par with her days getting airplay on VH-1 and mainstream radio. With the debut disc's standard "Old Man's Rubble," I noticed considerable enhancement from the initial go around, Grant's vocals fine-tuned to richer degrees, removing the hisses associated with old analog tape. That also proved the case throughout 1979's My Father's Eyes, where the title track now shines with a much cleaner mix and the folksy acoustics don't sound as dated (though these updates still maintain the original track's integrity).
1980's Never Alone does slightly better with the soulful pop of "Look What Has Happened To Me" given a fuller sound, as the beautiful acoustic ballad "First Love" benefits from pumped up instrumental and vocal dynamics. In the case of In Concert and In Concert Volume Two, the limitations of the original live recording equipment is upgraded to a richer experience that sounds enhanced and engaging to trained and untrained ears alike. The first Concert's somewhat aggressive jam "Walking Away With You" sounds much crisper and tighter, as does as does the band's overall organic wall of sound. Volume Two boasts the jubilant finale "Nobody Loves Me Like You Do," which features a considerably louder audience that provides the listener with a greater sense of the concert experience.
It goes to show that the oldest albums can benefit the most from a remastering. But conversely, they can only improve so much due to the recording limitations of that time.
Shiny and New
The most noticeable signs of improvement come during Grant's rise to superstardom in the early to mid-1980s. The production budgets and techniques improve with these projects, as Grant shifted into multi-track recording for contemporary her pop/rock albums.
1982's Age To Age launches with the familiar hits "In a Little While" and "Sing Your Praise To the Lord," both reformatted with crystal clear pianos parts, while the gentle orchestrations of "El-Shaddai" benefit from additional amplification. Touches like these only sound stronger throughout the varied instrumentation of 1983's A Christmas Album, particularly apparent during the shimmering pop staple "Emmanuel" and the bell-laden "Sleigh Ride" (now stripped of some of its dated '80s feel). 1984's Straight Ahead is replete with newfound details like increased bass and keyboard textures are evident throughout "Thy Word," as well as the soulful, full band spunk of "Where Do You Hide Your Heart."
Grant truly hits her stride with 1985's blockbuster Unguarded, which traced her earliest steps as a commercial pop princess steeped in spirituality. The keyboards and electric guitars come alive with a much more potent and lively sound than before, especially in "Find a Way." Slight instrumental flourishes that were previously hidden in the original masters suddenly jump out in "Love of Another Kind" and "Everywhere I Go." You'll notice similar qualities in the two new songs found on 1986's The Collection, "Stay For a While" (with notably improved keyboards) and "Love Can Do" (beefed up particularly in the percussion and background vocal departments).
These albums confirm that older discs benefit the most from remastering efforts, provided that the original masters are recorded with enough clarity and flexibility to benefit from the new technology.
Already Polished
The late '80s brought about the early stages of the digital revolution in recording. As such, Grant's later albums don't reveal as many drastic improvements after remastering. They're already polished, and only benefit from improved sound levels.
Sure, the jangly guitars during the title cut of Lead Me On are bolder and more prominent, but they was already true with the original 1988 release. That same disc's "Saved By Love" also revisits its earthy, pop/roots rock approach, but the touches aren't all that obvious given the impressive quality at first crack. Grant's seminal release Heart In Motion follows suit. Aside from slightly louder orchestrations throughout "That's What Love Is For" and more grinding electric guitars during "Good For Me," they sound fairly close to the 1991 version.
The following year's Home For Christmas likewise earns some subtle orchestral touch-ups (particularly evident in "Breath of Heaven" and "I'll Be Home For Christmas"), but not to the point where the remastered album becomes essential. On the 1994 return to pop project House of Love, "Oh How the Years Go By" and "Love Has a Hold On Me" are examples of a slightly grander and filled out piano landscapes, but probably not noticeable enough beyond careful comparisons.
Once we get to within ten years of an album's release, there's just not much to improve upon. 1997's Behind the Eyes is much more acoustic in nature, so you'd think it could still benefit, but the revisions are very minute. It isn't too surprising that 1999's A Christmas to Remember remains virtually identical to its original release. And with 2003's Simple Things, I couldn't find a single element that jumped out at me since last listening to the original release.
This is all as you would expect with any sort of cosmetic improvements. The more recent the album, the less noticeable the remastering.
Revisiting and Preserving
So how should fans greet remasters of their favorite albums? It ultimately depends on how much of a fan you are of the artists and albums in question. Completists will usually purchase updated titles whenever available, simply to keep the collection up to date with the latest sonic improvements, bonus tracks, or at least improved liner notes and artwork. More casual fans will want to be more discerning, using trial-and-error with remastered titles to compare them with the original recordings.
In my case, I had worn out my parents' old vinyl copy of Unguarded, and my CD copy had seen better days with all the scratches on it. Once I popped in the new remastered copy, I could immediately identify the improvements—it's now a permanent replacement in my collection. And it led me straight to the rule of thumb that albums from 1980-1985 are the best place to start with remastered albums. They're the ones that usually benefit the most, revealing newfound nuance to the classic recordings.
Price also has a lot to do with the decision. You won't find these Grant reissues in the bargain bin where her previous editions took residence. They'll average $12-14 instead of $6-8. When assessing remasters, look for any added value in bonus material, like b-sides, rarities, videos, or enhanced liner notes. Amy's offerings are now sold like the original records, right down to precisely duplicated artwork and photos. Too bad they didn't unearth any lost songs or b-sides to add to these discs.
It seems likely that we'll see other remastered catalogs before too long. Grant's longtime friend and collaborator Michael W. Smith immediately comes to mind as one whose earliest albums would benefit tremendously from some polish. Petra and the late great Rich Mullins are other examples, whereas Steven Curtis Chapman and newsboys would be on the bubble since their careers began with the advent of digital recording. Though remastered catalogs may at first seem like a money grab by record labels to draw additional revenue from consumers, they play a strong part in helping to preserve Christian music history, introducing landmark albums to future generations.
For more about Amy Grant and her extensive catalog, click here to visit our site's artist page. You'll find the remastered albums at local retail, as well as Christianbook.com.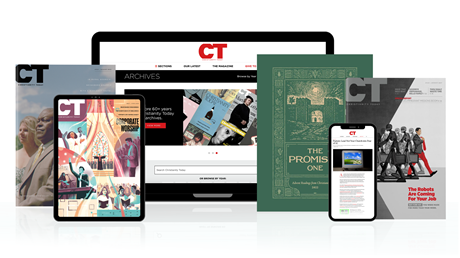 Subscribe to Christianity Today and get access to this article plus 65+ years of archives.
Home delivery of CT magazine
Complete access to articles on ChristianityToday.com
Over 120 years of magazine archives plus full access to all of CT's online archives
Subscribe Now
Remastering: Revisiting or Redundant
Remastering: Revisiting or Redundant