true
Whenever we put these best-of lists together, it's always interesting to note any trends that may be reflected in the selections. For example, past lists for worship albums have unintentionally celebrated the growth of alternative worship music styles or confirmed who the most popular worship artists are in music today.
In selecting our favorite worship albums from 2008, released between October 2008 and September 2008, we ended up with a list that champions the work of the lesser-known favorites in modern worship—songwriters and artists who have toiled for 10 years or more in some cases, but haven't quite earned the recognition of a Chris Tomlin, Chris Tomlin, or Darlene Zschech. As far as creative expressions of worship, it's been a very good year for these unsung heroes, so we celebrate their work here (listed unranked and alphabetically) with hopes that they will become more sung in the years to come.
Deluge: Live from Bethany World Prayer Center
Bethany Live (Integrity Music)
Read the original review here.

Russ Breimeier:
With so many live worship albums resembling Hillsong in style and energy, it sure is a pleasure to find some like this from Bethany Live's youth ministry. It's similar enough for fans of United and Jami Smith to embrace, yet different enough in key tracks to set it apart as something special. From the drumline that joyfully opens and The Police riff that carries "I Believe," to the rowdy Green Day styled shuffle of "Make It Loud" and the frenetic guitars that help "Crazy" live up to its title, it's great to hear this worship team doing something different with their God-centered praise, and thus making a more memorable worship album to him.
Andree Farias:
All of the songs you mention are indeed highlights, and their left-of-centeredness makes me hopeful about what the future holds for this group. Granted, they're still developing, as evidenced in some of the ballads in the second half of the disc, which stick much closer to worship music conventions. But Jonathan Stockstill is proving himself a rising and versatile worship leader—he can be a soulful piano man one minute, only to turn into a consummate youth worshipper the next. The more he and his teammates remain committed to place artistry over accessibility, the farther Deluge will go.
Today Is the Day
Lincoln Brewster (Integrity Music)
Read the original review here.

Farias:
High time Lincoln Brewster finally showed us what he's capable of as a worship leader. While his profile has risen as of late thanks to a high-carting cover of Brenton Brown's "Everlasting God," Today Is the Day finally asserts Brewster not only as a radio artist, but also a creative album maker, an accomplished worship writer, and an ace guitarist. With his virtuosity on full display, Brewster has crafted his most complete, versatile effort yet, one that really takes advantage of his rapport as a rocker ("Everywhere I Go"), a bluesman ("The Arms of My Savior"), a fingerpicker ("The Love of God"), and even a soulful leading man ("Give Him Praise"), while still keeping his youthful praise side firmly in check in songs like the title track and a spot-on cover of Hillsong United's "Salvation Is Here."
Breimeier:
I think Brewster's somewhat low profile on the music scene in recent years has allowed us to forget just how good he is as a worship artist. In my opinion, he's on par with Chris Tomlin and Paul Baloche—not to mention one of the best guitarists in Christian music, period. With this, his first studio recording in 6 years, Brewster shows how his musicianship can inspire and enhance worship, rather than distract from it. I also love how he steps outside of formulaic worship conventions by embracing a range of styles, most notably songs like "This Love" and "The Arms of My Savior," which resemble the soulful and bluesy guitar pop of John Mayer. In short, Brewster draws us into worship by making the music fun and memorable—ain't nothing wrong with that if it inspires people to praise God.
Fearless Now
Sheri Carr (Varietal Records)
Read the original review here.

Farias:
Records like this give me renewed hope in Vineyard Music. The church-based worship label is nowhere near what it used to be in the '80s and '90s, but its recent foray into more artist-driven projects through Varietal Records has injected new life into its contributions to congregations. For her part, Sheri Carr is something of a novelty in that she's one of a very few women singing a new song unto the Lord in a mostly male-dominated collegiate market. But don't think for a moment she lags behind in terms of energy and conviction. Carr is a fierce, fearless vocalist, and while her style may not always lend itself to congregational singing, she surely commands attention as she worships.
Breimeier:
She certainly does, and for all the attention that artists like Sarah Kelly have received for their strong, passionate worship vocals, Carr deserves the same. It really is the first thing that pulls you in when listening to this album. But from there, she offers a varied range of musical styles, shifting between guitar rock ("Sing Your Praise"), Euro-pop ("This Heart of Mine"), and stripped down balladry ("Take Me to the Cross"). No, most of these songs probably won't become church standards, but they're still good and certainly in step with Vineyard's previous work. In terms of songwriting and performance, Carr is engaging enough to draw listeners into God's presence.
The Bright Sadness
Charlie Hall (sixsteps/Sparrow Records)
Breimeier:
Can I just start by saying how much I love this album? I've been waiting for Charlie Hall to break out with an anthem for the worldwide church, but I think he's finally figured out that he has more in common with David Crowder as a worship artist than Chris Tomlin or Chris Tomlin. This is probably is most artful and alternative sounding effort yet, perfectly matched to his passionate outpouring to our Savior. So while it's unlikely for these songs to be used in any but the most modern of worship services, as an album for private worship listening, it's dynamite from start to finish.
Farias:
Part of it has to do with his collaboration with Michael Hodges, better known for his work with Evanescence. Together, they create some of the coolest ideas and sounds to arise from the ranks of modern worship—frenetic drum patterns, quirky synths, and otherworldly guitar parts are only some of the adornments that spice up the mix. The mood is certainly conducive to the thematic strains Hall wants to communicate: that some of the most awe-inspiring moments of worship come from the least becoming of places—beauty from brokenness, light from darkness, sanctity from depravity. Well done, through and through.
Change the World
Martha Munizzi (Martha Munizzi Music)
Read the original review here.

Breimeier:
Not to take anything away from Martha Munizzi's obvious gifts as a singer and worship leader, but this album's strengths owe much to the unmistakable contributions of producers Israel Houghton and Aaron Lindsey—they weren't kidding when they titled their previous collaboration The Best Is Yet to Come. This is as wild and funky as anything they've produced, and very similar in tone. Yet as gospel based and eclectic as it all is, the arrangements are considerably tighter and efficient, despite the jams, vamps, and reprises. This album may be 73 minutes long, but it never meanders in its worship—not even when Munizzi leads and speaks between tracks.
Farias:
Yeah, it's taken a little bit for Munizzi to hit her stride, but she finally did with this recording. She still has a slight tendency to overexert herself—for nearly half of the Change the World, the disc is a nonstop praise workout, but she keeps the excess to a minimum, cognizant that there's an audience to lead into God's presence. After fluctuating from gospel praise to funk-laced R&B to Latin with ease, Munizzi then embarks on one of her most worshipful stretches yet, for a second half that's as churchy and classical enough to make Richard Smallwood smile.
Counting on God
New Life Worship (Integrity Music)
Read the original review here.

Farias:
New Life Church has had its share of trials in recent years, but make no mistake—it's only made the congregation stronger. Look no further than their worship team, since Counting on God is easily their strongest live offering yet. Collectively, worship pastor Ross Parsley and Desperation Band's Jared Anderson, Jon Egan, and Glenn Packiam is just as prolific as Hillsong, if not more so, but their output is yielding high dividends. The songcraft and usability of their worship choruses is at an all-time high. At its core, the disc is yet another big-church production, but when appreciated in context of the flock's recent tribulations, the lavish festiveness is certainly a marker for their endurance in faith.
Breimeier:
Yeah, it's not like New Life does anything radically different with this release—they still have a strong Hillsong influence, and it's similar enough to previous Desperation Band releases. But the point is that they're doing it better with this album than any before. It comes down to strong songwriting made more memorable by arrangements that help give each song an identity. Some of the youth worship tendencies have been toned down for this album, effectively giving previously released Desperation Band songs broader acceptance. And the optimistic message of overcoming adversity through God is expressed in such a way that it's not uniquely specific to New Life, but applicable to all who are weary and in need of hope and restoration.
Overcomer
Alvin Slaughter (Integrity Music)
Read the original review here.

Breimeier:
Here's another impressive album that benefits from producer Aaron Lindsey's genre-defying approach to gospel and worship. His sound proves very complementary to gospel veteran Alvin Slaughter, who is in fine voice as always, but stretches it into new territory with Overcomer. Now I must say it's a little strange to hear two songs ("Tell Me Again," "Our First Love") from Michael Olson's 2007 release here—good pop songs, but they're not exactly worship music, nor do they fit neatly with the album's other tracks. Still, it's a great project overall that somehow sounds effortless in its fusion of styles, not to mention of old with new.
Farias:
Those songs you cite are in the back half of the disc, which is admittedly more performance-oriented than the front. Through it all, Slaughter makes an effective transition to rhythmic contemporary gospel, especially the same sort of congregational stuff championed by Israel & New Breed, Fred Hammond, and John P. Kee. For the most part, Slaughter funnels the worship experience from celebratory to worshipful, reaching a peak with the to-die-for "Loving Kindness." From there, Overcomer settles into a lull a little bit, but as it's always been the case with Slaughter, the worship leader still succeeds at ushering saints to a special place, even if they're not always necessarily singing along.
Faith in You
Jami Smith (Spring Rain Ministries)
Read the original review here.

Breimeier:
I've long admired Jami Smith as a worship leader who is equally comfortable with writing for the church and the radio, with an earthy pop style reminiscent of Jennifer Knapp. But this album pleasantly took me by surprise, not only because of the album's decidedly more folk/country sound, which really suits her, but also as a thoughtful example of the effective use of lamentations in worship. Written in response to grief, the songs are very simple and plainly stated, yet say so much—almost like a mantra to remind us of God's faithfulness and remind us of his comfort when he may seem far away from us.
Farias:
Faith in You is one of those quiet wonders that take careful listening before they can be truly affecting. Smith is a forceful, commanding worship leader, but here she scales things back and creates something so sparse and unassuming that it's almost an antithesis to her explosive rock-chick output heard on past efforts. That's precisely the point: these are songs of worship to be sung over the people—warm, reflective pieces that help worshippers ponder God's supremacy and constancy even in times of trouble. "Let Your Kingdom Come," in particular, is the type of comforting piece that fits the uncertainty of the times like a glove, reminding us of ways we can still pray and have hope even when things look bleak or uncertain.
Great God Who Saves
Laura Story (INO Records)
Read the original review here.

Farias:
My fiancé e can be just as picky and selective when it comes to worship music, so the fact that we're both deeply moved by Laura Story's national debut is a telltale indicator about its efficacy. At first glance, Great God Who Saves does appear more inspirational and understated than your average modern worship entry, but Story's strong sense of melody, unassuming simplicity, and ear for the corporate render her something of a quiet storm. There are at least six songs here that could be adapted congregationally, if not by a megachurch—definitely more for organic, stripped-down worship teams or Wednesday-night minstrels. An all-around lovely recording.
Breimeier:
It's a little too much of a pop album for me, but there are definitely worshipful moments for church congregations to embrace, particularly "There Is Nothing" and the title track. I find Story's voice to be very inviting, and with the simplistic-but-beautiful arrangements, she's very much like Twila Paris, another singer/songwriter who doesn't always write with the congregation in mind, but is very good at it when she does. In that light, I'd say Story is off to a very promising start here, and as you note, Andree, six potential songs for a church repertoire makes for a successful worship album. That's precisely my point for another worship album tangentially related to Story …
Hello Love
Chris Tomlin (sixsteps/Sparrow)
Read the original review here.

Farias:
Admittedly, this is not my favorite album by Chris Tomlin. Nothing against him—he's the most sung modern worshipper for good reason—but Hello Love is derivative of his far superior Arriving album. That said, Tomlin still has a remarkable knack for memorable, sing-able refrains, and though they're not always thoughtfully composed, they're all otherwise quickly adoptable and easily learned by congregations. The music is mostly on autopilot, but then Tomlin doesn't compose with highbrow music critics like me in mind; his sole desire is to see the church sing.
Breimeier:
Which is exactly why I think this album deserves to be here. Tomlin's sound and style is often imitated, to the point where it's made him sound derivative of himself, but that's hardly all his fault. I'll readily admit, not all these songs are destined to become classics—but then neither were all the songs on Arriving. And besides, how many worship albums are truly great from start to finish? The fact is, many of the songs on Hello Love will find their way into churches around the world—I'd guess "Love," "Sing, Sing, Sing," "Jesus Messiah," "God Almighty," and "Praise the Father, Praise the Son." Tomlin's a pioneer, not an innovator, so we shouldn't expect him to be something that he's not. He's good at what he does and he'll always be offering more of the same … with varying results, of course.
I Have a Hope
Tommy Walker (Maranatha! Music)
Read the original review here.

Breimeier:
Tommy Walker is one of the best when it comes to writing worship songs that are accessible without compromising musicianship, and he was reviving classic hymns with new worship choruses well before Chris Tomlin was. So how great to hear him team up with Tomlin's award-winning producer Ed Cash for his first nationally released studio project. The amazing part is how it all sounds as spirited as a live recording, yet any of it would be perfectly suited for radio. With an engaging vocal, masterful guitar work, and congregational songwriting focused on God, this isn't only the best worship album of 2008—it also deserves a place alongside the all-time best in contemporary worship albums. Thoroughly enjoyable and uplifting.
Farias:
I honestly don't know where to start. There are so many unforgettable moments on this album, it's almost obligatory to list them all. For one, Walker is in tip-top lyrical shape, but he doesn't do anything unusual. Most of his lyrics come straight from Scripture, yet they're set to such a killer, soulful sound, at times it's the closest thing to a Motown worship disc you'll ever hear. Whether it's pop-soul ("I Have a Hope"), piano jazz ("Speak to Me"), or Andraé Crouch-styled gospel ("Holy Spirit Come"), Walker presents one of his most cohesive projects to date, a stunning work with biblical grounding that renders it prophetic, exhortative, and worshipful. I Have a Hope is an instant classic.
In Christ Alone
Bethany Dillon & Matt Hammitt (Sparrow Records)
Read the original review here.

Farias:
We seem to be the exception among critics who believe this collection belongs on this list, but I think a lot of those reviews missed the point of this album. This is not meant to be a corporate recording showcasing two popular recording artists as worship leaders. Instead, it's an album that re-imagines modern hymns in artful, left-of-center ways. Producer and arranger John Mark Painter does a great job evoking the alternative pop of his own group, '90s rock duo Fleming &  John, while also recalling the chamber pop stylings of Over the Rhine, the wistfulness of Sixpence None the Richer, the orchestrated side of Smashing Pumpkins, and even the idiosyncrasy of a Joe Henry. When approached from this artistic vantage point, In Christ Alone is a spellbinding, worshipful listen.
Breimeier:
Dillon and Hammitt sing beautifully, but they're really beside the point. "Sing a new song to the Lord," and that's first and foremost what this album is about—songwriting that, like the great hymns, go deeper lyrically than typical modern worship. For this, contributing writers like Keith Getty, Stuart Townend, Tim Hughes, and Vicky Beeching deserve commendation. From there, credit Painter with casting these modern hymns in a new light, demonstrating they're just as applicable to traditional churches as they are to more modern and inventive worship styles. It's the power of arrangement on full display. For people tired of modern worship music that needlessly and lazily follows a set pattern, give this album a chance and revel in the limitless artistic expression with which we can praise God.
Honorable Mentions
In addition to the terrific worship albums mentioned above, there are four others that earned serious consideration from us, but just fell short of our final list. Three of them are indeed excellent and highly recommended: Joel Augé 's On the Blue, Sarah MacIntosh's The Waiters, The Watchers, The Listeners, The Keepers & Me, and Delirious' Kingdom of Comfort. But even though these albums offer some great additions to modern church music, we felt the albums weren't consistently worshipful or congregational throughout. We also highly recommend The I Heart Revolution: With Hearts as One from Hillsong United, an exhaustively comprehensive 2-disc collection that demonstrates the worship team's popularity with congregations around the world. It's a lot of music and a great summary of their musical contributions, but it ultimately plays like a live best-of collection. We felt the more original albums deserved priority recognition in our list.
Check out our "Best-Of" Archives to see other lists from previous years.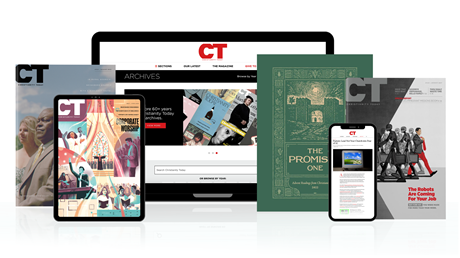 Annual & Monthly subscriptions available.
Print & Digital Issues of CT magazine
Complete access to every article on ChristianityToday.com
Unlimited access to 65+ years of CT's online archives
Member-only special issues
Subscribe
Favorite Worship Albums of 2008
Favorite Worship Albums of 2008